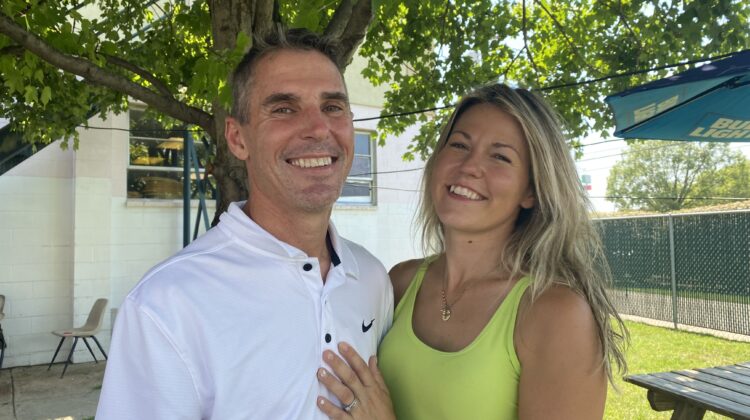 Horsepower couple: Vanden Berg and Emigh on roll at Ellis Park
Video: Brittany Vanden Berg and Chris Emigh on their meet – and each other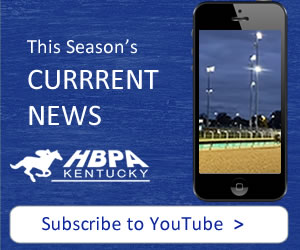 By Jennie Rees for Ellis Park
HENDERSON, Ky. (Tuesday, July 26, 2022) — Watching the race live, Brittany Vanden Berg thought her horse My Brother Cam had held on to win Saturday's fifth race at the RUNHAPPY Meet at Ellis Park. After seeing the slow-motion replay to the wire, the trainer wasn't so sure. That seemed confirmed when her husband, jockey Chris Emigh, brought My Brother Cam back to be unsaddled and said he thought they got beat by Unleash the Power.
Whatever the official result, it was a big performance for My Brother Cam, who had lost his last start by 86 lengths in the race out which he was claimed by Vanden Berg.
But in a microcosm of how Vanden Berg's first Ellis Park meet has been going, the race was declared a dead heat for the win. Vanden Berg raised her arms in joy and immediately gave My Brother Cam a big kiss. That gave Vanden Berg her sixth victory of the meet — with two seconds and two thirds out of a total of 12 starts — and brought her temporarily into a tie for the meet lead with John Ortiz, who promptly won the sixth race to go back on top.
"We were just so thrilled," Vanden Berg said of My Brother Cam. "We were like, 'He showed up!' He showed the talent he's shown in the mornings. So overjoyed. This was our figure-him-out race. In fact, the previous trainer told me, 'If you can figure him out, more power to you.' Today things came together and we got the win.'
"I'm just so humbled to be here for the first time and to do so well. I give all the credit to my team. My team is amazing. Chris, my husband, is just the best. I don't have words for him – he's unbelievable. We all work together."
Vanden Berg is in her third year training horses after seven years as a jockey. Emigh has been a mainstay riding at the Chicago tracks for 25 years. As well as being spouses, Vanden Berg and Emigh say they complement each other professionally.
"He gives me feedback; I give him feed back," Vanden Berg said. "Chris and I think a lot alike, and I think that's what ended up working out with training and riding. Especially because I used to ride.
"I never say to him what to do for a race. I say, 'Go out there and have fun.' He's going to make the best decisions at that time, and I know that."
Said Emigh: "She's an unbelievable horsewoman. She can figure out horses, every little problem from the feet, to the stomach to the shoulder. She can figure out how they move. I just kind of tell her she can do it. Because sometimes she doesn't think she can, and I give her that little push. I have a little veto power, but she runs the show."
Back to Vanden Berg: "Chris is very compassionate with horses. He gets off a horse and he gives me such good feedback. He's not someone who says, 'I'll win next time' and doesn't let me know how to do that. He tells me exactly how to get that horse to win: 'He's not breathing good' or 'not happy.' A lot of jockeys won't know the difference between a happy horse and unhappy horse, and that is huge."
Final word goes to Emigh: "I told her I thought she was one of the best trainers I ever met. Luckily we've finally got some better horses, and she's getting to show she has a lot of talent and where it takes us."
Whether she has the horsepower to compete for the Ellis Park meet title with the likes of Ortiz and six-time winner Steve Asmussen, both of whom have far more stock, Vanden Berg's rise as a trainer has been meteoric. Two years ago she had five horses. Now she has 30.
"I never would have thought that," she said of the growth. "So it's a surprise. I love it, and I'm just taking it a day at a time, because that's all you can do in this business. I'd really like to start winning stakes races. I'd really like to start broadening our base to sales, to 2-year-olds, stakes races. Those kinds of things that I haven't been really able to do yet playing the claiming game."
Vanden Berg was a decent rider, starting off in her native Canada before relocating to Chicago, where she met Emigh.
"I love to ride, but I always said that by the time I hit 30, I wanted to stop riding and start training," she said. "I'm glad I got to transition into that, because of our owners.
"Being a trainer is a lot more stressful; being a rider is a lot more dangerous. They each have their ups and downs. But as long as I'm in with horses, I'm happy."
This past Monday was Vanden Berg's 32nd birthday as well as their first anniversary. Emigh and Vanden Berg were married in the Arlington Park paddock after the races. But first Vanden Berg won with her only starter on the afternoon.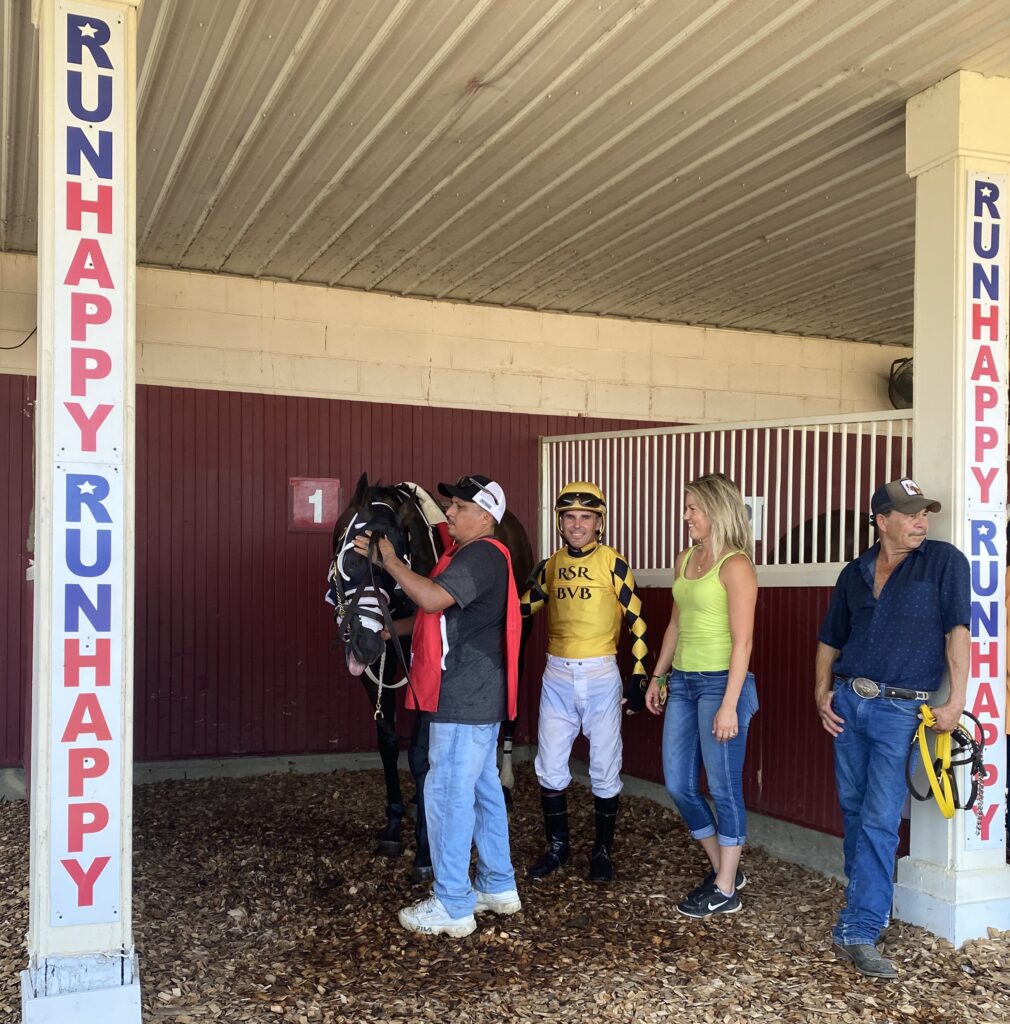 "I ended up coming out in my pre-wedding hair and clothes and came running to the winner's circle," she said. "Our whole family got in (the picture), so it was really nice."
Arlington Park ran its last race two months later, with owner Churchill Downs Inc. arranging to sell the property to the Chicago Bears. The track's closure led Vanden Berg and Emigh — a winner of 4,290 races while riding mostly in Chicago — to Ellis Park, whose 1 1/8-mile main track is the same circumference as Arlington.
"Nice, big wide turns," Emigh said. "I'm used to that. It's just like being at Arlington Park."
Vanden Berg, the daughter of a farmer, felt right at home, too. "I said, 'There's soybeans in the infield!'" she said with a laugh. "I knew all about that."
With most of their owners in Illinois or Missouri, Vanden Berg and Emigh are unclear where they'll put down an anchor. They'll return to Chicago for Hawthorne's fall meet, but Kentucky is a long-term option.
"Arlington Park was home for me for 25 years," Emigh said. "We didn't really know where to go, and Ellis Park had good purses. They wanted us to come and gave us enough stalls. Good people here. It's so laid back. We love it here. We're doing good, so you're going to love it for sure. Everybody is friendly and happy."