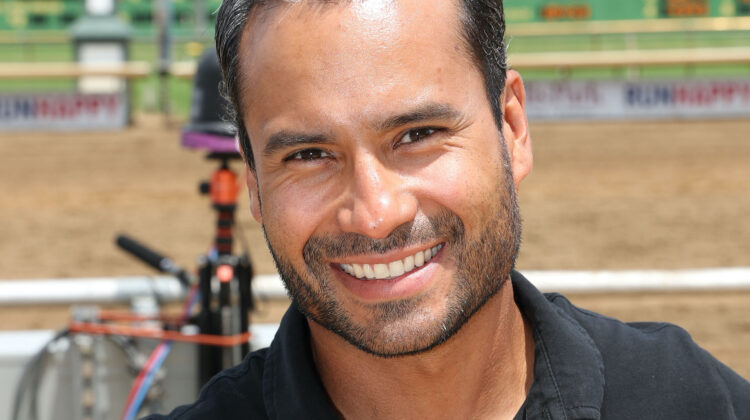 John Ortiz (4 for 7!) off to quick start at Ellis Park – and still has his 2-year-olds to unleash
By Jennie Rees (Coady Photography photo of John Ortiz at Ellis Park)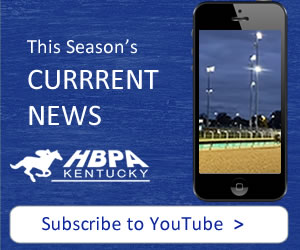 HENDERSON, Ky. — Only six days into the RUNHAPPY Meet at Ellis Park, trainer John Ortiz is off to a quick start with his 4-for-7 record just one fewer win than his 2021 total last summer.
The 36-year-old Ortiz, in his sixth full year training horses, said he's putting greater emphasis on Ellis this summer. Last year Churchill Downs was closed for summer training, with Ortiz having horses at Ellis Park but also sending a division to Virginia's Colonial Downs. With Churchill open for stabling this summer, he's concentrating on Kentucky, where he has horses at Ellis (25), Churchill (20) and The Thoroughbred Center (25) in his hometown of Lexington and with 15 more horses shipping this week into Churchill's Trackside satellite training facility.
"We've prepared for this meet," Ortiz said. "We're very blessed to have a big barnful of 2-year-olds and a lot of maidens this year. We're currently up to 80 horses in training right now. This year, being able to stable at Ellis Park with a big barn and having so many 2-year-olds, I'm taking advantage of being there and focusing on that meet – instead of usually just (shipping around and) finding spots."
But here's the thing: Ortiz burst out of the gate at Ellis Park without as yet starting one of those 2-year-olds at the meet. The first will be Stone Bridge Farm's Justa Warrior Friday and Hooties Racing's Boss Lady Bailey on Saturday. Expect many more to follow.
Ortiz is 2 for 2 so far this year with 2-year-olds, both wins coming at Horseshoe Indianapolis with horses owned by Millard R. Seldin Revocable Trust.
"I think I have a good stock of horses," Ortiz said. "We have very good support from owners. We picked up Mary and Gary West horses. WSS and Hooties Racing and Four G Racing have a nice group of babies coming up. We picked up Stone Bridge Farm. We just have some really nice 2-year-olds, a Justify filly we're running Friday that I really like."
With 2022 purse earnings of $3,278,677 through Wednesday, Ortiz already has achieved his most lucrative season to date, $585,000 of it by Bill Simon's Arkansas Derby runner-up Barber Road, who finished sixth by a total of 4 3/4 lengths in the Kentucky Derby. With 40 victories, this year Ortiz also is highly likely to blow past his previous high of 53 wins in 2018. That's also while raising the quality of his stable.
"I haven't even checked," Ortiz said of his statistics. "Bill Simon told me a couple of weeks ago that we had already passed $3 million. To me, that's a big deal. But I'm not focused on that. I'm focused on wins, placing horses right. Because when you're winning, the money comes. It's just a reflection how successful we've been this year. Coming into Ellis, we're very well-prepared with our maidens and hopefully continue that into the fall and into winter next year."
Ortiz has some stakes action coming up at Ellis Park, including Mr Dumas in the $100,000 Evan Williams Turf Mile on Aug. 7 and Graysonsmacho Gal in Ellis Park's Aug. 14 Groupie Doll Stakes. Mr Dumas most recently won Canterbury Park's Mystic Lake Mile. Graysonsmacho Gal, who finished second by a head in the Iowa Distaff, provided Ortiz with two of his five Ellis winners last summer, both in allowance races.
Ortiz — a native of Colombia who came to America as a kid with his father, former jockey Carlos Ortiz — was extremely active claiming horses when he went out on his own in late 2016. But his stable has evolved to where it's more about young horses.
"I love the claiming game and I'm very thankful for it and all the claiming owners I've had," he said. "That's how you get to where you are. Nothing wrong with claimers. American racing is run on claimers. It is a game-changer when you can improve horses that didn't start with you, so the next challenge is how do you develop horses when you get them from the start?
"I come from a school of trainers who deal with young horses: Bill Mott, Graham Motion, Kellyn Gorder," he said, citing three horsemen for whom he worked. "I've seen throughout the years how they develop 2-year-olds and the maintenance with older horses. That's the opportunity presented to us this year. Every year we get more 2-year-olds, but this year it's a different game."