Sunday's Oaklawn Park media notes. Update: Jeff finished third with Loran Holiday at 41-1 odds and second with second-choice Fake Solution.
Trainer Jeff Hiles Sends Out First Oaklawn Starters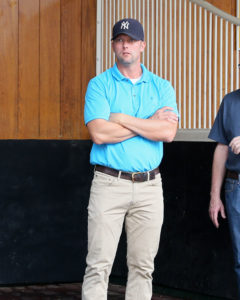 Jeff Hiles has two horses entered Sunday, the trainer's first scheduled Oaklawn starters since going out on his own late last year after previously serving as an assistant to Kenny McPeek.
Hiles, 39, is a former Marine Corps sergeant and the son of veteran trainer Rick Hiles, who has saddled more than 500 winners since 1976 and is the longtime president of the Kentucky Horsemen's Benevolent and Protective Association. Father and son are stabled together in Oaklawn's Coaltown barn.
Jeff Hiles began assembling his three-horse stable by claiming Say It Softly for $15,000 out of a maiden victory Nov. 11 at Churchill Downs. Hiles then claimed Fake Solution for $15,000 Nov. 16 at Churchill Downs and Loran Holiday for $5,000 Dec. 5 at Turfway Park.
Hiles chose to winter at Oaklawn to try and notch his first career victory. He was 0 for 3 last year, with his best finish a second by Fake Solution, racing for a $30,000 claiming tag, Dec. 12 at Turfway.
"I'm more about quality vs. quantity," Hiles said. "I'm not looking for bad horses. I guess nobody is, but some people want to get horses in just to get them in. I'm not that way. I could have claimed 20 horses by now. I'm extremely picky when it comes to horses and I can't afford to go out … imagine yourself being surrounded by people and you've got limited ammunition beside you. You've to take a little more time to aim down the line."
Hiles spent five years in the Marines (2001-2006). He was stationed for 3 ½ years at Kaneohe Bay, Hawaii, where he was a Primary Marksmanship Instructor to other Marines on firing the M16 rifle.
Hiles didn't make the military a career and returned to his native Kentucky and opened a construction company, later a restaurant, and also worked in the automobile industry before returning to his first love – horses.
Hiles said he had just started as parts manager at a Nissan dealership in Nicholasville, Ky., when he reunited with McPeek in the spring of 2015 at Keeneland. After starting at the bottom – cleaning stalls, walking horses, feeding horses, etc. – Hiles was overseeing McPeek's Oaklawn division less than two years later.
Hiles said his training philosophy is a mix of his father, McPeek (more than 1,600 career victories, including the 2002 Belmont Stakes) and "himself."
"When you work for people, you learn what to do and what you don't think to do," Jeff Hiles said. "That's the most beneficial thing I can tell about the experience of working for somebody else before you're going to do your own thing. I did the same thing in construction. See, I just went out and just started doing my own thing and it cost me a lot of money. But with this, I wanted to get with a big outfit because that's what I want to model. There are a lot of great things that Kenny does, and he has a great program. Then there's things, I think, can be done better."
Hiles is scheduled to start Loran Holiday in the third race and Fake Solution in the sixth race. Loran Holiday, co-owned by Hiles, is entered for a $16,000 claiming tag. Fake Solution is entered for a $30,000 claiming price.
Hiles said his goal is to one day have a stable that rivals the quality of trainers like Hall of Famer D. Wayne Lukas, Todd Pletcher or Brad Cox.
"I'm not in this just to be a claiming trainer for my whole life," Hiles said. "Right now, I'm in a struggle and digging my way out of it."
Rick Hiles has more than 50 career victories at Oaklawn, including the $50,000 Martha Washington Stakes in 1980 with Run Ky. Run and the $50,000 Mountain Valley Stakes in 1988 with Longview Ashley.
Making a Statement
Oaklawn carded six open maiden special weights races through Friday, the fourth day of the scheduled 57-day season. All six winners had something in common, too. They had made their last starts at the Churchill Downs fall meeting.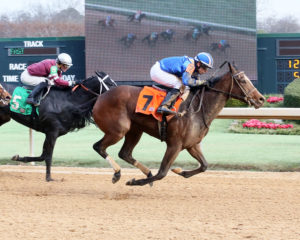 The first of the winners, Shaharazad, a 3-year-old daughter of 2007 Kentucky Derby winner Street Sense, had been narrowly beaten in her Nov. 10 debut for Shadwell Stable and trainer Dan Peitz.
"I thought almost all the maiden races there last fall were really salty, except the one I ran it and got beat a neck," Peitz said. "I thought it was one of the softest ones, so I really didn't have a feel for how we were going to run."
Under Richard Eramia, Shaharazad ($10.40) beat Adari by 1 ¼ lengths Jan. 25, opening day. She ran 6 furlongs over a fast track in 1:11.56.
"I said to Richard in the paddock that if she duplicates her first race, and we get any kind of pace in front of us, she's going to come running," Peitz said. "I'll think about stretching her out next time."
The other five Churchill Downs-raced maiden special weights winners were Motion Emotion (3-year-old daughter of Take Charge Indy) for trainer Tom Van Berg; Laughing Fox (3-year-old Union Rags colt) for Hall of Fame trainer Steve Asmussen; Oncewewerebrothers (3-year-old Cairo Prince gelding) for trainer Jimmy DiVito; Ulele (3-year-old Candy Ride filly) for trainer Brad Cox; and New Colossus (4-year-old Curlin colt) for trainer Larry Jones.
New Colossus recorded the most lopsided victory of the young meeting in Friday's sixth race (10 1/4 lengths) in Friday's sixth race under Hall of Famer Calvin Borel.
Finish Lines
The track was rated fast for workouts Saturday morning. … Millionaire Shotgun Kowboy worked 5 furlongs in 1:01.60 moments after the track opened Saturday morning for breeder/owner/trainer C.R. Trout, who said he will now start shopping for a race for the gelding, probably an "allowance." … Cabot, an unstarted 3-year-old son of champion and multiple Oaklawn stakes winner Will Take Charge, worked a half-mile in :50 Saturday morning under Ricardo Santana Jr. Cabot is owned Alex Lieblong, chairman of the Arkansas Racing Commission, and trained by Ron Moquett of Hot Springs. … Following Saturday's renovation break, Flawless Moon, an unstarted 3-year-old half-brother to Grade 1 winner The Big Beast, went a half-mile in :49.20 for Lieblong and trainer David Fawkes. Lieblong campaigned The Big Beast, who made his career debut at Oaklawn in 2014 and won an allowance race the following year in Hot Springs. … Grade 3 winner Warrior's Club went a half-mile in :48.20 after the break Saturday morning for Hall of Fame trainer D. Wayne Lukas. … The $100,000 King Cotton Stakes for older sprinters Feb. 9 closed Thursday with 29 nominations, including 2018 winner Wilboand 2017 champ Storm Advisory.
Please follow and like us: