By Jennie Rees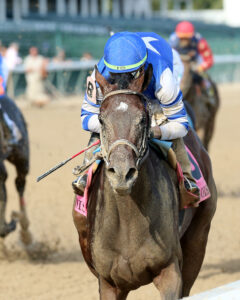 ARCADIA, Calif. (Monday, Oct. 28, 2019) — Trainer Dale Romans wants Dennis' Moment to be No. 1. But he wants that for the end of Friday's $2 million TVG Breeders' Cup Juvenile, not necessarily in the starting gate.
       But Dennis' Moment — who burst onto the national racing scene with a 19 1/4-lengths victory at Ellis Park followed by an easy 1 3/4-length triumph in Churchill Downs' Grade 3 Iroquois Stakes — drew the rail in the field of nine 2-year-olds as the fields were formalized Monday at Santa Anita Park. Dennis Moment was made the 8-5 favorite. Irad Ortiz Jr., the reigning Eclipse Award winner as North America's outstanding jockey, has the mount.
       "It's not historically my favorite (post), but I think he can pick it up coming away from there," Romans said afterward. "The inside might be the place to be this race. He's going to be fast enough to be up close. It just makes it most important that he breaks more clean, that he doesn't miss the break at all. And I don't think he will anyway.
       "I probably would have picked 2, 3, or 4. I wanted to be down on the inside but I'd just as soon not be in the 1. Like I said, it just makes it more important that he breaks good. But he's never turned a hair or done anything wrong."
        Eight Rings, the Bob Baffert-trained winner of Santa Anita's Grade 1 American Pharoah Stakes, was made the 2-1 second choice and starts from post 6. Maxfield, Keeneland's Grade 1 Claiborne Breeders' Futurity winner in his second start, drew the outside post in the field of nine and is 3-1 in Santa Anita odds-maker Jon White's morning line for the 1 1/16-mile Juvenile.
       "The way it set up with Dale and the 1 hole and Eight Rings in the 6, it might just set up nice for us," said Brendan Walsh, trainer of Maxfield. "Breaking from the outside won't inconvenience him at all with his running style. I don't know if (Dennis' Moment drawing the rail) changes the complexion of the race, but I guess it probably is going to force them to go. It should make it interesting. We're happy where we are."
        Jason Loutsch, who manages and is partners in Albaugh Family Stables for father-in-law Dennis Albaugh, also was philosophical about Dennis' Moment's starting post.
       "You try to analyze the race a million times going through your head and how it's going to play out," he said by phone from Iowa. "You really don't know. I know we're going to break sharp. That will be Irad's job. That's why he's one of the best jockeys in the world. He's going to have to earn his money here. He's going to have to place him where he thinks. If there's no speed, and he wants to go out, we'll be on the lead. If Eight Rings goes out, hopefully he'll clear us and we'll sit right behind him.
       "I wouldn't trade my spot. We're the morning-line favorite in the Breeders' Cup Juvenile. You could be 30-1. I rather be 8-5. Ideally I'd rather have had 5 through 8. But we drew the 1 hole, so we'll just have to do the best we can. I know we have the horse to do it.
        "My wife said, 'I thought you can't win out of the 1 hole,'" Loutsch said. "I said, 'That's the Kentucky Derby. This is a little different.' I was ecstatic to see we're 8-to-5. I thought that was a nice honor. Just hope for a clean trip now."
       McKinzie was installed as the 3-1 favorite for the $6 million Longines Breeders' Cup Classic and drew post 8 in the field off 11.
       "It's the last thing that you don't have any control of," trainer Bob Baffert, seeking a record fourth victory in the Breeders' Cup Classic, said of the post-position draw. "It looks like all the (favorites) drew pretty good. But at the end of the day, the cream rises to the top. That's what it's all about. It's great racing. You have to be really good, and really good that day.
       "One thing I've learned about the Breeders' Cup: the edge is that you have the best horse. I've always thought he was really the best horse. Now he has to prove it."
Please follow and like us: