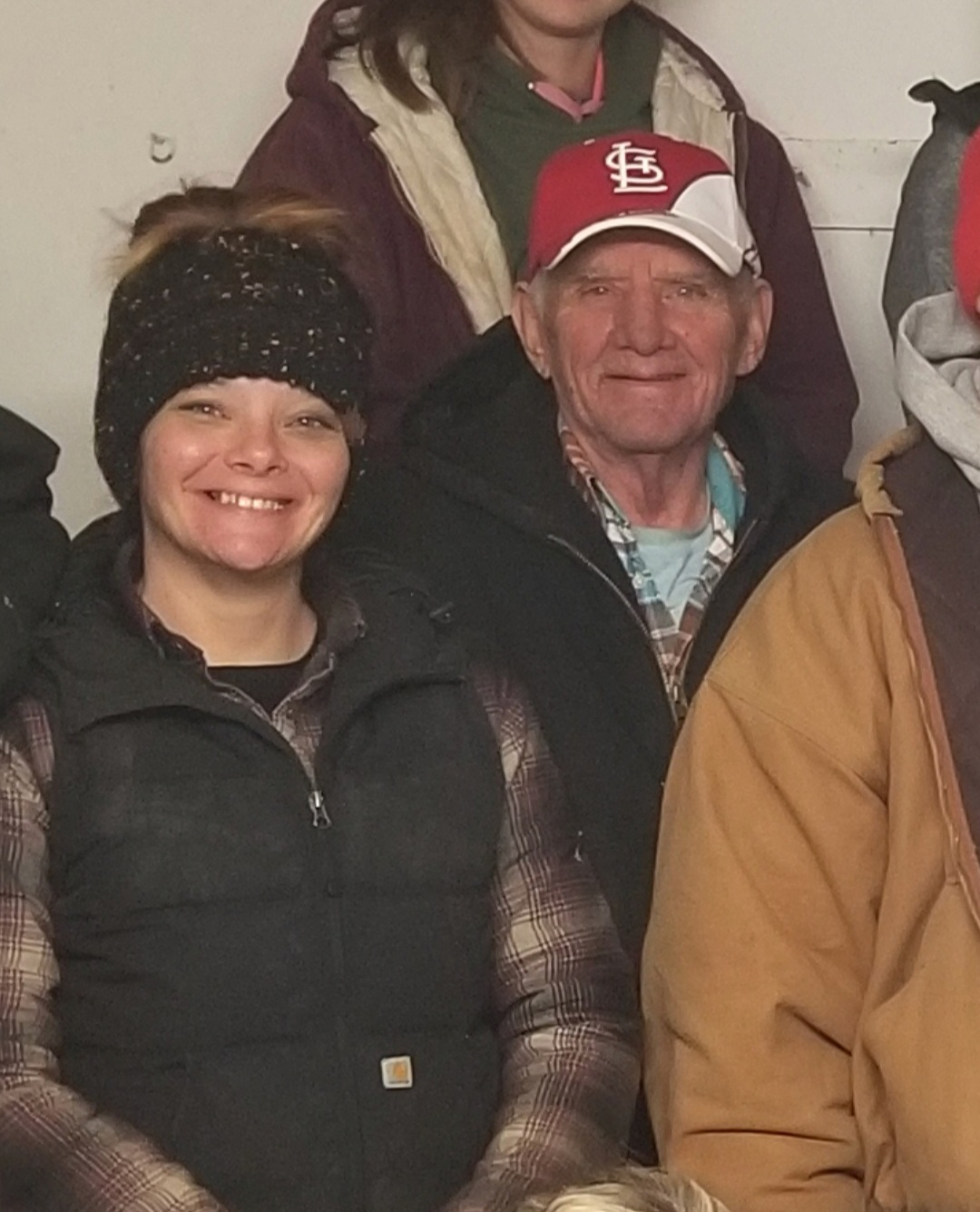 James "Pops" Schmitt, 1935-2020 – an appreciation
(Photo: Pops Schmitt and Dana Hancock at the John Hancock stable's 2018 Christmas Party at Riverside Downs)
         James E. Schmitt, known by everyone as Pops, became as much a fixture in trainer John Hancock's barn as soybeans in the Ellis Park infield.
         When Pops died Aug. 19 at age 85 at his Evansville home, it left a hole in Hancock's stable and all their hearts.
         Pops, a Marine veteran who served in the Korea, had a hello and a smile for everyone — also a few bucks if you were down on your luck. He put you in a good mood just seeing him walking or holding a horse, getting coffee in the track kitchen, up at the races or in Ellis Park's gaming area. He loved all that is good about horse racing, the beauty and nobleness of the thoroughbred, the basic premise of seeing who has the fastest horse to the wire and the camaraderie in a barn working together to get a horse to the starting gate.
         Pops retired in 1994 after 30 years with Alcoa. After his beloved wife of 50 years, Nancy Gay, passed away in 2006, Pops headed to the racetrack full-time to keep busy.
         "He's what Ellis Park was about," said John Hancock, who also referred to Pops as Jim. "When I was a kid growing up, he had three boys and my mom had three boys. His boys were the same age as me and my brothers. We all grew up together. Jim would go to the races everywhere. When his wife died of cancer, he said, 'I'm coming to the barn.' He was with me ever since. Everywhere I went, he was with me. I never saw anybody enjoy racing and the people like he did. We'd be pulling in the back gate at Presque Isle and he'd see somebody he knew and holler.
         "It sounds corny, but he's probably the most-liked person I've seen ever. Never had a bad day. Never left mad. Other than my mom, he was my biggest fan. When times were tough and things weren't going right, he'd always walk up and say, 'Hey, the Man Upstairs won't give us more than we can handle. We'll bounce back.'"
         Dana Hancock, John's assistant and niece, knew something was wrong when Pops wasn't at the barn by 5:30 in the morning of Aug. 19. He subsequently was discovered in his bed, as if he'd laid down for nap and never woke up.
         "Pops always was the first one there every morning, turning on lights at the barn," John Hancock said. "He'd go on and feed. I don't care if there was a foot of snow on the ground at Riverside Downs. He'd make his way across the bridge" from Evansville.
         Pops sporadically had a horse he trained but never made it into the winner's circle until 2015. "He always wanted to win a race," Hancock said.
         So Hancock set him up with a horse who happened to be named Uncle Jimmy, a coincidence that delighted Pops. Uncle Jimmy won a 2-year-old maiden race at Mountaineer to give Pops the only victory of his limited training career.
         "That was a big deal for him," Hancock said. "Here's a horse named Uncle Jimmy, and Jimmy Schmitt saddled him.
         "He did everything for me. He'd keep up with the feed. When it was time to order feed, he'd order it and go get it. I went to make the order the other day and didn't know what I was doing because he'd done it for some many years. He walked horses in the barn. You name it, he did it. Like this morning, we needed to get a load of hay. I told Dana, 'Get Pops and Sammy,' and I caught myself. Wherever I went, you'd see him right beside me. He loved going to the sales. He loved running horses at Beulah Park in the winter. He just loved the people. When Beulah Park closed, that really bothered him.
         "I bought an old horse one time called Smoking Kay. Pops, one of my owners and I split her up three ways. We won five in a row before they claimed her. Pops really liked that old mare. At the time Beulah Park was giving away their horse of the meet award. She got the award. They called and wanted to know if I could come up. I said no, and Pops said, 'Do you mind if I go get it?' They gave him a leather halter, a blanket and a bag of carrots. He still has that blanket and that halter. It never went on another horse.
         "You won't ever find another one like him."
         Schmitt is survived by his sons, Jimmy Schmitt (Sandy) and Duwayne Schmitt (Lisa); sisters, June Folz (Al) and Clara Lilly (Dave); grandchildren, Charish Draper (Joshua), Cody Schmitt, Jason Schmitt, Brian Schmitt, Jamie Schulte (Chris), Taylor Madison (Donavon), Austin Schmitt, Lindsay Brodasky (Tom), and Kyndel Dollison; 10 great grandchildren; and many nieces and nephews. He was preceded in death by his parents; loving wife of 50 years, Nancy Gay (Kneir) Schmitt; and son Jeffrey Schmitt, who passed away in 2020.
         A Mass of Christian Burial will be held at 12:00 p.m. Central, Tuesday, Aug. 25 at St. Joseph Catholic Church, 618 East Virginia Street, Evansville. Burial will be in Park Lawn Cemetery where the American Legion Kapperman Post 44 will render full military rites.
         Friends may visit from 9:00 a.m. until 11:00 a.m., Tuesday, Aug. 25 at Boone Funeral Home East Chapel, 5330 Washington Ave., Evansville.
         Memorial contributions can be made to the American Diabetes Association at 3700 Bellemeade Avenue, Evansville, IN 47714 or Arthritis Foundation at 615 North Alabama Street, Indianapolis, IN 46204.