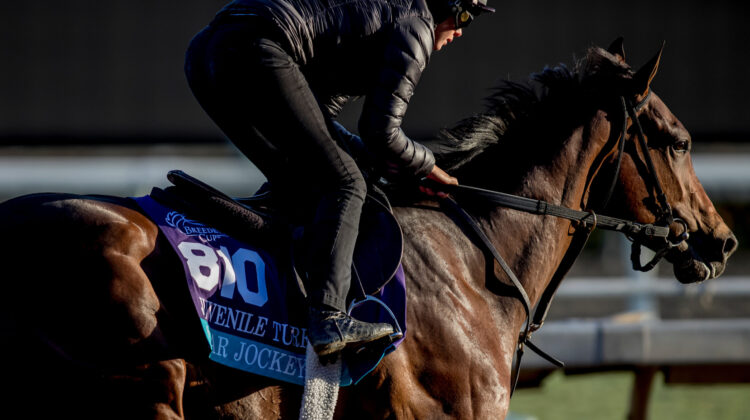 Arnold hoping to 'Gear' up for first Breeders' Cup win
(Gear Jockey training Tuesday AM at Del Mar. Eclipse Sportswire/Breeders' Cup Photos)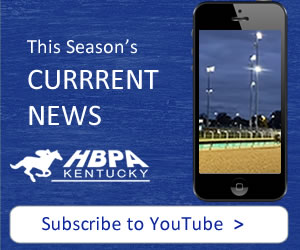 Video: Trainer Rusty Arnold at Keeneland
DEL MAR, Calif. — It took a few races — OK, 12 — to figure out what Calumet Farm's 4-year-old colt Gear Jockey really wanted to do. But the wait and perseverance paid off this summer and fall, with Kentucky Downs' $1 million FanDuel Turf Sprint winner a leading contender for n Saturday's $1 million Breeders' Cup Turf Sprint at Del Mar.
A year ago, when the Breeders' Cup was at trainer Rusty Arnold's hometown track of Keeneland, Gear Jockey was awaiting his first victory. That didn't come until this past January in the colt's first start as a 4-year-old.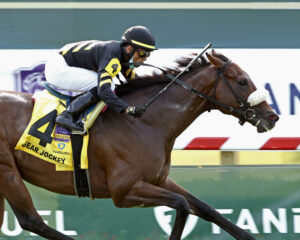 Even though he started off 0 for 8, Gear Jockey has uncorked only two truly bad races, the first being his debut at six furlongs on dirt at Saratoga by almost 23 lengths. Stretched out to a mile on grass, the winless colt still ran very well, including finishing a close third at 67-1 odds in the $1 million Breeders' Cup Juvenile Turf at Santa Anita in 2019.
In fact, his tantalizing talent was such that Gear Jockey made a fleeting appearance on last year's Kentucky Derby trail. That ended in his second poor race in Gulfstream Park's Grade 2 Fountain of Youth, his last race on dirt. He subsequently was sidelined for six months with a repairable leg fracture.
Back on grass, Gear Jockey won maiden and allowance races and came very close to winning a graded turf stakes. Still, Arnold thought there was more the horse could do.
"We sat down and said, 'Let's sprint the horse. He's just not finishing off, and he shows a lot of talent,'" Arnold said. "We've sprinted him three times on turf, and I think we've found his game."
Gear Jockey earned a second-level allowance victory, was a rallying third after breaking slowly in Saratoga's Grade 3 Troy and then captured the Grade 3, six-furlong FanDuel Turf Sprint. That victory not only proved worth $576,600 to Calumet Farm but with the added perk of giving Gear Jockey a fees-paid berth in the five-furlong Breeders' Cup Turf Sprint as part of the Breeders' Cup Challenge Series' Win And You're In program.
Gear Jockey needed to win the FanDuel Turf Sprint to even make the Breeders' Cup. That was no small feat as Gear Jockey was the last horse to get into the overflow Kentucky Downs' race. If he lucked into the race, he made his own luck coming out with an authoritative 2 1/2-length victory over the well-regarded Diamond Oops.
"It was by far his best race," Arnold said. "He did everything right…. (But) if one more horse had entered, we'd have been out. I can't tell you how big it was."
The five-furlong Breeders' Cup Turf Sprint also includes third-place Bombard and Fast Boat, who beat Gear Jockey in the Troy Stakes. Sixth-place Got Stormy, who won the 2020 Ladies Sprint at Kentucky Downs, is going in the $2 million Mile on turf.
"I don't think the Breeders' Cup can be much tougher than that race," Arnold said. "… I'm confident my horse is going to show up. It's a little shorter than I'd like, but we're hoping we've got him sharp enough."
The Kentucky Downs victory provided a special thrill for Calumet Farm owner Brad Kelley, who grew up in Bowling Green and Franklin, Ky., started his path to billionaire status back in Bowling Green and now lives in Franklin, Tenn. Kelley also is a previous owner of Kentucky Downs, and Gear Jockey won with Calumet Farm the racing card's day sponsor.
"It was nice to win a big race for him close to his home," Arnold said.
A third-generation horseman, Arnold is tied for No. 2 with Bill Mott in all-time victories at Keeneland at 288, trailing only D. Wayne Lukas' 296.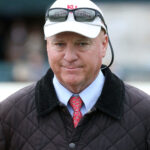 Arnold also is one of the most successful trainers to never have won a Breeders' Cup race. Kelley won the short-lived Breeders' Cup Juvenile Sprint in 2012 with Hightail racing the name of Kelley's old Bluegrass Hall. But Calumet Farm has never won a Breeders' Cup race.
"Disappointing is the wrong word," Arnold said of himself being 0 for 14 in the Breeders' Cup. "But it's on your bucket list. You don't want to be one of the guys who has won the most graded races without winning the Breeders' Cup.
"I'd like to win for any of my owners. I want to win one for Calumet; I'd like to win one for myself. I'm a little bit jealous on that."
Calumet also has its homebred Lexitonian in the $2 million Qatar Racing Breeders' Cup Sprint. The 5-year-old horse, trained by the farm's private trainer Jack Sisterson, won Saratoga's Grade 1 Vanderbilt. Detroit City is on the also-eligible for the Breeders' Cup Juvenile Turf and needs two scratches to run.
"If he shows up on his best effort, he'll be right there," Sisterson said of Lexitonian, who finished second by a nose in last year's Grade 1 Bing Crosby at Del Mar. "It's great the support and the passion that Mr. Kelley has for this sport. Although he doesn't come, he watches every race. People don't know how emotional he gets after a big win."