Rick Hiles, a trainer and horse owner for parts of five decades, has been an officer or director of the Kentucky HBPA for more than 30 years, currently serving his fifth term as president. Hiles is a former president of the national organization, during which tenure he initiated the move of the national offices to Kentucky. The Air Force veteran served as vice chair of the Kentucky Health and Welfare Fund for 18 years and was a long-time member of Equine Drug Council that advises the Kentucky Horse Racing Commission on medication and testing issues.
Hiles' more than 630 victories include graded-stakes winners San Dare, Midway Magistrate and Foolish Intent and 10 (and counting) with his standout starter-allowance horse, Sugar Cube. Hiles is stabled most of the year at Churchill Downs, wintering in Arkansas.
In Hiles' words: "I have always had a deep abiding respect for Kentucky racing and the KHBPA. My objective is to refocus our attention in certain areas to make our organization, once again, the model other horsemen's organizations emulate. In the past several years, we have observed a major transition in the business of racing. While simulcasting and ADW's continue to expand, on-track attendance and handle continues to diminish. It is incumbent on horsemen to take an active role in assuring that we receive our fair share of wagering revenues. In addition, I will continue to strive that owners, the lifeblood of racing, are treated with the respect they so richly deserve."
Frank Jones, a stalwart in Kentucky racing for since 1969 as an owner and breeder, is a prominent Louisville businessman who as president and CEO has built Recreonics Inc. into the national leader in commercial aquatics distribution. He has been a director and vice president of the Kentucky HBPA for more than three decades, using his business acumen to the benefit of horsemen as chair of the finance committee, contract negotiator, legislative liaison, backside committee and secretary of the Kentucky Racing Health and Welfare Fund. Jones was appointed by Gov. Andy Beshear to the Kentucky Horse Racing Commission in Jan. 2020, serving his second tenure as vice chairman after two earlier terms on the KHRC under different administrations.
Jones, whose longtime trainer is Kentucky HBPA vice president Dale Romans, won the 2009 Breeders' Cup Juvenile Fillies Turf with his homebred Tapitsfly, who went on to win two Grade 1 races as a 5-year-old before being sold that fall for $1.85 million. He has campaigned in partnership 2016 Preakness runner-up Cherry Wine and Grade 3 winner Sweeping Paddy. Jones is a Louisville native, attended Western Kentucky University and an Air Force veteran. He also is a past president of the Louisville-based Kentucky Thoroughbred Owners Inc.
Dale Romans — a lifelong resident of Louisville's South End who started coming to Churchill Downs' backside as a kid with his father (the late owner-trainer Jerry Romans) became the iconic track's all-time win leader during the 2017 fall meet. At that time, he took the title from his idol, Hall of Famer Bill Mott. Romans was voted the 2012 Eclipse Award winner as North America's outstanding trainer. He has won the 2011 Preakness with Shackleford and Breeders' Cup races with Tapitsfly (2009, for long-time owner and fellow Kentucky HBPA vice president Frank Jones Jr.), Court Vision (2011) and Little Mike (2012), and the Romans-trained Keen Ice became the only horse to defeat Triple Crown winner American Pharoah in 2015.
His first Eclipse champion came in 2004 with the standout turf horse, Kitten's Joy, now a prominent stallion. But Romans' most important influence might be his activism on behalf of horses and horsemen, including championing the immigrant workforce. Though he admits he doesn't completely understand exactly how it works, Romans has been a leader in horsemen embracing social media, assembling a team headed by Gwen Davis' Davis Innovations, as a means to promote the sport and bring fans behind the scenes through video, daleromansracing.com and other platforms. Romans, a graduate of Louisville's Butler High School, took out his trainer's license at age 18, saddling his first winner in 1987. He has won 14 trainer titles at Churchill Downs as well as multiple titles at Keeneland and Turfway Park.
He keeps Churchill Downs as his main base, with a division at Saratoga in the summer and relocating to Gulfstream Park in the winter. He currently owns a training center Oldham County, a breeding farm in Central Kentucky and operates a sales agency while training about 150 horses, employing approximately 100 people. Romans is a member of the Churchill Downs and Gulfstream Park racing committees.
Mark Bacon was born and raised in Louisville, growing up around horses and continuing his passion in the Thoroughbred industry as an owner and breeder. He's best known for campaigning in partnership with Dana Wells the 12-time winner and $1.95 million-earner Silver Max, whose seven graded stakes included the upset two-time Horse of the Year Wise Dan in Keeneland's Grade 1 Shadwell Turf Mile. Silver Max, a $20,000 yearling, was trained by Kentucky HBPA vice president Dale Romans, who has been friends with Bacon since before they were in high school, fellow kids hanging around the track. Bacon, a University of Louisville graduate, has worked for Brown-Forman Corporation for more than a quarter-century and currently is Senior Vice President, Managing Director for Woodford Reserve.
After serving three years as an alternate board member, Bacon wrote in running for his current board position that he would "work on your behalf to make sure there is fair and equitable allotment of both on and off-track wagering to horsemen along with support and benefits up to the standard deserved. Horse racing must remain the most integral part of the business and we will stand up to preserve and grow the programs in place which benefit all those represented by the KHBPA. There must also be clear and concise rules in place for therapeutic race day medication to protect our horsemen. It is imperative to provide a reasonable approach in this matter which does not result in fines or suspensions when no wrongdoing has taken place. It is a critical time for racing in Kentucky and there is tremendous pressure to make sure the industry endures and stays competitive in our Commonwealth."
Buff Bradley retired as a trainer in the summer of 2021 but remains heavily involved in horse racing as an owner, breeder and other capacities. He began training in1993, stabled primarily at Churchill Downs while racing at all five Kentucky tracks. Bradley trained and developed two-time Eclipse Award champion, Groupie Doll, as well as the popular millionaire Brass Hat, both bred and owned in partnership with his late father, Fred. His father was a veteran horseman, lawyer, businessman and state senator. Bradley also trained Churchill Downs' two-time Grade 1 Woodford Reserve Turf Classic winner Divisidero. He has won the Ellis Park training title four times.
Bradley grew up and continues to live on Indian Ridge Farm, the Frankfort farm established by Fred, and spent much of his youth on Kentucky's racetrack backstretches where his father raced. Bradley is closely involved in Thoroughbred aftercare, including running an off-the-track Thoroughbred (OTTB) division at Indian Ridge.
Travis Foley, from one of Louisville's most prominent racetrack families, is a third-generation horseman developing partnerships. He is also an assistant to his father, trainer Greg Foley. Travis Foley, grandson of the late owner-trainer-breeder Dravo Foley and nephew of trainer Vickie Foley, puts an emphasis on bridging the gap between trainer and ownership groups with technology and communication, including social media. His hope in running for the board was to bring youth into horse racing. Foley graduated with a Bachelor's of Science degree from the University of Kentucky in 2009, and an MBA from the University of Louisville in 2008. He went on to work in the retail and financial sectors before joining the family business. He attended South Oldham County High School, where he was an outstanding basketball player.
Evansville businessman Mike Bruder has owned and bred Thoroughbreds for more than 40 years, campaigning graded stakes-winners Guys Reward, Quick Wit and M B Sea. Bruder, chair of the Ellis Park horsemen's committee, is a daily fixture at Ellis Park, understanding the interests and concerns of not only horsemen, but horseplayers. Bruder spent years racing $3,500 and $5,000 at the region's smaller tracks before buying better-grade horses starting around 2000. Since then he's won about 100 races, saying, "I guess I'm probably spending some of my kids' inheritance, but I enjoy what I do. As long as I'm breathing, I'm going to do it."
Bruder is an advocate for involved owners, writing several years ago when running for the Kentucky HBPA board, "The large initial investment required to purchase a racehorse, and the rising expenses have served to cast owners as an endangered species. If we are to survive, we must receive an equitable share of existing revenues from wagering both on-track and off-track. In addition, if other forms of gaming become a reality at Kentucky's racetracks, it is extremely important that horsemen are well-represented during the legislative session."
Norm Casse is a third-generation horseman from Louisville who began training in 2018. He makes Kentucky his home base most of the year, with a division at Saratoga while also participating at Ellis Park during the summer. He has wintered in Florida and New Orleans and, for the first time in 2021-2022 sent horses to Oaklawn Park. The Bellarmine University graduate was the Churchill Downs-based assistant trainer to his father, Mark Casse, for 12 years before opening his own stable. He won his first graded stakes with Hard Legacy in Churchill Downs' 2019 Regret. Casse and his wife, TVG analyst Gabby Gaudet, welcomed in their first child, son Crew, in November, 2021.
Casse appreciates the struggles of starting and building a stable. "I feel Kentucky racing is in a position to become the premier race circuit in the country," Casse said. "With that comes responsibilities. Not only is it the premier place for us, but I feel people in general who aren't necessarily horse-racing fans, when they think of Kentucky they think of horse racing. We have a responsibility to make sure that outside people's perceptions are reality."
Bentley Combs was born and raised in Lexington, Ky. He developed his love for horse racing through going with his parents to the track and Jamestown OTB (back when Kentucky had an off-track-betting system). Combs chose the University of Louisville for the Equine Administration program, graduating in 2010. After a brief stint in the corporate world working for Humana Health Insurance, he earned a Masters of Business Administration from Ole Miss in 2012. But the pull of the racetrack ultimately won out and Combs got a job on the backside for Dallas Stewart, working his way up to assistant trainer before going out on his own in late 2017. In addition to being a trainer, Combs also owns horses.
Combs, elected to the board in 2021, said he ran in part to champion the interests of the smaller owners and trainers. Another priority of his is working on addressing the workforce issues that greatly impact stables of all sizes.
Jason Barkley, a fourth-generation horseman from Evansville, Ind., went into training full time in 2017 after working as an assistant to Wesley Ward and Joe Sharp. Barkley worked for his dad, retired owner-trainer Jeff Barkley, until enrolling in the University of Louisville's Equine Industry Program in the College of Business. He spent his collegiate summers working at Churchill Downs for trainers Steve Margolis, Paul McGee and Wayne Catalano, along with Nick Zito after graduation. Barkley lives in Louisville, racing on the Kentucky circuit and wintering at Oaklawn Park. He was elected to the board in 2021. Barkley earned his first graded stakes victory in Keeneland's 2021 Sycamore (G3) with Spooky Channel. Barkley and Shelbi Kurtz, his fiancee and assistant, have a daughter.
John Hancock's training career officially began in 1991, but he literally was raised on the Ellis Park backside in his hometown of Henderson. Nicknamed the Mayor or Godfather of the Ellis backstretch (as well as "Big John"), Hancock is the third-generation owner-trainer stabled in Barn 4, spanning more than 50 years, and now is the patriarch of a racing family in its fifth generation with his grandson, Matt. John's brother, Jack, also is a trainer. Hancock also is the proprietor of the nearby Riverside Training Center, where several Ellis horsemen train during the winter. He races throughout Kentucky, as well as Illinois, Indiana, Ohio, West Virginia and Pennsylvania.
While Hancock has a sizable stable, he's considered a champion for the little outfits that help fill out any racing card. Hancock has developed a reputation for paying negligible prices for horses who prove to be runners, including the multiple stakes-placed Waki Patriot and Amberspatriot, as well as winning races during Keeneland's spring meet with horses coming from Riverside. Among the horses he has bought and sold are Grade 3 winner Cocked and Loaded and UAE Oaks runner-up Midnight Chica. Hancock is a member of Ellis Park's horsemen's committee. He came up with the idea of the Kentucky HBPA's Saturday morning fan-education program, "Making of a Racehorse."
R.C. Sturgeon has been in thoroughbred racing since the early 1970's as a breeder, owner and trainer. He's stabled at The Thoroughbred Center in Lexington, racing in Kentucky, Indiana and Ohio. His interest in serving is to ensure that the "little guys" have a voice. His past horses include Daring Julie, who won 15 races with Sturgeon her breeder, owner and trainer.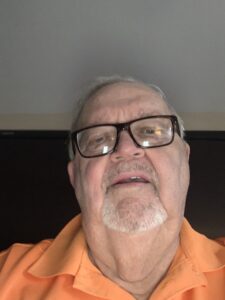 James "Jim" Williams
Alternate Owner Director
Jim Williams, a small owner and breeder, was born and farm-raised in Oldham County. He began in the industry as an owner in the early 1970s. Williams is a semi-retired businessman, co-owning an wholesale automotive business for 32 years. He also has raised cattle in Marion County.