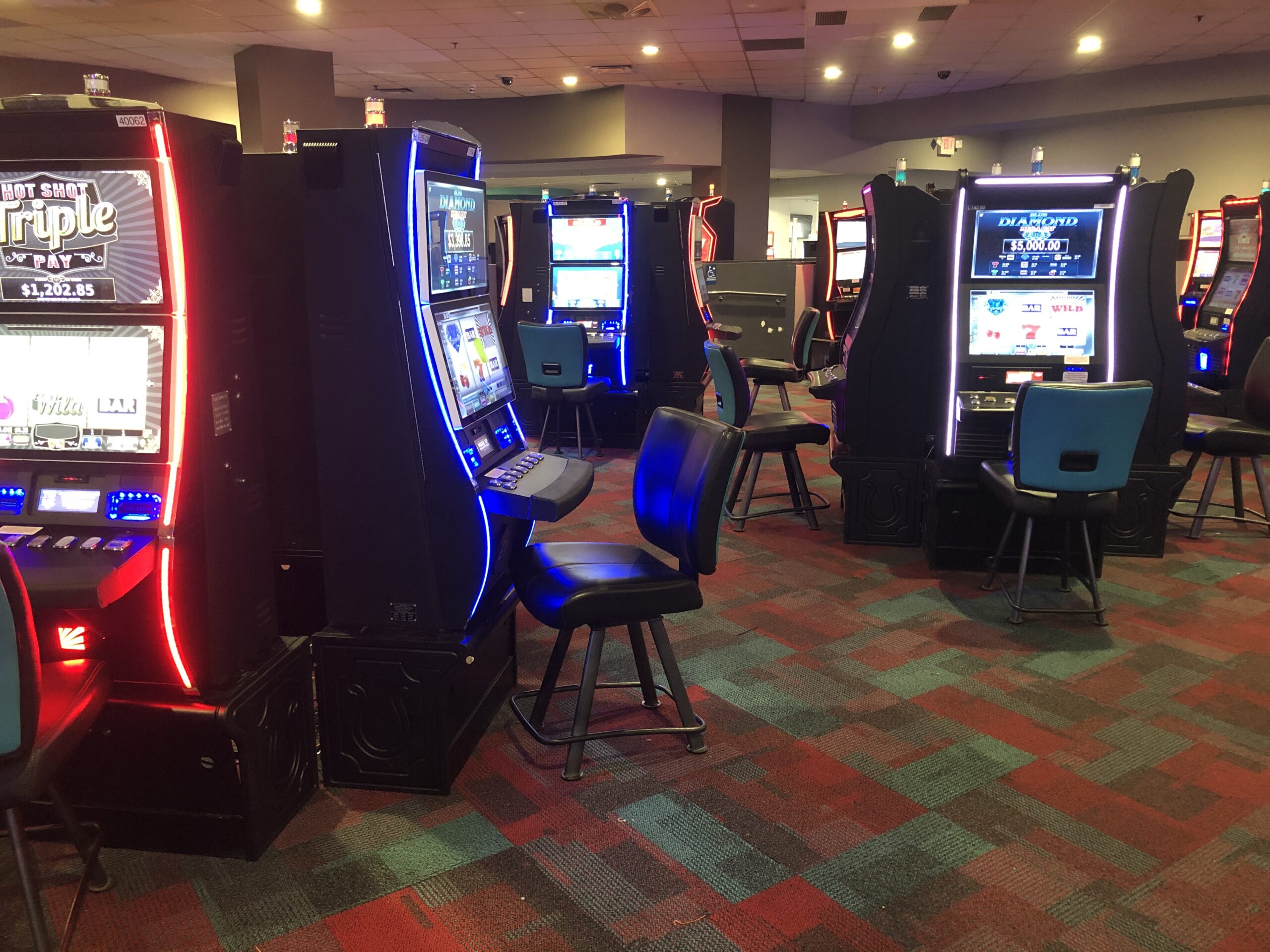 Kentucky Downs reopening for HHR gaming on Wednesday
A Kentucky Downs press release (photo provides a glimpse of the new spacing  between gaming terminals to allow for social distancing)
      FRANKLIN, Ky. (Friday, June 5, 2020) — Kentucky Downs will reopen its Historical Horse Racing gaming on Wednesday, June 10 at 9 a.m. Central. The facility will open at 33-percent capacity and guests will undergo temperature screenings before entering the facility in accordance with COVID-19 protocols.
      Wagering on racetracks across the country will begin on Thursday, June 11.
      Kentucky Gov. Andy Beshear late Thursday afternoon announced that onsite gaming and simulcast wagering at racetracks could begin as early as Monday. Kentucky Downs is delaying its opening until Wednesday in part to complete the process of moving a significant number of gaming terminals to the second floor in areas that had been dedicated to simulcasting and charitable Bingo. Approximately 513 gaming terminals will be available for play, with about 200 machines idle to guarantee proper spacing.
     Through new Kentucky Horse Racing Commission chair Jonathan Rabinowitz, the state's racetracks submitted a unified proposal to Gov. Beshear's office for reopening on-track gaming and betting while adhering to safety and strict cleaning measures, said Ted Nicholson, Kentucky Downs' senior vice president and general manager.
      Kentucky Downs has been closed since March 16.
      "We're thrilled that we are able to get our employees back to work and to be able to allow our guests to come back and enjoy the property," Nicholson said. "We just feel like we'd be better served, and our guests better served, to wait until Wednesday to open. We had to reconfigure our gaming floor to allow for social distancing, and we're fortunate we have space available to let us to spread out and activate more machines. We also have to make sure that every safety protocol is followed extensively.
      "We'll be adapting over the coming weeks with our floor space and protocols as restrictions are lifted."
      Kentucky Downs will open at 9 a.m. and run through 5 a.m. weekday mornings while operating around the clock on weekends, spanning from 9 a.m. Fridays until 5 Monday morning.
      The first-floor diner will be open at limited seating capacity, with the bar open to serve beverages. Simulcasting also will be extended into the second-floor Director's Room.
      Kentucky Downs' live race meet opens on Labor Day Sept. 7 and continues Sept. 9, 10, 12, 13 and 16.