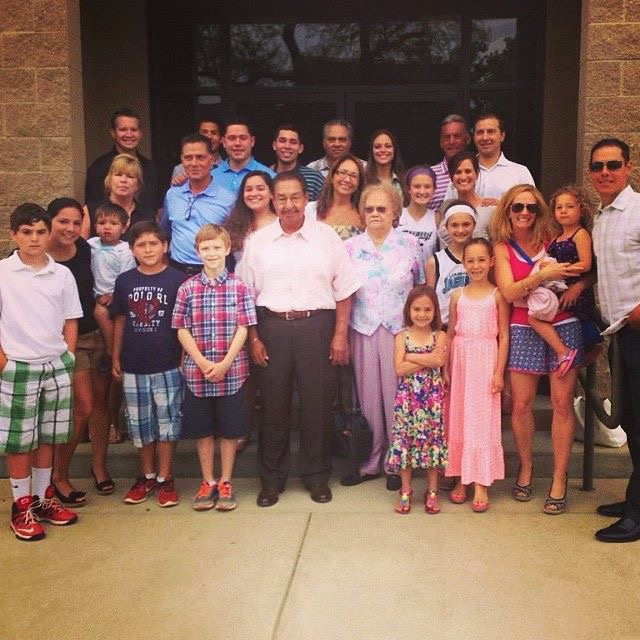 Angel Montano: An appreciation of a life well-lived
"What he has done, I don't think will ever be repeated." – Rick Fischer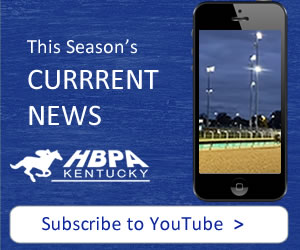 Angel Montano's funeral service is Thursday, Oct. 8 at 10 a.m. at Ratterman Funeral Home, 12900 Shelbyville Road, Louisville. In lieu of flowers, donations can be made to The Backside Learning Center at Churchill Downs (mailing address: 3131 S. 2nd St. #389 Louisville, KY 40208).
LOUISVILLE, Ky. — Angel Montano Sr. came to the United States from Mexico City at age 17 on a Greyhound bus with a fourth-grade education, $100 and six sandwiches made by his mama. He knew three words of English —"bacon and eggs" or "coffee and donuts," depending on who is telling the story. No matter which, that's all the teenage Angel ate on the trip because it was all he could order when the bus made its many stops on the three-day trip.
Montano's dreams of making it as a jockey were dashed after a bad spill in which he suffered a broken arm and leg and once healthy found himself too heavy to ride. He would, however, become the embodiment of the American dream. 
Montano was one of the very few people working on Kentucky's backstretches in the 1950s and 60s whose native language was Spanish. He went on to become one of the Commonwealth's winningest trainers in the 1970s, leading to his nickname The King. More important is his legacy, in partnership with his wife of 58 years, Pat, as the patriarch of one of the most accomplished sports families ever in Louisville. Forget the sports, just one of the great families, period.
The King was the dean of Kentucky trainers in a career dating 60 years when he died on his 80th birthday Oct. 2 at a Louisville hospital. His death came two years and a day after his wife's passing.
Montano started training in the early 1960s. With record-keeping at the time requiring a certain amount of purse earnings or wins, his official statistics begin in 1966, totaling 1,413 victories and $15,627,481 in purses. His stable won at least four races every year during that span, including 10 in 2020 and a high of 94 in 1976. Montano captured three straight Churchill Downs' spring-meet titles from 1976-78, led the Ellis Park standings four times (1974, 1976, 1987 and 1990), took the Turfway Park holiday-meet crown in 1990 and 2000 and claimed five titles at the long-closed Miles Park in Louisville's West End. With 378 victories, Montano ranks No. 10 all-time at Churchill Downs.
"What he has done, I don't think will ever be repeated," said veterinarian Dr. Rick Fischer, himself the dean of Kentucky's racetrack private practitioners and who knew Angel back to when both were teens working at Miles Park. "Because he started with absolutely nothing. The horses he had at first, you could buy them for $500. As far as being able to take care of horse and fix their ills and lamenesses, he was the greatest. And he knew how to read the condition book. He could tell when a horse was doing well, when a horse wasn't doing well. He knew every horse if they left one oat in the tub. There's just not going to be anymore (like him). There's too much with this cell phone stuff now, always in contact with the owners and going this and that. A guy can't train 20 horses anymore, that was about the limit. Now, you've got guys who train 400 or 200 horses."
Angel and Pat Montano's seven surviving children — Angel Jr., Joe, Tony, Gloria, Juan, Miguel and Maria, with son Manuel passing in early childhood — excelled not only in sports but in the classroom, a dual heritage carried on by 22 Montano grandchildren. It remains to be seen if that excellence will pass on to yet another generation, but then, the oldest of Angel's five great-grandchildren is only 5. 
Angel Jr., Juan and Miguel all won state football championships at Louisville's St. Xavier High School, with Gloria playing for Mercy Academy's 1982 girls basketball team that lost the state championship by four points to powerhouse Marshall County. Both Juan and Miguel played football with distinction at the University of Louisville, with Miguel setting multiple receiving records and being selected an Academic All-American.
The Montano grandchildren have produced state high-school championships in girls basketball, football, soccer, golf, field hockey, cross country and track. Granddaughter Makenzie Montano was starting setter for Lindsey Wilson College's 2017 undefeated NAIA national volleyball champions and honored as national player of the year.
"It's amazing what he did, raising all those kids, turning out like they did," said trainer Greg Foley, whose Churchill Downs' barn was next to Montano's for almost 35 years. "Really is. They had a good mama, too. They put them all through St. X and Mercy. All great kids. Angel said, 'You have to have a pretty good broodmare, but you need a great stallion.' We'd say, 'You need to raise your stud fee up.' I'd just look at him and laugh. There will never be another Angel.
"It was incredible, everyone of them. The girls could play, the boys. All great high-school athletes, several of them college athletes. All good students, good kids. I mean, every family, you got that many, there's got to be one screw up. But there wasn't."
Angel Jr. says their mom was the disciplinarian, jokingly describing her as "somewhere between Schwarzkopf and Dick Cheney. She loved you, tough-loved you. But she only told you once.
"We thought that was the way you did it," he said. "We didn't know you shouldn't try hard in school, shouldn't try hard in basically everything you did. Mom worked to a fault; Dad always worked other jobs. We never had whole lots of money but he always made ends meet by doing odd jobs. He used to sell Christmas trees out of Haymarket. We never were hungry and never knew we were poor."
Montano never had a horse in the Kentucky Derby. But he was good friends with Hall of Fame trainer Laz Barrera, and you'll see him in Derby winner's circle photo of Triple Crown winner Affirmed.
"If you ever asked him if he'd won the Kentucky Derby, he'd say 'Yeah, I won it eight times," Angel Jr. said. "That was in reference to us kids. He was happy with that. He was proud of us, almost embarrassingly so."
While Montano's racing stable was a force in Kentucky racing for parts of six decades, most of it was in the claiming ranks. His most notable weekend came in 1995 when he won the $75,000 Churchill Downs Turf Sprint with Long Suit on the Kentucky Oaks undercard and then the $100,000 Grade 3 Churchill Downs Handicap with 20-1 shot Goldseeker Bud on the Derby undercard, defeating 1994 Derby winner Go for Gin.
Montano also won the $100,000 Ellis Park Debutante in 1992 with 26-1 shot Jen's Fashion and took four stakes in 1990 with Spiced Coffee among the trainer's 13 career stakes victories.
"Thirty years ago, he was an icon around Kentucky," Fischer said. "He was leading trainer in the state for I don't know how many years. He had a huge stable for then. Big was 20, 25 horses, and he had like 40. I remember all his kids walking hots."
The Montano family's barbecues by the barn were legendary, especially Derby Day. Angel loved holding court with his fellow horsemen, joking around and telling stories. He was simply one of the most affable and popular trainers around.
A vintage story about Montano is how he met his wife, whose family owned a market near Miles Park. As Angel told friends, he was busted and went to a nearby bingo hall to try to run up what little money he had. There he met the former Pat Wigginton. Whether young Angel made any money or not, as Romans says now, "He hit the jackpot that night."
Only Tony made racing a full-time job after college, working as Fischer's assistant for almost 20 years before moving into another profession off the track. But all the kids inherited their dad's passion for the sport.
Today all of Angel and Pat's children, their spouses and many of their friends are involved in racing as owners through several partnership groups. That kept Montano stocked with horses late in his career in an era where it's increasingly difficult for small outfits to compete with the mega stables. (The eight horses in the barn are now trained by Montano's longtime assistant Juan Cano.)
Angel Sr. not only brought his kids into the business, he brought in Pat and many of her nine sisters. That includes Judy Wigginton, a veterinarian assistant after years as an exercise rider, and Candie Baker, wife of trainer Jimmy Baker. Another sister, Marlene Wigginton, was a former jockey and assistant trainer for her brother-in-law until her death in 2010.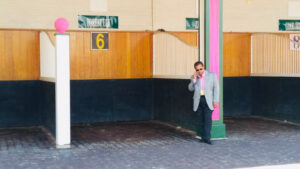 "Pat's mom would come out to the barn all the time," Fischer recalled. "She didn't do any work, but she'd sit up by the tack room and read her prayer book. All the girls were there doing something.
"He was always bragging on his kids, and especially his grandkids. When they were doing sports, he'd have the clippings on the bulletin board in the tack room. He was really a family-oriented person and really loved his family. Oh, he'd get mad at them but he never got mad at them like 'I won't talk to you.' It was 'Darn it, Joey, walk (the horse) a little faster.' That was it."
Trainer Dale Romans was just a kid hanging out at the barn of his dad, the late Jerry Romans, when he first met Montano, whose barn was in the same corner of the Churchill Downs backstretch. Romans finds it hard to fathom how Montano was able to succeed with so much going against him.
"Now anybody who comes here, there's Spanish markets to go to, Spanish places," he said. "You don't have to speak English if you don't want to. You think about when he did it, there wasn't any of that. Also, the Spanish wave that came through found a safe haven in Angel. They could go to Angel when they had a question. He'd help you. He was a mentor. Not just jockeys, anybody who didn't know where they were, they were a long ways from home, they could always go down to Angel's barn and he'd fix problems for them or explain to them – and it would be all right."
Romans said he first realized "what a leading trainer was when Angel was the leading trainer at Churchill. He was leading in everything. He made a good living and raised his family right (while working) on the racetrack. He was very proud of that.
"I think he was very happy to be known as the father of the clan, more so than as a horse trainer."
— Jennie Rees