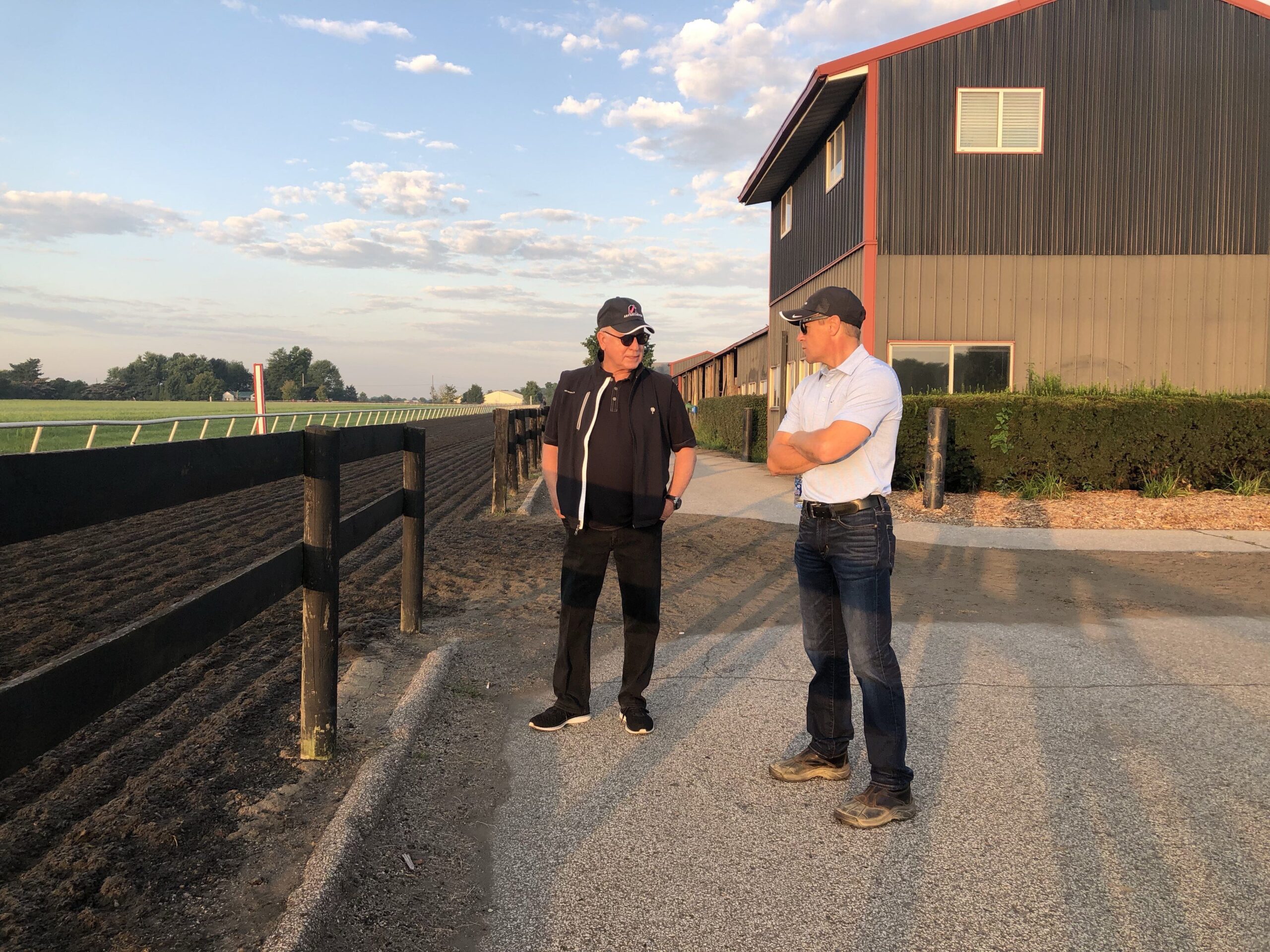 Lunsford on Art Collector in Preakness: 'I'll take my chances'
Photo: Bruce Lunsford and trainer Tommy Drury at Skylight Training Center. Jennie Rees photo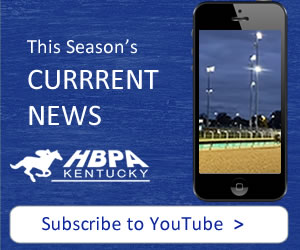 LOUISVILLE — Bruce Lunsford, who will have his first Preakness Stakes (G1) entrant when Art Collector takes on Kentucky Derby winner Authentic Saturday at Pimlico, knows something about tough races and taking on formidable opponents.
After all, as the Democratic nominee for Kentucky's U.S. Senate seat in 2008, he gave Mitch McConnell the closest call of the Senate Majority Leader's long political career.
"Oh sure, even in politics there's a common thread," said Lunsford, comparing it to horse racing. "I went into a race that nobody thought I could win. I was 25 points behind; I was tied with two weeks to go. It was like the stretch drive. It was fun, exhilarating, and I got to meet a lot of people. Mitch and I still have a decent relationship today. I think he respected what I did, and I saw where he was quoted as saying the only time he'd had his people write a concession letter was in the race with me. Because two weeks out, it looked like we were going to win."
The 72-year-old entrepreneur and philanthropist from Louisville has been many things: Founder of a Fortune 500 company, investor in a myriad of start-up companies, producer of movies, partner in the Kentucky Kingdom amusement park and Hurricane Bay water park. He worked in state government as Kentucky's commerce secretary. Now Lunsford would love nothing more than to add classic-winning horse owner and breeder.
Art Collector, out of Lunsford's mare Distorted Legacy, is his first Preakness entrant and his second in the Triple Crown, following Vision and Verse, the 1999 Belmont Stakes (G1) runner-up to Lemon Drop Kid at odds of 54-1. Art Collector — who is 4- for-4 this year, including the $200,000 RUNHAPPY Ellis Park Derby and Keeneland's Toyota Blue Grass (G2) — was supposed to be the first Kentucky Derby starter for Lunsford and trainer Tommy Drury.
Within days of being fulfilled, that Derby dream was derailed when Art Collector sustained a minor and fleeting, but untimely, foot issue. A month later they are back on solid ground for another swing in the Triple Crown.
"It's the only thing you work on, probably, that you spend weeks and days and everything to get ready and it lasts two minutes or less," Lunsford said. "So a lot of stuff is just outside your control. I do like the way this horse runs. They all have to get out of the gate. We've seen a lot of horses over the years who are really good break bad and it takes them out of the action. This horse has not shown a propensity to do that. If he gets in the flow and we get a fair trip, I've got to like our chances to hit the board. Anything above that gets to be gravy. But a lot of the handicappers all of a sudden are picking him. So I don't know exactly what that means."
Lunsford wonders how the Derby might have been different had Art Collector been in the field, given that his horse and jockey Brian Hernandez Jr. logically figured to put more pressure than the front-running winner Authentic faced in his absence.
"The good thing is that speculation doesn't matter, because we're going to get a chance to run against each other," Lunsford said. "I'm hopeful both have a good trip, and I'd love to see them down the stretch together. I'll take my chances."
Lunsford grew up in Kenton County in northern Kentucky near Cincinnati, his dad a union shop steward who wound up buying a small farm. Young Lunsford got interested in horse racing while attending the University of Kentucky and going to Keeneland. In the summers he'd go to Ellis Park with his fraternity brother and close friend Greg Hudson, whose dad owned horses.
A CPA who also received a law degree from Northern Kentucky University, Lunsford in his early 30s was Kentucky's commerce secretary under John Y. Brown. In that capacity, he helped bring United Parcel Service's worldwide air hub to Louisville and was involved with launching the Kentucky Center for the Performing Arts.
A few years later, Lunsford got into horse ownership by claiming a couple of cheap horses with his pal Hudson.
"The good news or bad news, whichever way you look at it, both of them won about $100,000," he said. "So we thought this game is easy. We found out later it's a little more complicated."
A couple of years later, Lunsford wanted to get involved in the breeding side of racing. He purchased one of his first broodmare prospects in 1994, paying $500,000 for a 3-year-old filly out of the Greentree Stable dispersal upon the advice of Claiborne Farm head Seth Hancock.
"You know Bruce, he wanted action," Hancock recalled. "We said, 'Well look here. You can have your cake and eat it too. Greentree is dispersing these things, and here's a pretty good racemare who's got a great pedigree. You'll have some fun running her and maybe we can make a pretty decent broodmare out of her.' "
That half-million dollar filly, Bunting, had one win out of 13 starts for her prior connections, but she also finished second in Keeneland's Ashland (G1) and Pimlico's Black-Eyed Susan (G2). In four starts for Lunsford, she won a Gulfstream Park allowance race before being retired to Claiborne Farm. She proved far better than pretty decent as a broodmare.
Bunting's first foal was Vision and Verse, who won the Illinois Derby G2) and also was second in the Travers Stakes while earning $1 million. Her 11th foal was a filly named Distorted Legacy, a minor stakes-winner who placed second in Belmont Park's Flower Bowl (G1). Distorted Legacy's second foal was Art Collector.
Until Art Collector, Lunsford's home-run horses came around 15 years ago.
His $160,000 yearling purchase Madcap Escapade won 7 of 9 starts and more than $1 million, including Keeneland's Ashland G1), and finished third in the 2004 Kentucky Oaks. The Frankie Brothers charge was being pointed for the 2005 Breeders' Cup Sprint against males when she suffered a career-ending injury. He sold a half-interest in Madcap Escapade at auction for $3 million, staying in for the other half, to another trusted advisor, John Sikura, with whom Lunsford also boards mares at Hill 'N' Dale Farm.
The Brothers-trained First Samurai, purchased as a yearling with his friend Lansdon Robbins of Louisville, won his first four starts in 2005, including New York's Grade 1 Hopeful and Champagne before finishing third in the Breeders' Cup Juvenile. The winner of Gulfstream Park's Fountain of Youth (G2) upon the disqualification of Corinthian for interference, First Samurai's Derby aspirations ended when he was injured in Keeneland's Blue Grass. He retired to a stallion career at Claiborne.
Lunsford also bred and sold Golden Missile, winner of the Grade 1 Pimlico Special in 2000, then sold that horse's mom, Santa Catalina, for $1.35 million five years later. He also bred and sold Canada's 2006 Horse of the Year Arravale, a two-time Grade 1 winner.
For all his success, Lunsford knows well how difficult it is to just get to the championship races, let alone win.
"Just like the experience at the Derby," he said. "All things went right, and then he winds up getting what is almost like an ingrown toenail. You're talking about creatures that have large bodies and small legs. And things happen. Seth Hancock told me one time, you've got to learn to take the hard blows in this business… My good friend Don Dizney told me that it's the lows that make the highs so good. There's a lot of truth to that.  If you can win 15, 20 percent of your races, they cover you pretty well. It's like the baseball player who bats .300."
Lunsford today is chairman and CEO of Lunsford Capital, a private investment company he founded in 2003. The companies he has founded include Vencor, a Fortune 500 company now known as Kindred Healthcare, and its spinoff real-estate company Ventas; Atria Communities, the third-largest assisted-living company in America; and Valor Healthcare, Inc., a company that develops and operates outpatient clinics for military veterans under the U.S. Department of Veterans Affairs.
"I was a start-up guy," he said. "Now what I do is I invest in people that I think have it. I tell people I don't invest in financial statements, I invest in people. When I realize they have the skillset, we try to give them the things they need to do to make it work."
Drury is an example. Lunsford one day this summer asked Drury what he had going on for the week. The trainer mentioned the various trips he'd be making up and down the highway to Belterra Park and Ellis Park. "He said, 'Man, we've got to get you to the point to where you're not bouncing around so much,'" Drury recalled. "He said, 'Better-quality horses is going to do that to you. We need to sit down and talk.'
"And that's the kind of guy Bruce is. He's always willing to help others. Always willing to try to help you reach your goal and get to the next level. It's like the Blue Grass," Drury continued, referencing Art Collector giving him his first graded-stakes victory.  "It took me a long time to get to that. He knew that and I think he was genuinely happy for me. He's got a heart the size of Texas. It makes you want to work that much harder and want to win that much more for people like that."
Lunsford said that at this stage of his life, he only wants to do things that are fun and challenging.
"The thing I've done well is I've built a really nice staff," he said. "The guy who runs the whole real-estate company which is assisted living and apartments, his dad was my barber. His son Brian (Durbin) is like my right-hand man. Every time I get out of Jerry's chair, I say, 'I just can't tell you how he's changed my life.' I have a team of about six people of his quality. I've built a team of people where, if I drop dead tomorrow, they can keep it going."
Lunsford laughed when asked if he's an under-the-radar Shark Tank.
"I can relate to everything they do, except I don't have as much money,"  he said.
So maybe a Shark Tank Lite?
"That's right," he said. "You know I was in the movie business for a while with Ed Hart, had about 10 movies we made. We had a lot of fun. Made a little money, lost a lot of money. But I will say one thing: I was in the two toughest business anybody can be in: the horse business and the movie business."
Making having a horse of Art Collector's caliber even more satisfying for the father of daughters Amy, Cindy and Brandy and grandfather to six is sharing the experience with his significant other, Eleanor Porco.
"I have a lot that I enjoy in life, because I like action a little bit," Lunsford said. "I don't think I'm an action junkie or anything. But this is one of those things where my friends are able to enjoy it. My two best friends are still alive. I mean, we're at the age where that could not be true. The whole idea of having a horse of this quality and at a time in my life when I've really got a great soulmate with me has just really turned it into a great blessing.
"There are only so many interesting things you can do in life. Outside of having your children and things you do as a kid, sports and otherwise, when you're older, it's harder to keep it exciting. I'm 72 years old and my life is still exciting."