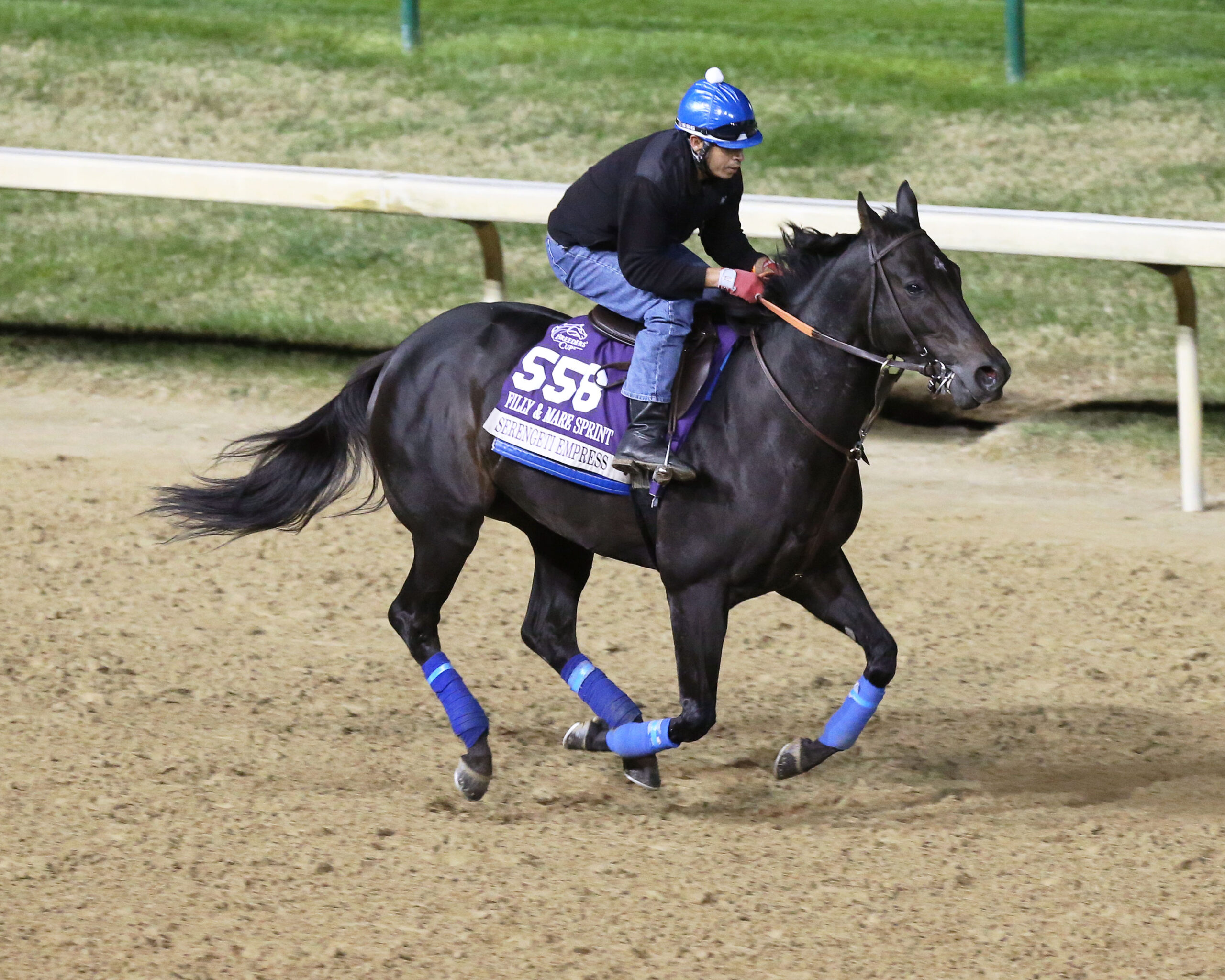 Kentucky-based trainers dominate Breeders' Cup entries
(Photo above: Serengeti Empress, last year's Kentucky Oaks winner, training for the $1 million Breeders' Cup Filly & Mare Sprint. Coady Photography)
By Jennie Rees,
Kentucky HBPA communications
       LOUISVILLE, Ky. (Tuesday Nov. 3, 2020) —Serving as an advertisement for the burgeoning strength of the Kentucky circuit, more than 60 horses based in the commonwealth were entered in the 14 races Friday and Saturday comprising the Breeders' Cup World Championships at Keeneland.
       More specifically, 59 of the 170 horses — 35 percent — guaranteed a spot in the starting gate for Friday's five Breeders' Cup 2-year-old races and Saturday's nine events for 3-year-olds and older horses have trained much of the year in Louisville or Lexington and raced at least once in the state. Additional Kentucky horses entered need scratches from the overflow fields to get into the races.
        Certainly having the Breeders' Cup in Kentucky makes it more attractive for local horses to take a shot. But the numbers remain impressive.
       Nine of the capacity 14 horses in the $2 million TVG Breeders' Cup Juvenile can be considered Kentucky-based horses, including Keeneland's Grade 1 Claiborne Breeders' Futurity winner Essential Quality and 4-for-4 favorite Jackie's Warrior, who won a Churchill Downs maiden race before going to New York for victories in the Grade 1 Hopeful and Champagne.
       The $1 million Big Ass Fans Dirt Mile's capacity field of 12 features eight horses from Louisville, while Churchill Downs outfits have four of the 10 horses in the $6 million Longines Classic: Tom's d'Etat, By My Standards, Global Campaign and Title Ready.
       "The Churchill meet year-round, the spring and fall, it's just a tough, tough meet," said trainer Greg Foley, who is trying to collect his first Breeders' Cup victory with the 3-year-old filly Sconsin in the $1 million Filly & Mare Sprint. "Every year they pick up some new outfits. I think it's the toughest racing in the country, really. Start from the bottom claimers on up to the allowance and stakes horses. You've got to run, man. It's tough."
       By far the biggest chunk of the Kentucky contingent comes from Churchill Downs, which is open for training nine months out of the year. While some horses can be claimed by more than one racing jurisdiction, this calculation does not include horses if they haven't previously raced in 2020 in Kentucky, even if that's where they've been training.
       For instance, Campanelle, a leading contender for Friday's $1 million Juvenile Fillies Turf, shipped from Wesley Ward's year-round Keeneland training operation to win a Group 2 race in England and a Group 1 in France but isn't counted in the total. Ditto for Fire At Will, a two-time New York stakes-winner who has spent most of his young career at trainer Mike Maker's Trackside training center base in Louisville.
       Also, horses such as Kentucky Downs' The Mint Juvenile Fillies winner Plum Ali and Grade 3 RUNHAPPY Turf Sprint winner Imprimis have run in the state but are not counted because Plum Ali most accurately is considered part of trainer Christophe Clement's New York operation and Imprimis part of Joe Orseno's Florida stable.
       While the Breeders' Cup races are well-populated with horses who ran at Churchill Downs and Keeneland, Kentucky Downs likewise is well-represented in the turf races. That includes two-time Calumet Farm Kentucky Turf Cup (G3) winner Arklow in the $4 million Longines Turf and Grade 3 Real Solution Ladies Sprint winner Got Stormy, who is one of five horses in the $1 million Turf Sprint who ran at Kentucky Downs in September.
Ellis Park's 2-year-old program — no longer the best-kept secret in racing but now considered an endorsement for a young horse — is well-represented, including the Dale Romans-trained duo of Girl Daddy ($2 million Juvenile Fillies) and Sittin On Go (Juvenile), who went from maiden wins at the Henderson track to winning Churchill Downs' Grade 3 Pocahontas and Grade 3 Iroquois, respectively. The Kenny McPeek-trained Crazy Beautiful also won her Ellis debut and then took the RUNHAPPY Ellis Park Debutante before finishing second in the Pocahontas and in Keeneland's Grade 1 Darley Alcibiades won by her stablemate Simply Ravishing.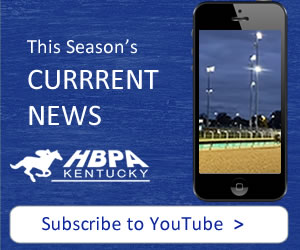 "This year's Breeders' Cup is a testament to how tough racing has become and how great the horses in Kentucky have become, with the largest contingent of horses running this year being based at Churchill Downs," said Romans, who has four horses in the Breeders' Cup. "It speaks highly of what's been going on here.
       "And of course, Ellis Park is the breeding ground for 2-year-olds. Looks like the juveniles are well-represented from Ellis Park."
       Older horses who came out of the Ellis 2-year-old program in past year include Filly & Mare Sprint leading contender Serengeti Empress, who went on from winning the 2018 Ellis Park Debutante to taking last year's Kentucky Oaks, along with Grade 1 winners Knicks Go (Dirt Mile) and Hog Creek Hustle ($2 million Sprint).
       But it's not only Ellis' 2-year-old racing helping to launch marquee horses. Art Collector (Dirt Mile) won the $200,000 RUNHAPPY Ellis Park Derby in August, Lady Kate ($2 million Longines Distaff) the Groupie Doll Stakes, Factor This ($2 million FanDuel Mile) the last two runnings of Ellis' Kentucky Downs Preview Turf Cup, and Sconsin was third in Ellis' Audubon Oaks before winning Churchill Downs' Grade 2 Eight Belles.
       Art Collector is a poster-boy for Kentucky racing, have won a Kentucky Downs maiden race on grass last year and this year winning a pair of Churchill Downs allowance races and Keeneland's Grade 2 Toyota Blue Grass before adding on the Ellis Park Derby. He finished fourth in the Preakness Stakes in his last start.
       "It's a strong colony here," said Vickie Foley, trainer of Hog Creek Hustle. "A lot of good horses. If you can win in Kentucky, you can win anywhere, I say."
       "I think there are a couple of things going on here in Kentucky," said Tom Amoss, Serengeti Empress' trainer. "No. 1 is purse structure. The purses have gotten very good here. Because it's so centrally located — and you can really train at a lot of venues and still race at Churchill Downs, Ellis Park, Kentucky Downs, Keeneland — it makes it a popular place. Popular racing makes competitive racing. If you can be successful at those tracks, it's going to lead you to the national stage — as we see this year."
Stanley Hough, who shipped Global Campaign to Saratoga to win the Grade 1 Woodward this summer, has spent most of his long training career based on the East Coast. However, he was in Kentucky for a couple of years in the late 1990s as private trainer for Robert "Country" Roberts. When Hough resumed training a couple of years ago after almost seven years in retirement, Churchill Downs became his base much of the year. He's impressed with the transition.
       "I've always enjoyed Kentucky racing," Hough said. "I think now, the way things are going, Kentucky is going to be the center of racing. I think it's going to take over New York and California. Kentucky racing is really coming."
Kentucky-based horses in the Breeders' Cup
(does not include horses on also-eligible list)
Friday
Horse (trainer) last race
Listed in order based on post position
$1 million Juvenile Turf Sprint (2:30 p.m. ET)
County Final (Steve Asmussen) fourth G3 Futurity
Cowan (Steve Asmussen) second Keeneland's Indian Summer
After Five (Wesley Ward) second G3 Belmont Futurity
Bodenheimer (Valorie Lund) first Indiana Summer
Into the Sunrise (Wesley Ward) G2 Bourbon
$1 million Juvenile Turf (3:10 p.m. ET)
Abarta (Brad Cox) second G2 Bourbon
Outadore (Wesley Ward), first KY Downs Juv. Turf Sprint
$2 million Juvenile Fillies (3:50 p.m. ET)
Simply Ravishing (Kenny McPeek) first G1 Darley Alcibiades
Thoughtfully (Steve Asmussen), fourth G1 Darley Alcibiades
Girl Daddy (Dale Romans) G3 Pocahontas
Crazy Beautiful (Kenny McPeek) second G1 Darley Alcibiades
$1 million Juvenile Fillies Turf (4:30 p.m. ET)
Aunt Pearl (Brad Cox) first G2 Jessamine
Royal Approval (Wesley Ward) first G3 Matron
Spanish Loveaffair (Mark Casse) second G2 Jessamine
$2 million TVG Juvenile (5:15 p.m. ET)
Camp Hope (Kenny McPeek) first Churchill maiden
King Fury (Kenny McPeek), first Street Sense
Essential Quality (Brad Cox) first Breeders' Futurity
Keepmeinmind (Robertino Diodoro) second G1 Breeders' Futurity
Jackie's Warrior (Steve Asmussen) first G1 Champagne
Sittin on Go (Dale Romans) G3 Pocahontas
Dreamer's Disease (Robertino Diodoro) first Keeneland allowance
Next (Wesley Ward) first Keeneland allowance
Calibrate (Steve Asmussen) sixth G1 Breeders' Futurity
Saturday
Horse (trainer) last race
Listed in order based on post position
$1 million Filly & Mare Sprint (12:02 p.m. ET)
Sconsin (Greg Foley) first G2 Eight Belles
Serengeti Empress (Tom Amoss) second G1 Derby City Gaming Distaff
Sally's Curlin (Dale Romans) third 3rd G1 Derby City Gaming Distaff
Bell's the One (Neil Pessin) first G1 Derby City Gaming Distaff
$1 million Turf Sprint (12:39 p.m. ET)
Just Might (Michelle Lovell) third G2 Woodford
Front Run the Fed (Chad Brown) second G3 RUNHAPPY Turf Sprint
Leinster (Rusty Arnold) first G2 Woodford
Into Mystic (Brendan Walsh) second G2 Buffalo Trace
Got Stormy (Mark Casse) first G2 Buffalo Trace
Extravagant Kid (Brendan Walsh) second G2 Woodford
$1 million Big Ass Fans Dirt Mile (1:18 p.m. ET)
Art Collector (Tommy Drury) fourth G1 Preakness
Silver Dust (Bret Calhoun) third G2 Alysheba
War of Will (Mark Casse) third G1 Woodbine Mile
Knicks Go (Brad Cox) first Keeneland allowance
Mr. Money (Bret Calhoun) first G3 Ack Ack
Pirates Punch (Grant Forster) first G3 Salvador Mile
Mr Freeze (Dale Romans) first G2 Fayette
Owendale (Brad Cox) second G3 Pimlico Special
$2 million Maker's Mark Filly & Mare Turf (1:57 p.m. ET)
Harvey's Lil Goil (Bill Mott) first G1 Queen Elizabeth II
$1 million Sprint (2:36 p.m. ET)
Echo Town (Steve Asmussen) third G2 Phoenix
Bon Raison (Jack Sisterson) first Keeneland allowance
Manny Wah (Wayne Catalano) second Keeneland allowance
Whitmore (Ron Moquette) fourth G2 Phoenix
Yaupon (Steve Asmussen) first G3 Chick Lang
Hog Creek Hustle (Vickie Foley) second Keeneland allowance
$2 million FanDuel Mile (3:15 p.m. ET)
Casa Creed (Bill Mott) fourth Shadwell Turf Mile
Ivar (Paulo Lobo) first Shadwell Turf Mile
Factor This (Brad Cox) first G2 Dinner Party
$2 Longines Distaff (3:54 p.m. ET)
Swiss Skydiver (Kenny McPeek) first Preakness
Lady Kate (Eddie Kenneally) fourth G1 Juddmonte Spinster
Monomoy Girl (Brad Cox) first G1 LaTroienne
$4 million Longines Turf (4:33 p.m. ET)
Arklow, Brad Cox, 1st G3 Calumet Farm Ky Turf Cup
$6 million Longines Classic (5:18 p.m. ET)
By My Standards (Bret Calhoun) first G2 Alysheba
Tom's d'Etat (Al Stall) third G1 Whitney
Title Ready (Dallas Stewart) third G2 Fayette
Global Campaign (Stan Hough) first G1 Woodward