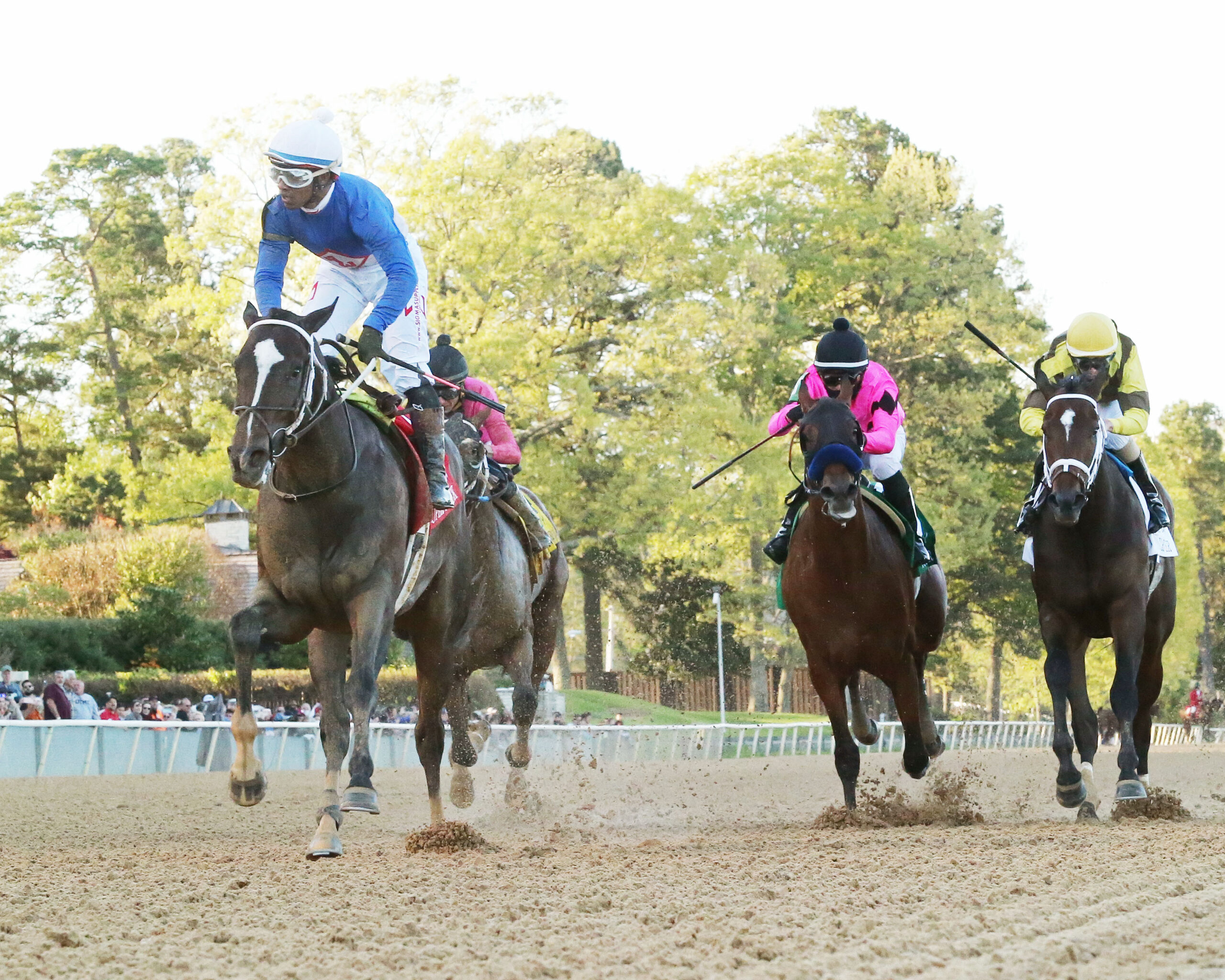 Super shock! Asmussens' Super Stock takes Arkansas Derby
Oaklawn Park's Arkansas Derby recap (Coady Photography photos):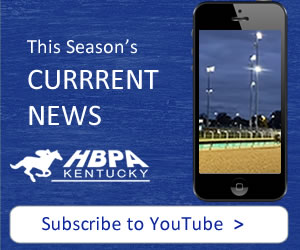 Hot Springs, Ark. (Saturday, April 10, 2021) – The public missed the chance to get in on the ground floor, but Super Stock is offering up a dividend for the Asmussen family business after his upset victory in Saturday's $1 million Arkansas Derby (G1) and punched his ticket for the Kentucky Derby in three weeks.
Jockey Ricardo Santana Jr. and the 3-year-old son of Dialed In pounced on the speed duel set by favorite Concert Tour and Caddo River to power to a 2 ½-length victory in the 1 1/8th-mile race before 17,000 fans and earned 100 points toward starting in the Run for the Roses at Churchill Downs on May 1.
Super Stock is co-owned by Erv Woolsey and Keith Asmussen, the father of Hall of Fame trainer Steve Asmussen, who won his fifth Arkansas Derby, the most in the 85 years of Oaklawn's showcase event.
The winner paid $26.40, $6.80 and $2.80 and covered nine furlongs in 1:50.92. Caddo River (4.20, 2.40) held second by a head over Concert Tour (2.10) after the winners of two of the previous Oaklawn Derby preps pressed each other for a mile before giving way to Super Stock.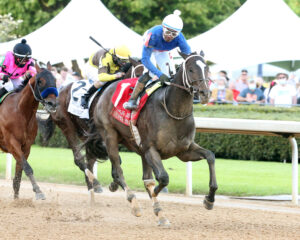 Super Stock earned 100 points towards Kentucky Derby eligibility and is now ranked third with 109 total points. Caddo River is now ranked 13th with 50 points and Concert Tour is ranked 9th with 70 points after earning 40 and 20 points, respectively for second and third. Fourth-place finisher Get Her Number is now on the Kentucky Derby bubble in 26th place with 20 points. Only the top 20 point earnings will start in the Kentucky Derby.
Keeping Good Company
Super Stock won on his third attempt in Lone Star Park's $114,000 Texas Thoroughbred Futurity – with Steve's son and the elder Asmussen's namesake Keith Asmussen, a University of Texas at Austin student, in the saddle. He then was third in Churchill Downs' Grade 3 Iroquois, third in Keeneland's Grade 1 Claiborne Breeders' Futurity won by 2-year-old champion and Derby favorite Essential Quality and then a close second  back in Churchill Downs' Street Sense – won by Saturday's Stonestreet Lexington winner King Fury. In his first start this year, Super Stock finished fourth in the Rebel Stakes won by Concert Tour.
Stakes Quotes:
Winning jockey Ricardo Santana Jr., Super Stock – "We got a beautiful trip. I was talking to Mr. Steve (Asmussen) for about two weeks about this race. The post was perfect. We both liked breaking from #1.We knew there was some speed and everything came out perfect. It was a really important win for Steve and his family. I'm really blessed to be the one they chose to ride this race."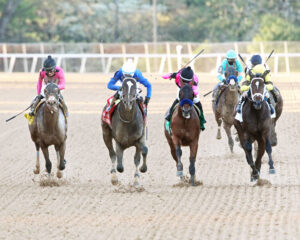 Winning trainer Steve Asmussen, Super Stock: "(Tactically it set up) perfectly. We wanted to use his post position. I thought he used his post position into the first turn extremely well. Those horses went :46 2/5 for a half-mile. Plenty solid factions, carried him nicely. He got up behind them a little quicker than he thought he would, obviously, in the stretch. My confidence level was he was going to run really good. I've been in races like that, that you have no control over how good or bad somebody else runs. But I felt like that he was going to represent extremely well."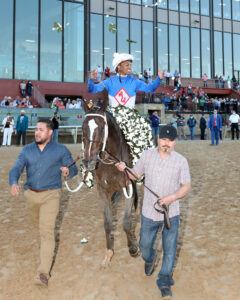 Trainer Brad Cox, second with Caddo River: "I thought we gave him the best opportunity to win. It's kind of tough. Beat the four horses we thought we had to beat. Obviously, a very good horse won the race. I'm very proud of our horse's effort. I thought we got a good trip. He did all the running and battled back to be second. He was passed and battled back to be second. Overall, I thought it was a very good effort."
Trainer Bob Baffert, third with Concert Tour: "He's there and just got tired there at the end. He's a young horse. It was a good race, but I was more disappointed in my other horse in the race (Hozier). That other horse, he got tired early. Those things happen. You get beat and try to figure out – they're still young and they're still having these races. Sometimes, you learn more from a loss than a win. Right now, he got beat. I can make any excuses for him right now."
Jockey Joel Rosario, third on Concert Tour: "Everything was going the right way. I was happy where I was, following the horse on the lead (Caddo River). I got to him. He kept going, but that horse (Super Stock) came strong on the outside. He tried hard. He was moving good, doing everything right. That horse that won came running today."