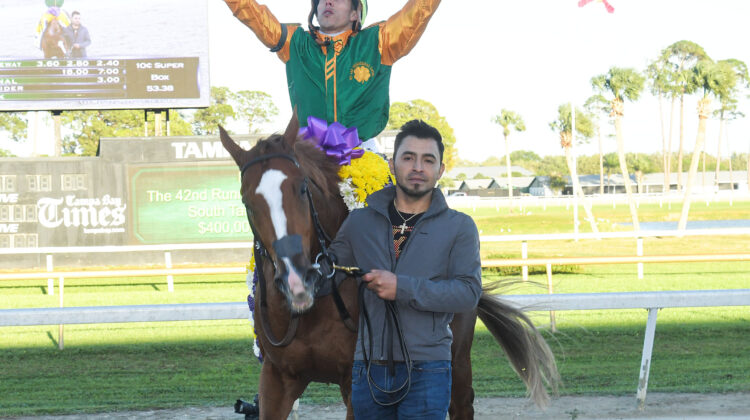 Classic Causeway rolls in Tampa Bay Derby
Tampa Bay Downs stakes recap (Photo by SV Photography)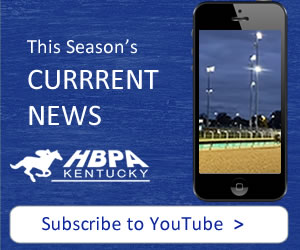 OLDSMAR, FL. – Classic Causeway lived up to the hype in the 42nd edition of the Grade II, $400,000 Lambholm South Tampa Bay Derby, breaking from the starting gate like a lightning bolt and sustaining his energy throughout to post a 2 ½-length victory from game long shot Grantham. Shipsational rallied for third, another neck back, with Golden Glider fourth in the 10-horse field.
The victory earned Classic Causeway 50 "Road to the Kentucky Derby" points, putting him No. 1 on the list with 66 points and guaranteeing him a spot in the Kentucky Derby on May 7 at Churchill Downs.
Grantham climbed into the Kentucky Derby picture by earning 20 points, giving him 21, while Shipsational earned 10 points to move to 14.
Early-morning rain and overcast skies did nothing to diminish the passion of a crowd of 5,381 and simulcast bettors who wagered $20,778,222 on the card, an all-time Tampa Bay Downs record and a 36-percent increase from 2021. The total handle figure was the highest of any racetrack in the country.
And the $3,686,488 wagered alone on the Lambholm South Tampa Bay Derby is also an all-time record.
"It's pretty exciting stuff," said Kentucky-based trainer Brian Lynch (understandably, referring to his 3-year-old colt, not the dollars wagered) after Classic Causeway completed the mile-and-a-sixteenth on a good main track in 1:44.90 under jockey Irad Ortiz, Jr., to become the first horse since Destin in 2016 to win both the Lambholm South Tampa Bay Derby and the Grade III Sam F. Davis Stakes. "He's just come into his own right now and just to watch him, he seems like a happy horse that enjoys his job. He's very, very good right now."
Ortiz, who won three consecutive stakes on the card – the Grade III Florida Oaks on the turf on Dolce Zel, the Columbia Stakes on the turf on Heaven Street and the Lambholm South Tampa Bay Derby – made it sound as if he didn't need to do much, himself.
"He gave me the same performance again (as in the Grade III Sam F. Davis). He broke good, he gave me good position and I just went from there," Ortiz said. "He was traveling perfect all the way to the 3/8-mile pole. When I asked him, he was there. Getting close to the wire, he was looking around a little bit, but I felt I had a lot more horse.
"He's acting like he can carry his speed more," said Ortiz, who has ridden nine winners in his two recent visits to the Oldsmar oval. "These last couple of races he's been acting after the wire like he still has more left. I don't want to jinx it, but I think there is something more there."
On the Festival Day 42 undercard, trainer Chad Brown engineered a tour de force by winning the Grade II, $225,000 Hillsborough Stakes on the turf with 4-year-old filly Bleecker Street and the Grade III, $200,000 Florida Oaks with French-bred 3-year-old import Dolce Zel. Brown also sent out the runners-up in both races (Rocky Sky in the Hillsborough and Spicer in the Florida Oaks) and won the sixth race, a maiden special weight sprint, with 3-year-old filly Gina Romantica, a first-time starter ridden by Irad Ortiz, Jr.
In the day's other graded stakes, the Grade III, $100,000 Michelob Ultra Challenger on the main track, lightly-raced 4-year-old colt Scalding turned back Cody's Wish by a neck after a spirited stretch battle to prevail under jockey Javier Castellano.
The 3-year-old colt Heaven Street won the $75,000 Columbia Stakes on the turf, rallying through the stretch to defeat longshot Ben's Malice by a length.
Classic Causeway, a son of Giant's Causeway owned by Patrick O'Keefe's Kentucky West Racing and Clarke M. Cooper, earned $210,000 for his third victory from five starts, raising his earnings to $511,100. He paid $3.60 to win as the heavy betting favorite.
His explosiveness from the gate was a big factor in the victory, Lynch said.
"He has always been a very good gate horse and he's a horse that actually loves the gate and is excited to walk into it," he said. "And as soon as they pop, he's off. That early speed is a great asset to have because you're going to stay out of trouble when you can break fast and clear. When you have a horse that can run them off their feet early, get a chance to take a breather and relax and still be able to finish, that is a great asset in a horse."
"He's great when he leaves the gate because you don't have to use him," Ortiz explained. "You don't have to ask him to do anything. He does it by himself, then he relaxes going into the first turn and on the backside. He waits for you. He's a smart horse."
Lynch said Classic Causeway is likely to race once more before the Kentucky Derby, perhaps on April 9 at Keeneland in the Grade I Toyota Blue Grass.
Bleecker Street, owner Peter M. Brant's 4-year-old filly who is now 5-for-5, became the first horse since Tepin in 2016 to win both the Hillsborough and the Grade III Endeavour Stakes on the Oldsmar oval turf. Brown has won the Hillsborough five times, one more than Todd Pletcher. Bleecker Street did it with style, roaring though the stretch as if catapulted from a slingshot to post a 3 ¾-length victory from Rocky Sky, also owned by Brant.
Hector Rafael Diaz, Jr., who has ridden her in all five starts, calls Bleecker Street his "queen."
"She's the best filly I've ever ridden," Diaz said. "I rode her really confident because I know what she is capable of doing. No pressure. I was just waiting for the moment to switch outside because I knew she was going to run. She's really easy to ride. When you ask her to go, she accelerates. She has an amazing turn of foot. The course was softer than she likes, and that tells me how good she is."
Bleecker Street's time for the mile-and-an-eighth distance on a turf course rated "good" was a spirited 1:48.21.
"We're really happy about the 1-2 finish," Brown said. "(Bleecker Street) really ran well. We were on the fence about sending her because I wasn't that confident how she would handle soft turf, but by the time we loaded them from Payson Park this morning it looked like the rain was moving through quicker and the wind might dry out the course.
"She really loves Tampa, so we decided to give it a shot. She was super impressive and handled the give in the ground well. It certainly looked like the added distance didn't bother her, so hopefully she can keep stepping up," Brown added.
In the Florida Oaks for 3-year-old fillies, the incredible riding Ortiz brothers, Irad and Jose, rewarded Brown with another 1-2 finish, with Dolce Zel and Irad edging Spicer and Jose by a head. Dolce Zel's time was 1:44.18 for the mile-and-a-sixteenth distance. She is owned by Michael Dubb, Madaket Stables, LLC and Robert V. LaPenta.
"I had a perfect trip, to be honest," Irad said. "I was in beautiful position going into the first turn. Up the backside I followed (Spicer), and by the far turn it looked like I was in good position and ready to roll, but Chad told me that when she makes the lead early she can wait on horses.
"So I was ready for that. When she hit the lead, she kind of waited a little bit for the other horses, so I hit her one time and she responded very well. She looks like a nice filly. She was ready today and she did everything right."
In the Michelob Ultra Challenger, 4-year-old colt Scalding and jockey Javier Castellano prevailed by a neck from favorite Cody's Wish. Scalding's time for the mile-and-a-sixteenth was 1:43.53.
"It's a big job going from an allowance/other than condition to this spot, but we've always liked this horse," said winning trainer Claude "Shug" McGaughey, III. "He has been training forwardly and from what we saw today, his future is definitely (bright).
"He had a race over the track (a 5 ¼-length victory on Feb. 11), and I think that probably helped him. He is a pretty talented number and his last two races had been so good, with a little encouragement from the owners (Grandview Equine, Cheyenne Stable and LNJ Foxwoods) we decided to take a shot, and it worked."
"I like the way he did it today. He's straightforward," Castellano said. "When I asked him he responded really well, and I like the way he finished."
Heaven Street won the Columbia Stakes in his first start for trainer Christophe Clement, improving to 3-for-7. He is a son of 2007 Tampa Bay Derby and Kentucky Derby winner Street Sense.
"I thought Irad gave him a lovely ride," said Clement's son and assistant, Miguel Clement. "He clearly had the ability to do this, and he has the kind of tactical speed that is very dangerous on the turf."