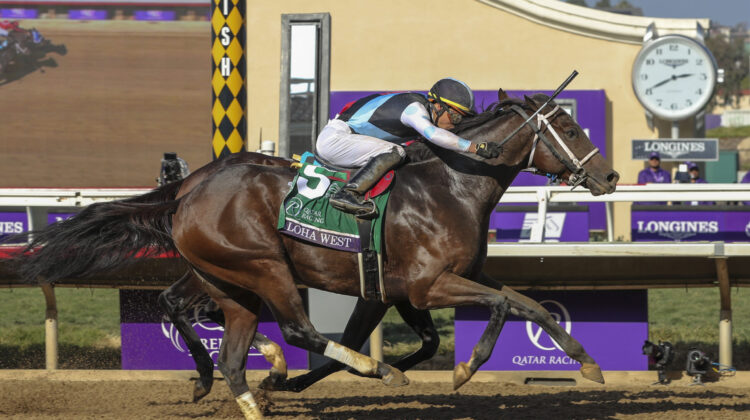 BC Sprint champ Aloha West under the radar for Met Mile
From the New York Racing Association media notes (Eclipse Sportswire photo of the Wayne Catalano-trained Aloha West winning the Breeders' Cup Sprint at Del Mar)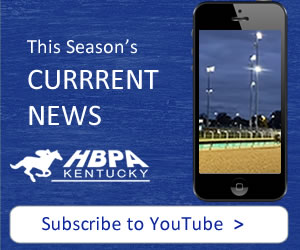 Trainer Wayne Catalano is bursting in confidence for his Aloha West, winner of the Grade 1 Breeders' Cup Sprint in November at Del Mar, who invades for Saturday's Grade 1, $1 million Hill 'n' Dale Metropolitan Handicap for 3-year-olds and up at Belmont Park.
"We are here to win," said Catalano. "He is going into the race perfectly and you can't always get horses as perfect as this before a big race, knock-on-wood, but I know we got him as good as he can be."
The son of Hard Spun, from a Beyer Speed Figure standpoint, must face the fastest horse of 2021, Flightline [118] for West Coast-based conditioner John Sadler, and thus far in 2022, Speaker's Corner [114] for Hall of Fame trainer Bill Mott.
Aloha West will also race beyond seven furlongs for the first time his career, but the late runner is bred to handle the ascent and has two victories over seven furlongs, including a Saratoga allowance win in September, earning his best figure of 102.
He breezed a bullet five furlongs at Churchill Downs on June 3 in 58.60 in his final preparation for Saturday's test.
"His last work was amazing and he's been training really well since – nice and relaxed – and even today, when he jogged a half and galloped a half [at Belmont], he looked great," Catalano said. "You always question if they can get a mile with a come-from-behind sprinter like him, but there's only way to find out and that's to lead them over there. Don't get me wrong, it's obviously a tough race, but it will still tell us if he gets the mile.
"If I had the money, I would buy a rabbit to make sure we could get a strong pace in front of us, but we aren't in that position," Catalano said, with a laugh. "But in all seriousness, Billy's horse has speed and the California horse is fast inside, so hopefully they go out and we can do what we want from there."
Aron Wellman, the president and founder of Eclipse Thoroughbreds, also believes that Aloha West could be sitting on a big effort. He will be joined by a large contingent of syndicate partners – much like on Kentucky Derby Day when Aloha West was third last out in the Grade 1 Churchill Downs—to amplify that faith.
"This is the race that we have had in mind since the Breeders' Cup and it was just a matter of how we were going to get here," Wellman said. "We're very pleased to have got a prep race into him at Churchill Downs on Derby Day and he ran a really good race. He deserves a little more credit for the race he ran, I think. He took the worst of it on a dead rail and up against a horse like Jackie's Warrior. We were probably second-best on the day, not third, but the race was designed as a means to an end for him.
"The Met Mile, certainly with the presence of Flightline and Speaker's Corner, is a heavyweight bout and we feel as though we belong," Wellman continued. "We are sportsmen, will take on the challenge and we feel like Aloha West is deserving of this opportunity. In the best of all worlds, they lock horns and potentially soften themselves up for a horse like Aloha to mow them down. It's going to take a serious horse to beat either of them and a lifetime-best from our horse, but we are game and the horse is doing as well as we could possibly imagine. He's never raced beyond seven furlongs, but we feel like if the pace unfolds the way it looks, a one-turn mile configuration could be perfect for him."
In addition to Aloha West, Eclipse Thoroughbred Partners are co-owners of the lone filly in the Grade 1 Belmont Stakes presented by NYRA Bets, Nest, and have longshot Divine Huntress earlier on the card in the Grade 1 Acorn.
Already a Grade 1 winner in April's Ashland at Keeneland, Nest is a daughter of Belmont runner-up Curlin and granddaughter of Belmont winner A. P. Indy. Trained by Abaan's Hall of Fame conditioner Todd Pletcher, a three-time Belmont winner, the four-time winner from six tries ticks a lot of boxes going into her first battle with the boys. Like Aloha West, she breaks from post three under Jose Ortiz.
"We're pleased with the draw and I love that We The People is drawn inside," Wellman said. "I would love to be able to sit right off him. Everyone is going to be scrumming for position and it's just a matter of whether or not they're fast enough to get that position. In a perfect world, we're very much in a spot just behind the pace."
Catalano also gave an update on Susan Moulton's highly impressive Keeneland maiden-winning 2-year-old, Andthewinneris, whose plan to head to the Windsor Castle Stakes at Royal Ascot was recently abandoned.
From the first crop of 2017 Belmont Derby Invitational winner Oscar Performance, the bay colt closed with a rush to win first out by two widening lengths with the well-regarded Wesley Ward trainee Wico in third.
"We want to win the Breeders' Cup with him, it's as simple as that," Catalano said. "The owners thought it through and decided not to go to England and the horse is doing great. He is a really talented horse and I don't rule out trying the dirt with him once somewhere along the line, but our goal is the Breeders' Cup and we'll figure out how to get there. There's Saratoga, Woodbine and Churchill races in the meantime to look at this summer and fall."