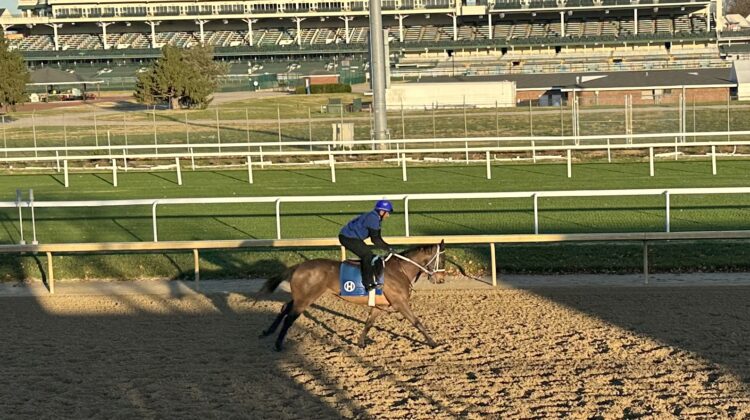 Hiles on Digital being in Claiming Crown: 'This is big for me'
By Jennie Rees (Photo of Digital training)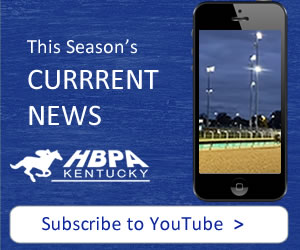 LOUISVILLE, Ky. (Wednesday, Nov. 9, 2022) — Longtime Kentucky HBPA president Rick Hiles knows how big a deal it is for racing's rank-and-file horsemen to participate in the Claiming Crown, the series of big-money starter-allowance races for horses that are or have been claimers.
Hiles is one of those "every-day" horsemen — his words. While he once had a barn full of horses, today he trains five horses at Churchill Downs. One of them, Digital, will compete in Saturday's Claiming Crown Jewel, the 1 1/8-mile race that carries a base purse of $175,000, with another $25,000 available for Kentucky-breds through the Kentucky Thoroughbred Development Fund (KTDF).
After a 10-year run at Florida's Gulfstream Park, the eight-race Claiming Crown comes to Churchill Downs for the first time and to Kentucky for only the second time. It was held at Ellis Park in 2007.
"The Claiming Crown gives the every-day working horse — and trainers and owners — a chance to get recognized," Hiles said. "Everybody can't have a Kentucky Derby horse, you know. It's a real honor to have one of those horses running there. These are the blue-collar working-class horses that make the industry go. They get out here and knock it out. They're not like those elite stakes horses that run five or six times."
The Claiming Crown was created by the National Horsemen's Benevolent & Protective Association and the Thoroughbred Owners and Breeders to provide a Breeders' Cup-style event that celebrates horseracing's warriors.
Hiles has never had a horse in the Breeders' Cup, racing's world championships that was held last week at Keeneland, but this is his second in the Claiming Crown. His first was the mare Sugar Cube, who finished second in the 2017 Glass Slipper. Ten of Sugar Cube's 17 wins (out of 63 career starts) were for Hiles, who said people often asked when she'd be running again.
"These horses give the fans something to cheer about," he said. "People get attached to them and follow them."
"This is big for me," said Hiles, who estimates the most horses he's ever trained at one time was the 28 he had at Ellis Park one summer years ago. "I haven't had any 'major' horses through the years, even though I have had some good horses that made good money and won some graded stakes."
When Hiles puts the saddle on Digital Saturday, that itself is a victory. He has battled esophageal cancer the past two years, undergoing major surgery and recently finished his last chemo treatment. Where he once was given mere months to live, Hiles says he's now basically cancer-free, though a recurrence remains a threat.
"I was supposed to be dead by October of last year," he said. "Then they said I'd make it to May of this year. Now they're saying 'we don't know.'"
Hiles believes continuing to train horses throughout assisted his recovery, saying, "My doctor said, 'You're the toughest old man we've ever dealt with. We can't believe you're still going like you do. You get up every day and work.' I said, 'I'm just not going to let it get me down.'
"… I couldn't even saddle my own horses for a long time," he continued. "I couldn't lift a bucket. But I work with a weight every day (to strengthen his arm). I'm really blessed. I've had a lot of people around the country praying for me, and I believe in that."
Hiles is proud that the 2022 Claiming Crown will be held under the Twin Spires, with Churchill Downs and the Kentucky HBPA the hosts. The Claiming Crown purses also received a significant increase from 2021.
"I'm really enthused about having the Claiming Crown here," Hiles said. "I really want it to be a banner event and received well across the country. Hopefully we can bring it back again…. With the historical horse racing machines, we've got a pretty good purse account. We were able to boost the purses up and then add KTDF money to them, too. It's made it very attractive. And we're centrally located. It's easy to get here from Pennsylvania and New York, West Virginia, Minnesota, Iowa or Arkansas and the cost (of shipping) should be less than to Miami."
Hiles said he wasn't thinking of the Claiming Crown when he claimed Digital for $32,000 in June. He wasn't the only one with that idea, as multiple horsemen were in for the horse, with Hiles winning the "shake."
"It was a horse that had never run for a 'tag,' and we were looking for a horse of that caliber," he said. "I'm thinking there were five or six people in for him, but we got lucky and got him."
While Digital had success with both sprints and two-turn races, Hiles said, "We found out early that this horse doesn't want to be rushed. He wants you just to sit on him and make a run. We started him out long. We've run him three times, and he's run exceptionally well. He's getting better all the time."
Digital won his first start for Hiles and owner R. Townsend Sparks, jumping up in class to a second-level allowance race in which he was competing for the $62,500 claiming option. He finished third in a similar race (while in for an $80,000 claiming price) around a one-turn mile, then was second by a head at the same level but running the Jewel's distance of 1 1/8 miles.
"He's well-paid for himself, and he's just a super nice horse to be around," said Hiles, who will have Corey Lanerie back aboard Digital. "He's coming into this race really, really good. I know it's going to be a tough spot. But I think he'll give a good accounting of himself."