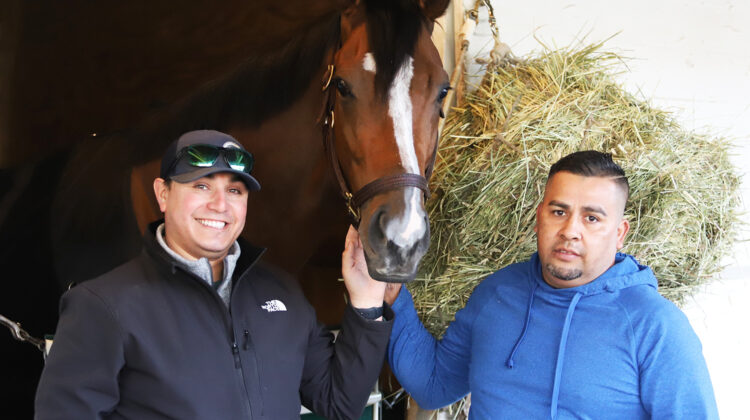 Cruz on Benevengo: 'Whatever happens, this isn't the end of the story'
By Jennie Rees (Gwen Davis/Davis Innovation photo of Benevengo with trainer Jesse Cruz (left) and groom Leo Rico)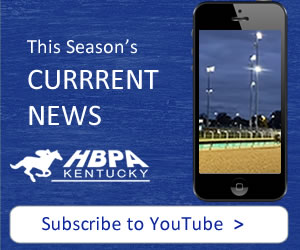 LOUISVILLE, Ky. (Wednesday, Nov. 9, 2022) — Benevengo is a prime example of how young horses can change.
Because of that, trainer Jesse Cruz has his first Claiming Crown horse with the 3-year-old colt — known as Benny around the barn — going in Saturday's 1 1/8-mile Jewel at Churchill Downs. The race, for horses which have raced in a $35,000 claiming race or cheaper in 2021-2022 — offers a $175,000 purse plus another $25,000 for Kentucky-breds.
The 28-year-old Cruz claimed Benevengo in his debut, a $25,000 maiden-claiming race at Tampa Bay Downs on Feb. 12. Cruz said he was at the starting gate with another horse one morning when Benevengo also worked out of the gate. The young trainer liked what he saw but didn't think Benevengo would show up in a claiming race. When he did, he and owner T.K. Kuegler were ready and dropped the claim. Benevengo proved Cruz right by winning by 9 1/2 lengths.
"He won very impressively," Cruz said. "But when you watched him run you were like, 'OK, he's still extremely green.' He broke slow, circled the field, turning for home he went to open up. The rider hit him right-handed, so he started lugging in. He hit him left-handed, and he started lugging out. And still went 6 1/2 (furlongs) in 1:17 that day.
"So we knew, 'Oh, this horse has a lot of talent, but he obviously needs to focus on paying a little bit of attention.' He just gotten better with every day, every month, every race. He's just started to develop into a pretty nice horse. He's still pretty green. He's not very aggressive galloping. That's just not him. He's not extremely aggressive unless you put something next to him. It was good we got to ship in a little early here, because there's a lot to look at here. So for him to get to go around the racetrack and see some things was really good for him.
"Whatever happens Saturday, this isn't the end of the story. I think as a 4-year-old, he's going to be a lot more mature and a lot better horse for it."
Benevengo also won his first start for Cruz, who then put him in Monmouth Park's Long Branch Stakes, resulting in a fourth in his first start around two turns. After an allowance win against older horses, Cruz jumped into the really deep waters of Monmouth's signature $1 million, Grade 1 Haskell Invitational. At 56-1 odds, Benevengo set the pace before finishing fifth behind top 3-year-olds Cyberknife, Taiba and Jack Christopher.
"We took a swing at running him in the Haskell," Cruz said. "We were super proud with how he ran there. He finished fifth, but he set all the fractions through the first three-quarters of the race. He ran well."
Benevengo's last start, back in against older horses, resulted in a 7 1/2-length victory in Pimlico's $100,000 Polynesian Stakes.
"He probably ran a little bit better than even we expected," Cruz said. "We figured this would be our Breeders' Cup, the Claiming Crown at the end of the year. He's taken to the track well, done everything great, hasn't missed any meals. We're pretty excited about him.
"Other than the Haskell, this is the biggest race I've ever run in. We look to come in at a lot lower odds than the Haskell. I think Benny has developed into a better horse since the Haskell. Our main concern with him is he's only a 3-year-old and is lightly raced. The Claiming Crown is full of a bunch older, class horses that when they run their best they run really well. It's a true test for him. But we thought it would be a great race to end his year."
Cruz has trained since he was 23. He was born into the sport, with his mom, Daisy Tobin, a longtime assistant trainer at Charles Town to legendary West Virginia trainer James Casey. His father, Alejandro Cruz, was a jockey and his stepdad, Lewis Craig Jr., is a trainer.
"I grew up on the backside," Jesse Cruz said. "When I was a little kid, I really didn't like horses a lot. It wasn't so much that I didn't like horses, I just would rather have been playing football than being at the barn. But my mom, for most of my early life, was a single parent. She was an assistant in a barn of 30 horses so we were at the barn an awful lot. My mom is one of the best horsewomen in the world and kind of taught me everything I know."
Cruz went to work for well-regarded trainer Ollie Figgins III. "I went everywhere with Ollie, galloped horses all over the country," he said. "I was kind of young and cocky, went out on my own when I was 23 and here we are today."
The Claiming Crown, he said, "is a day to put the horses that build the backbone of racing in the limelight. On an every-day card, most of the races are claiming horses. The Claiming Crown is a really big end of the year thing for those horses, really getting them to shine and get a little more national recognition."