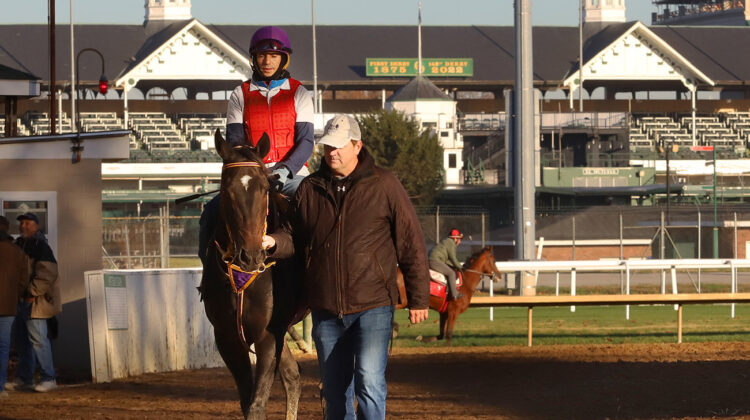 Van Berg hoping Claiming Crown caps big year
By Jennie Rees, Kentucky HBPA communications (Photo: Tom Van Berg leading Petit Verdot off the track. Gwen Davis/Davis Innovation)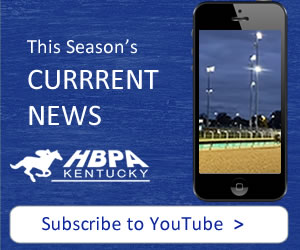 LOUISVILLE, Ky. (Thursday, Nov. 10, 2022) — When Tom Van Berg runs in the Claiming Crown Saturday at Churchill Downs, it will be the culmination of a plan that started two years ago.
Video interview with Tom Van Berg
Van Berg had just formed his Grit To Glory Racing syndicate. He thought an achievable goal would be to get his partners to the Claiming Crown, launched 24 years ago to serve as championship of sorts for claiming horses – a day to celebrate the workhorses and stalwarts that fill out racing programs on a daily basis across America.
The Claiming Crown became an even bigger aspiration when it was announced in July that the eight-race event would come for the first time to Churchill Downs, Van Berg's home track, after spending a decade in Florida.
"We were building for this," Van Berg said Thursday morning. "When they announced it was coming to Churchill, it got us more excited and we tried to target it even more, to try to have a horse for each race. Unfortunately we had four of them that didn't make their spots and we have two pairs that are in the same race. But I think we still have some pretty good chances, and it should be a fun day for the group."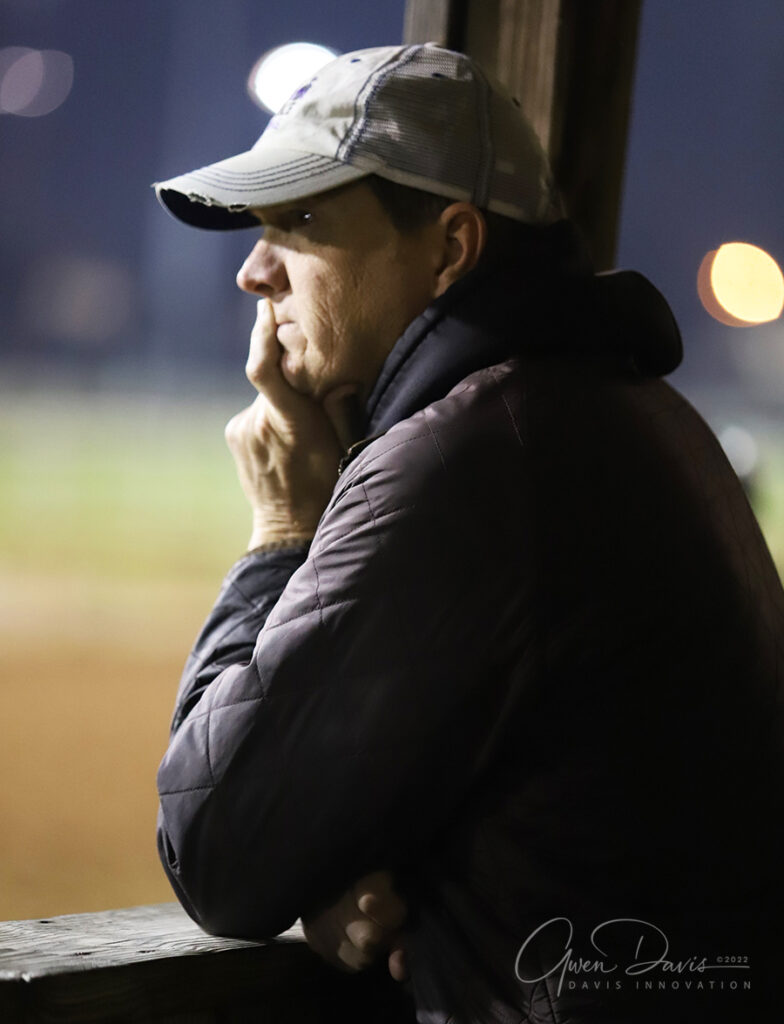 Van Berg has five horses in the Claiming Crown entries for three races:
Decision Maker (winner of eight races and $408,569) and Chicken Fried Racing's Tiz Rye Time ($290,703) in the $175,000 Jewel at 1 1/8 miles for horses that started for a claiming price of $35,000 or cheaper in 2021-2022;
Petit Verdot (winner of a Keeneland $10,000 starter-allowance in his last start) in the $150,000 Tom Metzen Memorial Canterbury at 5 1/2 furlongs on turf for horses that started for $25,000 or less in 2021-2022;
and Lt. Junior Grade (a $40,000 claim a month ago) and The Queens Jules (11-time winner, $361,342) in the $125,000 Rapid Transit at seven furlongs for horses that raced for $16,000 or less in 2021-2022.
Van Berg is enjoying a banner year, with career-best purse earnings of $1.15 million. He's in his fifth season with his stable since returning from a 10-year hiatus from training to help his late father, the legendary Jack Van Berg, before the Hall of Famer's death at age 81 in late 2017.
Regardless what happens Saturday, it will be a festive occasion for Van Berg, who with wife Angi rented a Churchill Downs suite to throw a client appreciation day for their owners.
"Just a thank you for supporting us and being part of this program the last two years," Van Berg said. "It's been one of our better years. It's a fitting end. Hopefully the horses show up Saturday and help us make it that fairytale ending."
The Claiming Crown was created by the National Horsemen's Benevolent & Protective Association (NHBPA) and the Thoroughbred Owners and Breeders Association (TOBA) to provide a big day for trainers and owners (and their horses) who don't play at the top end of the game. Mission accomplished, said Van Berg, who winters at Oaklawn Park and is on the board of the Arkansas HBPA.
"The way we set our syndicates up, it's a smaller group of people," he said. "We try to keep it at 4 1/2-percent shares so we don't have to do all the licensing stuff. But we don't have access to the high-dollar horses. So what we have to do is a lot of ground work and find potential horses that fit these conditions. Then we see if they work out over the long term, and if we can improve them enough to where we have a shot in these races. It's kind of our Breeders' Cup. It's more of a blue-collar, working-class race day, and that's the kind of stable we have.
"It's a very big deal. We started (Grit To Glory) and the first horse we claimed was the last of October two years ago. I think we've pursed out nearly $1 million on an original investment of $220,000 and we still have a lot in the bank to target more horses. This could be a really big capstone at the end of this year."
While the Claiming Crown horses ran in a certain level of claiming race at some stage, Van Berg said that certainly doesn't mean there aren't stakes-caliber runners in the fields.
"It's tougher than you think when you listen to what the concept is," he said. "Some of these horses, they're really proven racehorses. It makes the excitement of a big day accessible to the smaller outfits — the horsemen who are in it 365 days a year and don't get the chance or the opportunity to run for those big purses or those exciting races like the larger outfits do. It's a very big compliment to the HBPA to say, hey, we're going to give back to some of the smaller outfits and smaller horsemen. They put their work in, too, so let's give them a little bit of a reward and a little chance at some excitement."