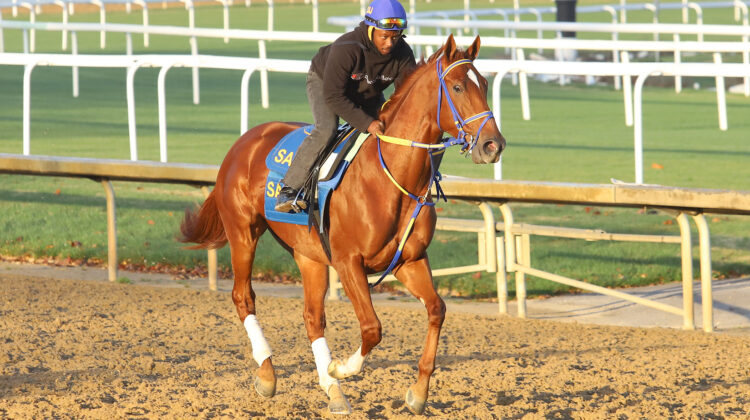 Joseph loaded for Claiming Crown, including '21 Jewel winner Twelve Volt Man
By Jennie Rees, Kentucky HBPA communications (Photo of Twelve Volt Man training at Churchill Downs by Gwen Davis/Davis Innovation)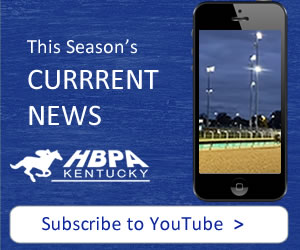 Saffie Joseph, the Florida-based trainer who has been increasing his Kentucky presence, brings a strong hand to Saturday's Claiming Crown at Churchill Downs, including Twelve Volt Man going for back-to-back victories in the $175,000, 1 1/8-mile Jewel for horses that have competed for a claiming price of $35,000 or cheaper in 2021-2022.
Joseph leads all trainers with seven entrants among five of the Claiming Crown's eight events.
Twelve Volt Man pulled off the mild upset in last year's Jewel as a 3-year-old. He has raced only three times this year, getting time off after the second start (a fourth in a Grade 3 stakes) to recover from an illness. Five months later, Twelve Volt Man returned Aug. 28 to win an overnight handicap, getting the highest Bris speed figure of his career at 96.
"We didn't think he was fully cranked," Joseph said. "So that was rewarding to see. We think he should be better for this race Saturday. It's obviously a very tough race, but we feel he fits. If he's able to run his best, he should be competitive again. We didn't want to squeeze in another race in between, so we decided to point to the Claiming Crown from the last race onward.
"I would say he's a better horse probably than a year ago. He's going to need to be a better horse to win this. There are some quite competitive horses in there. But I feel he's a better, stronger horse this year."
Joseph has two of the favorites for the $150,000 Emerald at 1 1/16 miles on turf for horses that have competed for a claiming price of $25,000 or cheaper in 2021-2022. However, only one is assured of running. Because the Claiming Crown this year is running as big-money starter-allowance races rather than stakes, it is subject to a new Kentucky regulation that precludes a trainer from running multiple horses at the exclusion of another trainer's horse, whether there is common ownership or not. The Emerald attracted a capacity field of 12, plus the maximum four horses on the also-eligible list. Rather than choosing between the two horses, Joseph said he let the racing office determine by lot which horse got in.
The Joseph-trained Max K.O., fifth as the favorite in last year's Emerald, needs two scratches in order to compete alongside stablemate Freedom Matters, who in his last start won a second-level allowance race at Kentucky Downs. (Trainers Mike Maker and Joe Sharp are in the same situation with a second horse on the also-eligible list.) Joseph re-entered Max K.O. for Sunday's $300,000 River City Stakes but said he'll run in the Emerald if given the opportunity.
"He's a hard-trying horse," Joseph said of Freedom Matters. "There's not much between him and Max as far as ability. They've run together quite a bit. He's beaten Max once, I think, and Max has beaten him a couple of times."
Shes All Woman — the 9-5 favorite in the $100,000 Glass Slipper at a mile for fillies and mares that have started for $12,500 or cheaper in 2021-2022 — has won four straight races since being claimed by Joseph for the second time.
"The last race was her first time going a mile," Joseph said. "We wanted to see if she could go a mile, because we were thinking Claiming Crown after she won two seven-eighths races. She's a grand old mare. She's probably in the best form of her life as a 6-year-old. She's carrying much more weight.
"We had her twice. We lost her via claim and then we claimed her back. I think the second time around, she's put on weight and is just in very good form. There are some competitive horses in there, but I think she's the deserving favorite. If she can duplicate her last couple of races, she should be very tough."
Joseph also has Calibrator in the Jewel, with the 5-year-old making only his second start on real dirt; Chasing Artie in the $150,000 Tom Metzen Memorial Canterbury at 5 1/2 furlongs on turf and Midnight Bella in the $150,000 Tiara for fillies and mares at 1 1/16 miles on turf.
"Everybody wants to have the Derby winner, the Breeders' Cup winner," Joseph said. "Realistically, that's very hard to achieve, especially when most of the owners on average spend $20,000, $30,000 or even $15,000 to claim a horse. These guys are able to claim a horse and look forward to this day. They actually look for claiming horses the whole year just to have a Claiming Crown horse."