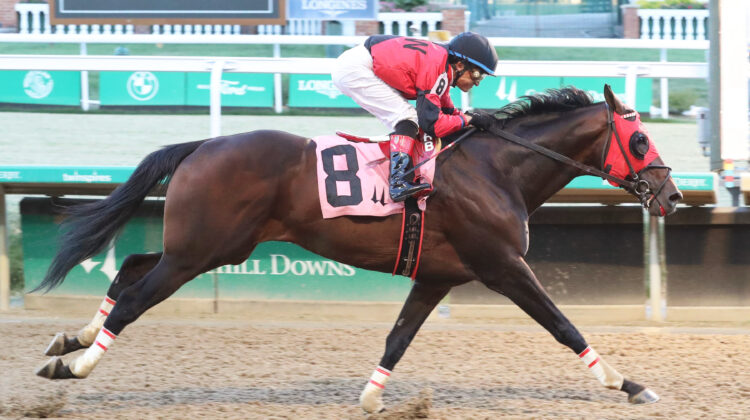 Beverly Park goes for 13th win in 26th start of 2022
By Jennie Rees, KY HBPA communications (Coady Photography photo of Beverly Park winning in June at Churchill Downs)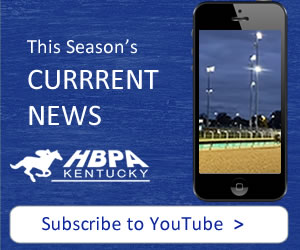 LOUISVILLE, Ky. (Friday, Nov. 11, 2022) — For those lamenting that horses today don't run enough, meet Beverly Park.
If ever there was a horse that the Claiming Crown was meant to showcase it's the 5-year-old Beverly Park, who runs in the $100,000 Claiming Crown Ready's Rocket Express in Saturday's eighth race at Churchill Downs.
Blue collar? Check. Work horse? Check. Helping to fill America's racing cards? Check. Iron horse? Are you kidding me?
Beverly Park has raced 25 times in 2022, winning 12 with five seconds and three thirds. Those dozen victories are the most in North America, four more than the four horses in second at eight apiece. He has raced at 14 tracks this year alone. For his career, Beverly Park is 22-6-4 in 44 starts, earning $490,930.
"He's just a blue-collar horse. He's a tank," said owner-trainer Norman L. Cash, who goes by his middle name of Lynn. "If you leave him in the stall, he's mad. He just wants to get out and go. He's the most healthy horse I've been around or seen. I think he won once on four days rest and a couple of times on five. Granted those were softer spots, but he puts it out there every time. With a couple of exceptions, he's always right there.
"He's just an amazing animal."
The six-furlong Ready's Rocket Express is for horses that have run for a claiming price of $8,000 or cheaper at any time in their career. The Express is one of eight Claiming Crown races, which are at Churchill Downs for the first time. The series is a production of the National Horsemen's Benevolent & Protective Association (NHBPA) and the Thoroughbred Owners and Breeders Association (TOBA), with Churchill Downs and the Kentucky HBPA the hosts.
Cash — who only began training in the spring of 2021 and campaigns his horses with wife Lola in the name of Built Wright Stables — claimed Beverly Park on Aug. 5, 2021, out of a "non-winners of three" lifetime race with a $12,500 claiming tag. The horse's win that day proved the second of eight straight and nine out of 10 for last season.
Beverly Park clearly has thrived in Cash's care. Only once has the horse been worse than fourth, and that came at Turfway Park in his only race over a synthetic surface. He comes into the Claiming Crown nine days after winning a seven-furlong $5,000 starter-allowance race at Charles Town in West Virginia by 4 1/4 lengths in a field of eight. Nineteen days before that, he narrowly lost a $20,000 starter race at Keeneland, which came three weeks after he won just such a race at Churchill Downs.
Beverly Park has never competed in a stakes race, and that doesn't change Saturday with the Claiming Crown staged as big-money starter-allowance races rather than stakes. But Cash has stakes horses in his stable of about 50 based at The Thoroughbred Center in Lexington and Maryland's Laurel Park. Double Crown recently won New York's $300,000, Grade 2 Kelso at 42-1 odds in his 12th start of the year. Sir Alfred James is a multiple stakes winner who was fourth in the Grade 1 Churchill Downs Stakes won by champion sprinter Jackie's Warrior on the Kentucky Derby card.
"If I could put the perfect on the perfect date for every horse I have, every race would probably be 11 or 12 days apart," Cash said. "I just believe you can get 95 to 97 percent of what the horse has on 10 to 12 days rest. I just won a Grade 2 on seven days rest with Double Crown, the first graded stakes I'd won…. If I have to choose between nine and 19 days, I'd choose nine every time. Every horse, every time."
Cash's other career is as a roofing contractor that goes into underserved regions following hail storms, a business he said is now run by his sons. The family was working in Knoxville, Tenn., in 2021 and on a whim they came to Churchill Downs and saw I'll Have Another's Derby victory.
"We'd never been on this side of the country," Cash said. "We thought, 'Wow, we can just drive to the Kentucky Derby. How exciting.' Then it came out that I'll Have Another was bought at auction for $35,000. I said, 'You know, we've got 35 grand. Let's buy a racehorse! How fun would that be?'"
He and his wife owned a handful of horses for several years before Cash decided he wanted to train his own claiming operation. He prepared by working for Kellyn Gorder, who was training the Cashes' horses, before taking out a couple of loans and going it alone in the middle of the COVID outbreak.
Does he ever think that he could just be repairing roofs and not have to worry about a horse getting in a race or spiking a temperature or the races not going?
"I've made the statement before: the worst day at the track is better than any day on the roof," Cash said with a laugh. "This racing horses just pulls you in."
Beverly Park is not an automatic single in the Ready's Rocket Express, for those playing multi-race wagers. He's the tepid 7-2 favorite in a capacity field of 12 that includes 4-1 co-second choices Silver Moon Road, winner of five straight in Indiana and New Jersey shipper Powerfully Built, who earned a 102 Bris speed figure in his last start. Also in the race is Belterra Park-based Joyful Heart, an 11-time career winner who beat Beverly Park in July.
"I don't know if we'll win; I hope we do," Cash said. "And I don't know that I deserve to win. But that horse deserves to be the Claiming Crown winner. He's a fan favorite and a blue-collar worker. He just goes to work every time."