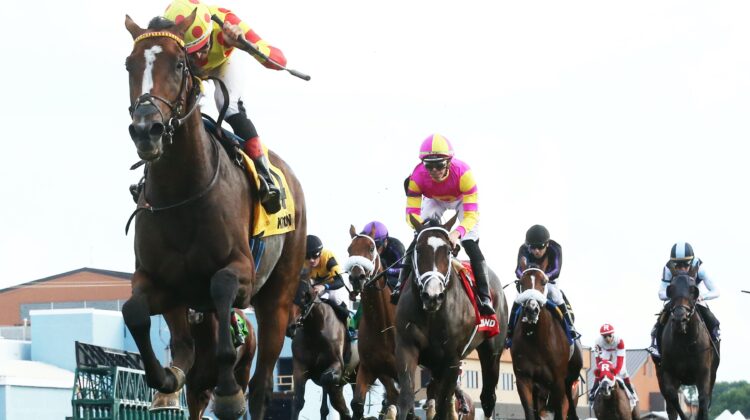 Ellis Park-based Kitodan named Claiming Horse of the Year
A National HBPA press release (Photo: Kitodan winning Kentucky Downs' Big Ass Fans Dueling Grounds Derby under Gerardo Corrales. Coady Photography)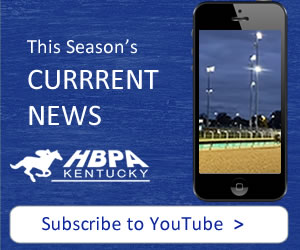 LEXINGTON, Ky. (Friday, January 13, 2022) — Turf specialist Kitodan, who went from being claimed twice last year to winning Kentucky Downs' Grade 3, $750,000 Big Ass Fans Dueling Grounds Derby, has been selected the National HBPA's 2022 Claiming Horse of the Year.
"We are blessed that we were able to claim that kind of horse compared to where we were just a few years ago," said western Kentucky-based trainer Eric Foster, whose wife Brooklyn's Foster Family Racing and partners Doug Miller and Bill Wargel campaign the now 4-year-old colt after claiming him for $80,000 in May. "We're really happy and humble to own him and thank the National HBPA for having this award. Winning Claiming Horse of the Year came out of the blue, but we are honored and so proud of Kitodan. People like us, we can't go to the Keeneland sale, pick the ones we want and hold our hand up until we come home with them."
Kitodan will be honored at the awards luncheon Tuesday March 7 as part of the annual National Horsemen's Benevolent & Protective Conference March 6-10 at the historic Hotel Monteleone in New Orleans' French Quarter.
"Kitodan exemplifies what we look for in the National HBPA Claiming Horse of the Year," said Todd Mostoller, chair of the National HBPA's awards committee. "He ran at five different tracks on grass, synthetic and dirt and showed that it's better for a racehorse to have a big heart than a big price tag while going from three claiming races to graded-stakes winner. We love these stories. It gives hope to horsemen everywhere that you don't have to buy six- and seven-figure babies to come up with a good horse."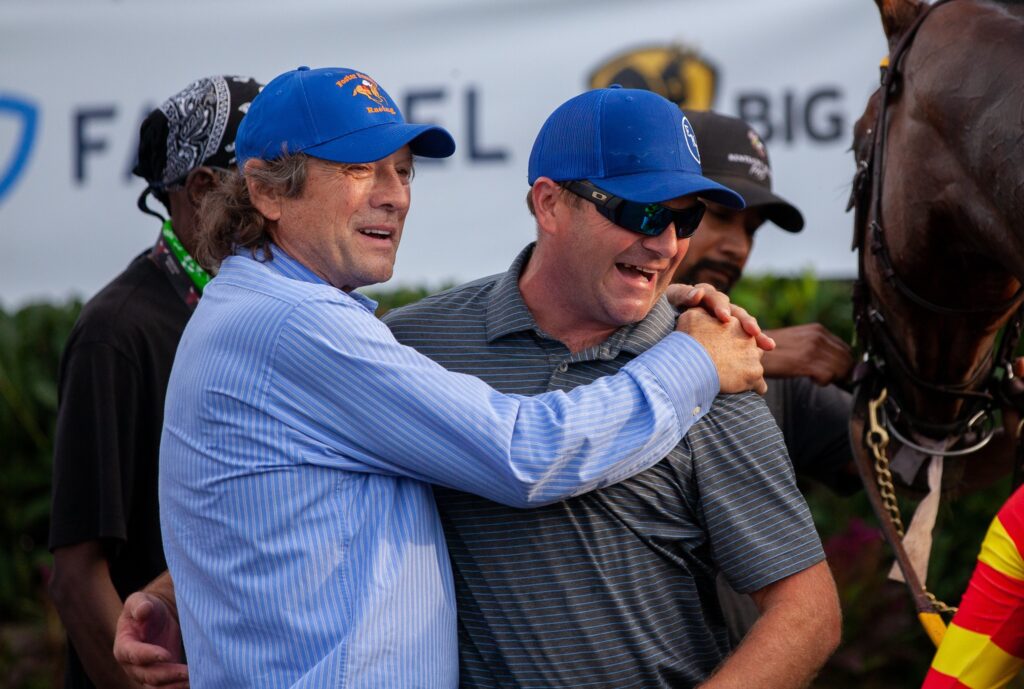 Kitodan, a $9,000 yearling purchase, made money for his three sets of owners as a 3-year-old. After running in stakes at age 2 for Joker Racing, Kitodan was claimed in his first start of 2022 for $35,000 by trainer Mike Maker on behalf of owners Paradise Farms Corp. and David Staudacher, who campaigned 2021 Claiming Horse of the Year Special Reserve. Kitodan promptly won another optional allowance race at Churchill Downs while again in for the $35,000 claiming price before taking Turfway Park's $200,000 Rushaway Stakes by 3 3/4 lengths.
When Maker subsequently ran Kitodan for the $80,000 price tag in an optional claiming race at Churchill Downs, Foster was the only one to put in a claim. 
Kitodan gets partners' $80,000 back in three weeks
The partners recovered their investment just three weeks later when Kitodan won Churchill's $200,000 Audubon Stakes at 40-1 odds. That was followed by a respectable fourth in Churchill Downs' American Derby taken off the turf and a close fifth against older horses in Ellis Park's $100,000 Henderson Turf Mile. A son of five-time Grade 1 winner Point of Entry, Kitodan clearly appreciated the stretch-out to the Dueling Grounds Derby's 1 5/16 miles, winning by four lengths at 20-1 odds under Gerardo Corrales.
"It's one of those things you only dream about in racing to come up with a horse like this," said Miller, of Junction, Ill. "If we were trying to do this individually, we wouldn't even have thought about it. Partnering gave us the opportunity."
It was the first graded-stakes victory for the owners and by far the biggest purse.
"There are a lot of people who have a lot more money and investment in the horses and never get this kind of horse," said Wargel, of Ridgway, Ill., 50 miles from Kentucky's Ellis Park. "We're just old farm boys, me and Doug. Whether we never have another one or that horse never wins another race, he made a dream come true for us."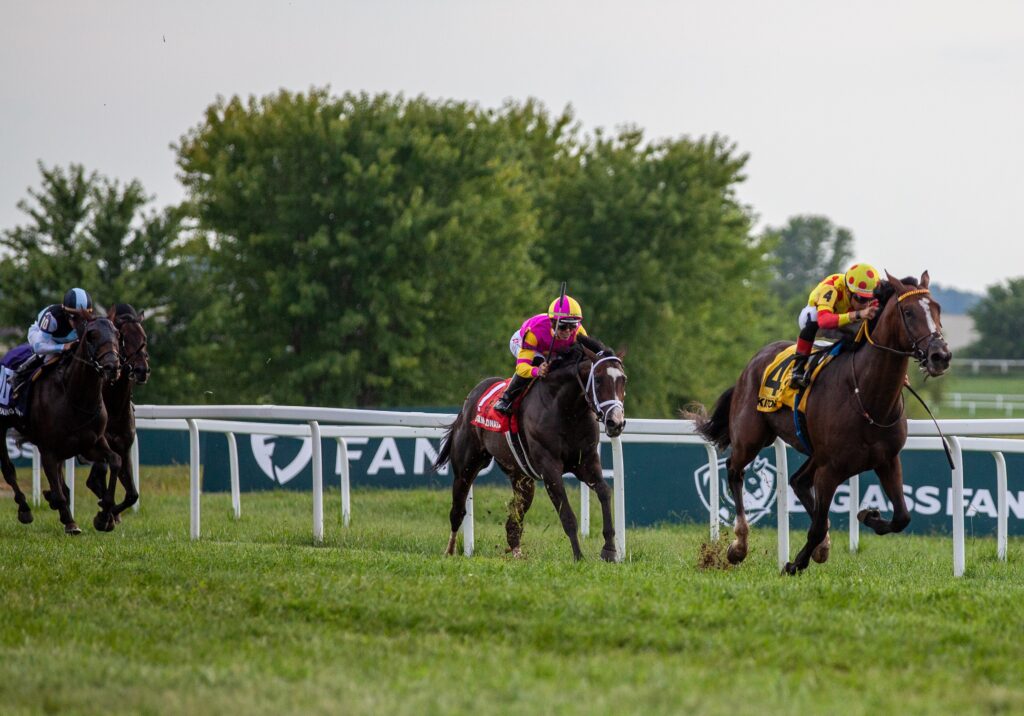 Foster said that Kitodan winning Claiming Horse of the Year is a team award that includes his partners who made it possible, along with the trainer's staff and family, who help with the stable.
"We would never want to accept an award like this without thanking Juan Medina," Foster said of his assistant trainer. "He not only takes care of Kitodan but is also his regular exercise rider. We also very appreciative to Geraldo Corrales and his agent Cliff Collier."
Kitodan is getting time off at Foster's farm in Utica, Ky., near Owensboro, with a major goal being Kentucky Downs' $1 million, Grade 2 Kentucky Turf Cup in September and hopefully a trip to Santa Anita for the $4 million Longines Breeders' Cup Turf, a race he missed last year with a minor leg issue.
"He's probably put on 100, 150 pounds. The time off has really done him some good," Foster said. "We're hoping to start back with him at the end of February. We'd love to get back to Kentucky Downs."
Dueling Grounds Derby race replay
Interview with Eric Foster and Doug Miller after the Dueling Grounds Derby
Related:
Louisiana AG Jeff Landry to deliver keynote address at National HBPA Conference