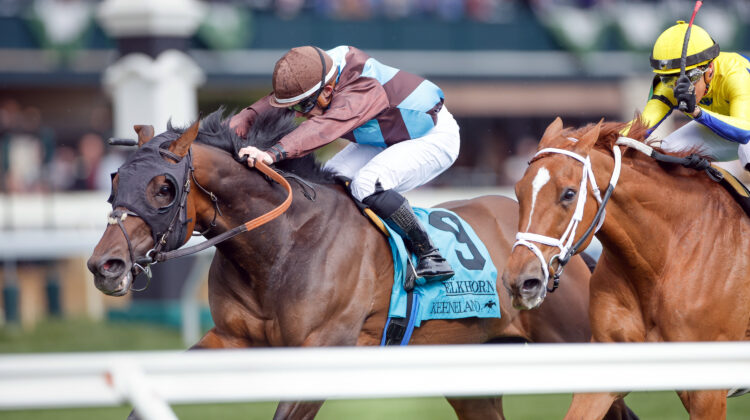 Verstappen holds off Red Knight in Elkhorn; Rattle N Roll takes Ben Ali
Keeneland stakes recap by track media department (Keeneland photo of Verstappen and jockey Declan Cannon winning Elkhorn over Red Knight)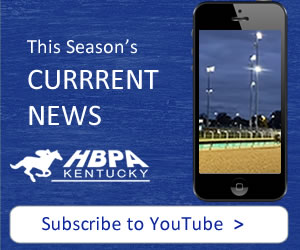 LEXINGTON, KY (April 22, 2023) – Andrew Farm, For the People Racing Stable and Windmill Manor Farm's Verstappen held off Red Knight by a head to win the 38th running of the $350,000 Elkhorn (G2) for 4-year-olds and up Saturday afternoon.
In the race following the Elkhorn, Lucky Seven Stable's Rattle N Roll captured the 92nd running of the $300,000 Ben Ali (G3) for 4-year-olds and up by 1¼ lengths over Call Me Fast.
In the Elkhorn, Verstappen made his graded stakes debut a winning one as he outdueled Red Knight in deep stretch to prevail.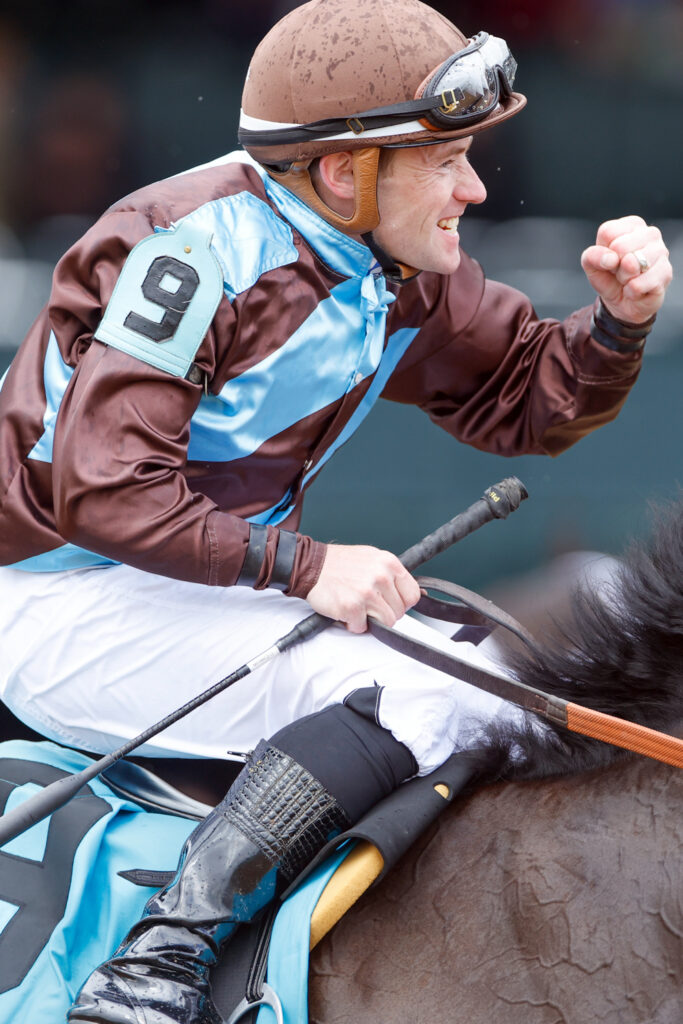 Trained by Brendan Walsh and ridden by Declan Cannon, Verstappen completed the 1½ miles on a turf course rated as good in 2:29.28. It is Cannon's first Keeneland stakes victory. 
"Brendan didn't give me much instruction: just to ride him with confidence," Cannon said. "I know the horse pretty well. I had a lovely smooth trip. I just had him relax, and he gave me a big run. He really got the trip well and we had no issues. It was very smooth. (Following Red Knight), he dragged me into the race nice but, like I say, my horse traveled so good and I was just able to ride him with a lot of confidence. I knew the mile-and-a-half would be perfect. When he turned in, he started reaching for the lead and stretched all the way to the line. He did what I expected."
Tiz the Bomb led the field of eight through fractions of :24.68, :49.69, 1:14.93 and 1:40 while being hounded by defending Elkhorn champion Channel Maker as Verstappen and Red Knight raced at the rear of the field.
At the top of the stretch as the field began to bunch up, Verstappen and Red Knight had clear running on the outside with Verstappen getting the first jump and taking the lead at the eighth pole with Red Knight challenging to his inside but unable to get by.
A Keeneland sales graduate, Verstappen is a 4-year-old gelded son of War Front out of the Peintre Celebre mare Andromeda Galaxy. Now owning a record of 12-4-3-2, Verstappen increased his earnings to $447,846 with Saturday's $208,863 check. 
"We've always liked him," Walsh said. "As he was going to get older, we always thought he'd get better. He made great progress over the winter. Declan (Cannon) rode him to perfection. I'm delighted for him. He does a lot of work for me, rides a lot of my work, so it's a great reward. The guys that own the horse (Richard Brodie of Andrew Farm, Mike Morgan of For the People Racing Stable and Rick Imbert of Windmill Manor Farm) are huge supporters of mine, and my own team at home … it's just a great team effort all around. Coming in here, we said if he ran well today, if he ran in the first three, it would open a big door for him, so I think anything from a mile and a quarter to a mile and a half, I think he's still going to get better and better. I don't think we've seen the best of him yet."
Verstappen returned $34.30, $12.50 and $6.64. Red Knight, ridden by Gerardo Corrales, returned $8.22 and $5.50 and finished 2 lengths in front of Another Mystery, who paid $7.20 to show under Jareth Loveberry.
It was another 1½ lengths back to Channel Maker, who was followed in order by Tiz the Bomb, Howe Street, Rising Empire and Value Engineering.
Rattle N Roll Wins Ben Ali
In the Ben Ali, Rattle N Roll swept to the front passing the three-sixteenths pole and held off a late bid from Call Me Fast to claim his second graded stakes victory at Keeneland.
Trained by Kenny McPeek and ridden by Brian Hernandez Jr., Rattle N Roll covered the 1 3/16 miles over a fast track in 1:56.48. The victory is the third in the race for McPeek, who won in 2014 with Frac Daddy and in 2018 with Rated R Superstar, and the second for Hernandez, who was aboard Eagle for the victory in 2016. It was the third victory of the afternoon for Hernandez. 
"He just needed that run down there at Fair Grounds," McPeek said. "He'd been off a while and was a little bit rusty. He didn't quite get into his run as early. But we've kind of been plotting for this race. We thought it would be a really good spot for him.
"There's a couple of people (who are) the reason we're standing here: Greg Geier, my assistant at Churchill (Downs) – this is like 'his boy' – and Peter Soria, the groom who has handled this horse from the beginning. It's teammates like that that help us get here. Unfortunately, they don't get the glory of it all, but Greg Geier and Peter Soria are fabulous horsemen and contribute to this horse's daily routine more than I do.
"Peter told me in the Paddock when we were saddling, he said, 'Kenny, he'll win today,' and I said, 'I like to hear that, Peter,' because Peter knows. He knows what time he's done eating – we keep an eye on a lot of those details – and then Greg keeps the routine solid at Churchill. He has a basic routine. It's not complicated, but his team is rock-solid. They're like a Swiss watch over there, and it makes my job easy."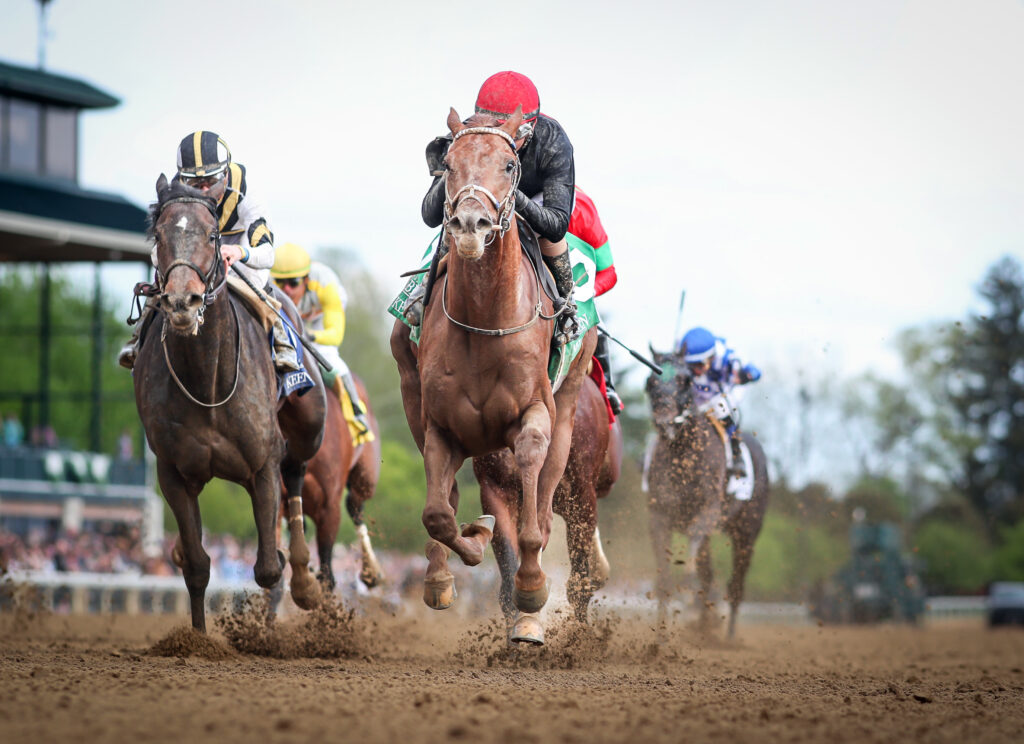 Pioneer of Medina led the field of seven through uncontested fractions of :23.34, :47.62 and 1:12.18 with Trademark stalking in second while Rattle N Roll raced in midpack.
Pioneer of Medina and Trademark reached the top of the stretch together with Rattle N Roll closing in from the outside with a clear run. Rattle N Roll blew the past leaders passing the three-sixteenths pole and opened a clear advantage with enough cushion left to hold off Call Me Fast. 
"That's the good thing about this horse. Being fortunate enough to ride him as many times as I have, we've learned his tendencies," Hernandez said. "He's the type of horse that he doesn't get in a hurry early, but when he gets in his rhythm you just stay out of his way. He has a known tendency to make an early move, but that's just him, and if you try to slow him down when he starts to make his move, you just kind of compromise him. So I've learned to stay out of his way and let him run his race and leave it up to him. That's the good thing about riding good horses as well: He was there traveling for me the whole way, so when a little spot would open he was there, and he would turn off and turn on and navigate through traffic like we needed him to."
Winner of the 2021 Claiborne Breeders' Futurity (G1) and a Keeneland sales graduate, Rattle N Roll is a 4-year-old Kentucky-bred son of Connect out of the Johannesburg mare Jazz Tune. The victory was worth $181,350 and increased his earnings to $1,215,861 with a record of 16-6-1-2.
Rattle N Roll returned $7.98, $5.18 and $3.40. Call Me Fast, ridden by Julien Leparoux, returned $12.84 and $5.48 and finished a half-length in front of Pioneer of Medina, who paid $3.84 to show under Tyler Gaffalione.
It was another 3 lengths back to Happy American, who was followed in order by favored Skippylongstocking, Trademark and Tawny Port.