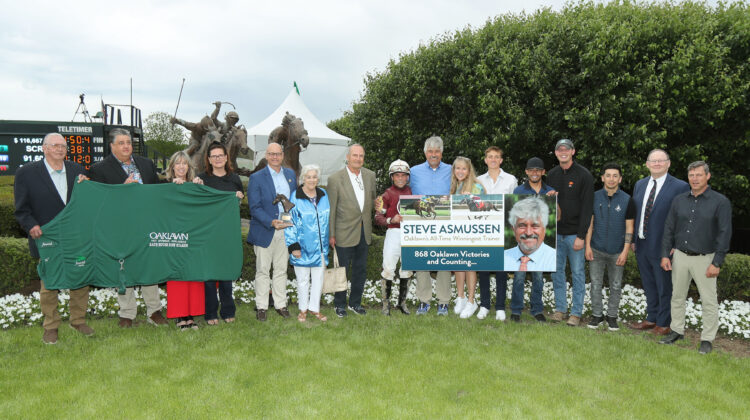 Red Route One gives Asmussen record Oaklawn win
Bath House Row Win Puts Asmussen On Top at Oaklawn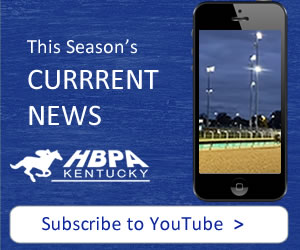 Oaklawn Park stakes recap by track publicity department (Coady photo)
Hall of Famer Steve Asmussen surpassed the late Bob Holthus as Oaklawn's all-time winningest trainer when Red Route One scored a narrow victory in Saturday's $200,000 Bath House Row Stakes for 3-year-olds at 1 1/8 miles.
Red Route One represented the 868th Oaklawn victory overall for Asmussen and his 48th at the 2022-2023 meeting that began Dec. 9. Asmussen tied Holthus in Friday's second race. Asmussen misfired with his final eight starters Friday and was 0 for 10 Saturday before late-running Red Route One ($6) collared Tapit Shoes and Victory Formation on the outside in the final strides to win by a head under Joel Rosario.
"Extremely significant," Asmussen, 57, said moments after his milestone victory. "You know, Bob Holthus, everything he meant to Oaklawn and Oaklawn meant to him. It's extremely significant for me, who he was here when I started coming here. To think that I went by him in wins today is extremely significant. We're very proud of it."
Asmussen started his first horse at Oaklawn in 1989 and recorded his first victory Feb. 9, 1996, with Honest J. Asmussen has collected a record 12 Oaklawn training titles (2007, 2008, 2010, 2012, 2013, 2014, 2016, 2017, 2018, 2019, 2021 and 2021-2022). He set a single-season Oaklawn record for purse earnings ($6,057,877) in 2021 and owns career Oaklawn records for stakes victories (102) and purse earnings ($51.1 million). Asmussen has at least one stakes victory at every Oaklawn meeting since 1996.
Asmussen surpassed the late Dale Baird (9,445) to become North America's all-time winningest trainer Aug. 7, 2021, at Saratoga. Asmussen became the first trainer to reach 10,000 career North American victories when Bet He's Ready won the fifth race Feb. 20 at Oaklawn.
Red Route One, a homebred for longtime Asmussen client Winchell Thoroughbreds (Ron and Joan Winchell), earned automatic entry into the Preakness, May 20 at Pimlico, with his Bath House Row victory. The 1 3/16-mile Preakness is the second leg of the Triple Crown.
"He'll go to Churchill on Monday and we will consider running him in the Preakness, the distance and all that," Asmussen said. "We like it, but, obviously, having Disarm run in the (Kentucky) Derby for the same connections will (factor into the decision)."
Holthus' 867 career victories at Oaklawn came between 1955 and 2011. He won nine Oaklawn training titles, the last coming in 1991. Holthus died Nov. 22, 2011.
Cox Sets Record
Two-time Eclipse Award winner Brad Cox set a single-season Oaklawn record for stakes victory for a trainer when heavily favored Merlazza captured Saturday's inaugural $150,000 Valley of the Vapors for 3-year-old fillies at 1 mile.
The Valley of the Vapors represented the ninth stakes victory at the meeting for Cox, 43, who was honored with an Eclipse Award in 2020 and 2021 as the country's outstanding trainer.
Cox has 21 victories at the 2022-2023 Oaklawn meeting, with 43 percent coming in stakes company. Hall of Famer Steve Asmussen won eight stakes races at the 2019 and 2021 Oaklawn meetings.
In addition to the Valley of the Vapors, Cox won the $250,000 Smarty Jones Jan. 1 with Victory Formation, $200,000 Martha Washington Jan. 28 with Wet Paint, $250,000 Bayakoa (G3) Feb. 4 with A Mo Reay, $300,000 Honeybee (G3) Feb. 25 with Wet Paint, $150,000 Purple Martin March 25 with Key of Life, $200,000 Hot Springs April 1 with Eyeing Clover, $600,000 Fantasy (G3) April 1 with Wet Paint and the $1.25 million Arkansas Derby (G1) April 1 with Angel of Empire.
"Very good meeting," Jorgito Abrego, who oversees Cox's Oaklawn division, said Sunday morning. "Obviously, thanks to the owners to give the opportunity to Brad. Brad's always picking the right spots for the horses. It's amazing. You look at nine stakes as part of our 21 wins – 40 percent stakes is very good. Win the Arkansas Derby, the Fantasy, those type of races, makes you keep going."
Merlazza was making her stakes debut after winning two consecutive starts at Fair Grounds. She finished second, beaten a head, in her Jan. 21 career debut at Fair Grounds. Ridden Saturday by Joel Rosario, Merlazza ($3.20) overcame an imperfect pace setup to edge long shot Pink Ace by a length. The final time over a fast track was 1:40.75.
"After the slow fractions, I was kind of scared," Abrego said. "They went a (half-mile) in :50 and I was thinking, 'This filly may not get there.' But good horses always find the right spot for a win. With a good horse, you don't really find an excuse. That filly ran really, really good and came back good. Now, we'll have to look for a graded stake."
Merlazza, a daughter of Medaglia d'Oro who races for breeder/owner Don Alberto Stable, has a 3-1-0 record from four lifetime starts and earnings of $191,650.
Cox narrowly missed a 10th stakes victory at the meeting, finishing second and third with Tapit Shoes and Victory Formation, respectively, in Saturday's inaugural $200,000 Bath House Row for 3-year-olds at 1 1/8 miles. Tapit Shoes, who was making his stakes debut, was beaten a head by Red Route One, with Victory Formation a half-length farther back.
Cox has 286 career victories at Oaklawn, the first coming in 2009. All 37 Oaklawn stakes victories, including seven in 2021 (his previous single-season high), have come since 2015, coinciding with his rise to national prominence. Cox is personally based at Fair Grounds in the winter, with Abrego running his Oaklawn operation.
Finish Lines
Clairiere will make her next start in the $500,000 Ogden Phipps Stakes (G1) for older fillies and mares June 10 at Belmont Park, Hall of Fame trainer Steve Asmussen said Saturday afternoon. Clairiere won the 2022 Ogden Phipps and the $1 million Apple Blossom Handicap (G1) for older fillies and mares April 15 at Oaklawn. Both races were 1 1/16 miles. …Skelly is pointing for the inaugural $150,000 Lake Hamilton Stakes for older horses at 6 furlongs May 6 at Oaklawn, Asmussen said Saturday afternoon. Skelly has won three consecutive starts at the 2022-2023 Oaklawn meeting, including the $500,000 Count Fleet Sprint Handicap (G3) April 15. … Great Escape and Frosted Grace, both winners at the 2022-2023 Oaklawn meeting, are pointing for the inaugural $150,000 Lake Ouachita Stakes for older horses, trainer Robertino Diodorosaid Sunday morning. The 1 1/16-mile Lake Ouachita is May 5 at Oaklawn. … Jockey Cristian Torres moved closer to setting a single-season Oaklawn record for purse earnings after finishing second aboard Last Samurai for Hall of Fame trainer D. Wayne Lukas in Saturday's $1 million Oaklawn Handicap (G2) and winning the final race, a $105,000 allowance sprint, aboard favored Ninja Warrior ($4.80). Torres, the meet's leading rider, entered Sunday with $5,478,921 in purse earnings, according to Equibase, racing's official data gathering organization. Ricardo Santana Jr. set Oaklawn's single-season record ($5,643,023) in 2021. Torres and Last Samurai teamed to win the $600,000 Razorback Handicap (G3) – the jockey's biggest career victory to date – and $500,000 Essex Handicap (G3) earlier in the meeting. … Regarding Last Samurai, Lukas said Sunday morning that "we'll probably look at the Stephen Foster next." The $1 million Stephen Foster Stakes (G1) for older horses at 1 1/8 miles is July 1 at Churchill Downs. … Proxy, who edged Last Samurai by a head in the Oaklawn Handicap, will be considered for the Stephen Foster, trainer Michael Stidham said Saturday afternoon.
-30-