2 horses (since removed) test positive for strangles at TTC
Horsemen's advisory: 2 horses – now removed and isolated – test positive for strangles at TTC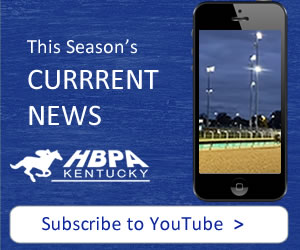 Horsemen: Please see below two advisories from the office of Kentucky's State Veterinarian. This one, dated April 18, gives the background. Below that is the update from April 20.
This is advance notice to our Kentucky equine stakeholders of a barn at The Thoroughbred Center on Paris Pike in Lexington having been placed under quarantine. National notification through the Equine Disease Communication Center will be provided later this evening.  Early this afternoon we received laboratory confirmation that a 3-year-old thoroughbred filly presenting with symptoms consistent with strangles had cultured positive for streptococcus equi.
Based on the presentation and laboratory test result, the barn at The Thoroughbred Center was placed under an order of quarantine. The barn currently houses 19 horses under the care of two trainers. Samples from each of the horses were collected late this afternoon and have been submitted for testing, with preliminary results expected to be available tomorrow afternoon or Thursday morning.
Our investigation to identify and test horses with an epidemiologic link is continuing and we will be providing updates as additional information and testing results become available.
Following is being posted to the Equine Disease Communication Center
Number Confirmed: 1
Number Exposed: 18
Facility Type: Training Facility
Age: 3yr; Gender: Female; Breed: Thoroughbred; Onset of Clinical Signs: 4/15/2023
Clinical Signs: Mandidular Lymphadenopathy
Confirmation Date: 4/18/2023
Horse Status: Quarantined; Vaccination Status: Not Vaccinated
Comments: The filly was sampled for bacterial culture analysis upon presentation of swollen lymph node without signs of elevated temperature. Laboratory results confirmed the organism responsible for causing strangles. Subsequent testing has been done on all exposed horses with results pending.
April 20 update
Strangles Update – The Thoroughbred Center (TTC) April 20, 2023
The epidemiologic investigation continues, and after extensive testing of horses identified as having potential opportunity of exposure, we are in position to provide updated information and the current status of racing in Kentucky.
We have one trainer that has/had horses in training on three separate premises.
Premises 1: All horses (19 under care of 2 trainers) in the affected barn at The Thoroughbred Center, were sampled and PCR testing identified one additional positive horse that was stabled next to the index case. Both positive horses have been removed from The Thoroughbred Center and remain isolated at a separate facility. Ten (10) horses under the care of the second trainer were all found negative. Horses in this affected barn will remain under quarantine and are being monitored daily for any signs of illness. The horses are bright, alert, responsive and remain healthy. The group of horses will be resampled next week.
Premises 2: The same trainer had nineteen (19) horses stabled in a barn at Keeneland Race Course. These horses were each examined yesterday morning and samples collected. Following the samples being collected, the horses were moved offsite to a private isolation where they remain under quarantine and daily monitoring. PCR testing on this group of horses identified one asymptomatic horse as having a low level of S.equi DNA. Testing of the horses under the care of the other two trainers were reported to be PCR negative. These horses do remain under quarantine, are being monitored daily and will be resampled next week. All horses continue to be bright, alert, responsive and remain healthy. It is worth noting that the interior structure of this barn is solid block walls and ceiling, reducing the opportunity of air flow from stall to stall.
Premises 3: The same trainer has eight (8) horses in a single barn on a private training facility in Fayette County. An additional trainer has nineteen (19) horses stabled in this barn. These twenty-seven (27) horses were examined yesterday at the time of sampling. Nasal pharyngeal washes were collected from each horse late yesterday and submitted for PCR testing. Results from this testing will be reported later today.
As described above, we have tested multiple horses under the care of several trainers at each of the above premises and have found no evidence of the disease-causing organism beyond those horses under the care of the single trainer.
The extensive monitoring continues and with the cooperation of our trainers, attending veterinarians, and horsemen we remain confident in receiving horses from The Thoroughbred Center (TTC) to enter and race at Keeneland. Horses originating from TTC are being examined by their veterinarian the morning of shipping and are accompanied with a Certificate of Veterinary Inspection stating the animals present no evidence of illness.
Updates will be provided as new information is learned. This update will be provided to the Equine Disease Communication Center as well for national notification.
E.S. Rusty Ford
Equine Operations Consultant
Office State Veterinarian
KY Department Agriculture