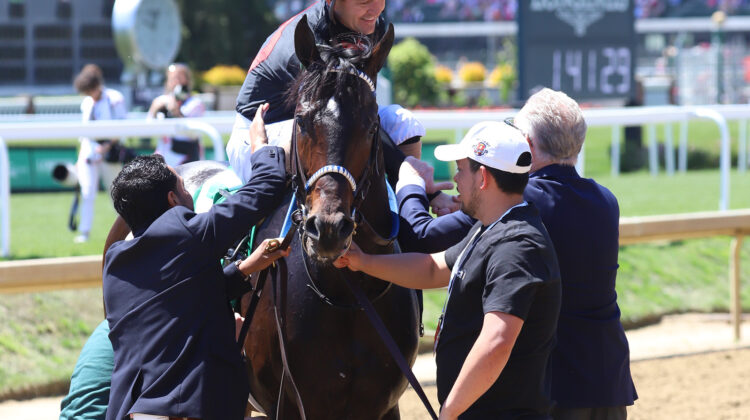 G1, $1M Stephen Foster by the numbers
Press release by Kevin Kerstein (Photo: smiles all around after Smile Happy and jockey Brian Hernandez Jr. captured the G2 Alysheba at Churchill Downs. Gwen Davis/Davis Innovation photo)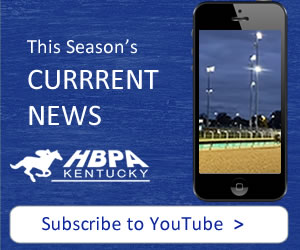 More videos connected to Stephen Foster contenders:
Godolphin's Proxy wins G1 Clark
Rattle N Roll nips Speed Bias in G3 Pimlico Special
McPeek says Smile Happy has 'grown into a man' after G2 Alysheba win
HENDERSON, Ky. (Thursday, June 29, 2023) – For the first time in the history of Ellis Park Racing & Gaming, a Grade I will be contested at the "Pea Patch" when eight of North America's top older horses square off in Saturday's $1 million Stephen Foster (GI). Here is a look at this year's field by the numbers:
· $10,116,636: Total earnings of the entrants in the Stephen Foster led by Last Samurai ($2,128,964)
· $420,000: Highest public auction purchase in the field – Stilleto Boy (2021 Fasig Tipton Horses of Racing Age Sale)
· 135: Combined number of starts led by Last Samurai (26)
· 40: Combined number of victories led by Rattle N Roll (8)
· 17: Total number of graded stakes victories
· 8: Number of horses in the field
· 2: Only two trainers in this year's field have won a Stephen Foster – Wayne Lukas (Red Attack, 1987); Ron Moquett (Seek Gold, 2006)
· 2: Only two jockeys in this year's field have won a Stephen Foster – Kent Desormeaux (Golden Missle, 2000); Brian Hernandez Jr. (Fort Larned, 2013)
· 0: Number of victories any of the horses in this year's field have at Ellis Park. Only West Will Power and Last Samurai have run at Ellis Park.
Run at 1 1/8 miles, the Stephen Foster will go as Race 10 of 12 at 4:26 p.m. (all times Central). First post is 11:45 a.m. The Stephen Foster is the centerpiece of a six pack of stakes events Saturday at Ellis Park. The other featured races on the program are the $400,000 Fleur de Lis (GII), the $400,000 Wise Dan (GII), the $225,000 American Derby (Listed), the $225,000 Kelly's Landing (Listed) and the $225,000 Tepin.
Here is the complete field for the Stephen Foser (with jockey, trainer and morning line odds)
The $1 million Stephen Foster Stakes (GI):
1. Proxy (Joel Rosario, Mike Stidham, 4-1)
2. Stilleto Boy (Kent Desormeaux, Ed Moger Jr., 6-1)
3. Speed Bias (Luis Saez, Ron Moquett, 12-1)
4. Rattle N Roll (Brian Hernandez Jr., Kenny McPeek, 4-1)
5. Smile Happy (Corey Lanerie, McPeek, 3-1)
6. West Will Power (Flavien Prat, Brad Cox, 7-2)
7. Last Samurai (Cristian Torres, Wayne Lukas, 6-1)
8. Happy American (James Graham, Neil Pessin, 20-1)
The Stephen Foster is a "Win and You're In" Challenge Series event for the Breeders' Cup Classic (GI). The winner of the Stephen Foster will receive an automatic entry to the 2023 running of the Longines Breeders' Cup Classic and have their pre-entry and entry fees waved along with a travel stipend if they are traveling outside the state of California. The Breeders' Cup World Championships will be held at Santa Anita on Nov. 3-4.
Fans can watch and wager on Stephen Foster Day on www.TwinSpires.com, the official wagering provider of Churchill Downs Incorporated. The Ellis Park simulcast signal will feature expert handicappers Scott Shapiro and Kaitlin Free along with live interviews from Ellis Park byJoe Kristufek.
The entire Stephen Foster Day card will be broadcast on FanDuel TV and the FanDuel TV+ app. Live on-site coverage will begin Friday with Caleb Keller. He'll be joined Saturday and Sunday by Todd Schrupp, Gabby Gaudet, Scott Hazleton and Caton Bredar.
For more information about Stephen Foster Day, visit www.ellisparkracing.com.
ELLIS PARK MOVES FRIDAY POST TIME TO 10:30 A.M. – Breakfast and Ellis Park typically don't go together however, officials from Ellis Park Racing & Gaming have announced first post for Friday's 10-race card has been moved up to 10:30 a.m. (all times Central) due to forecasted temperatures in the high 90s.
The National Weather Service Friday forecast calls for mostly sunny skies with a high near 97 degrees and head index values as high as 108.
Here are the updated post times for Friday:
Race 1: 10:30 a.m.
Race 2: 10:57 a.m.
Race 3: 11:24 a.m.
Race 4: 11:51 a.m.
Race 5: 12:18 p.m.
Race 6: 12:45 p.m.
Race 7: 1:12 p.m.
Race 8: 1:39 p.m.
Race 9: 2:06 p.m.
Race 10: 2:33 p.m.
First posts Thursday, Saturday and Sunday remain unchanged at 11:45 a.m.
For more information about racing and gaming from Ellis Park, visitwww.ellisparkracing.com.
MANDATORY PAYOUT SET FOR SUNDAY – There will be a mandatory payout in all wagers Sunday from Ellis Park including the 20-cent Jackpot Pick 6 that has a carryover of $126,007.
Sunday's Jackpot Pick 6 sequence will cover Races 5-10.
Racing will resume Thursday from the "Pea Patch" with a first post of 11:45 a.m. (all times Central)
Following Sunday's card, racing from Ellis Park will resume on a Friday-Sunday schedule through Aug. 27. Daily first post will be 11:45 a.m.
'INSIDE CHURCHILL DOWNS' PREVIEWS STEPHEN FOSTER WEEKEND – Join "Inside Churchill Downs" Friday at 5 p.m. (CDT) on ESPN 680/105.7 as Churchill Downs'Darren Rogers, Kevin Kerstein and Scott Shapiro will preview all 11 stakes events Saturday-Sunday at Ellis Park.
Shapiro, the resident expert handicapper on the show, will offer his touts and tips for the weekend races. Break out your Brisnet past performances and tune in for his winning selections.
Those outside the Louisville area can listen live on www.espnlouisville.com.