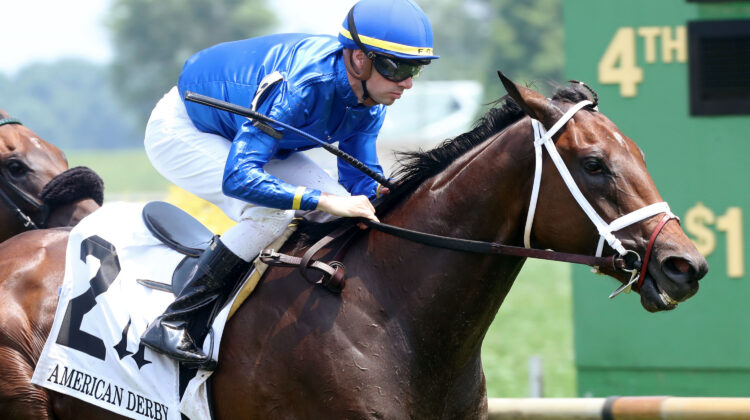 Wadsworth heads Ellis' Dueling Grounds Derby prep on Kentucky Downs Preview Weekend
Ellis Park stakes advance and Saturday's fields by Kevin Kerstein (Coady photo of Wadsworth winning the American Derby under Florent Geroux)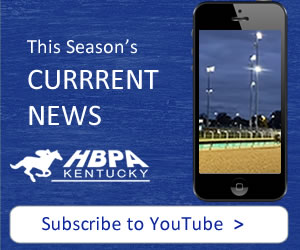 WADSWORTH SEEKS SECOND-STRAIGHT ELLIS PARK VICTORY IN SATURDAY'S $200,000 KY DOWNS PREVIEW DUELING GROUNDS DERBY
HENDERSON, Ky. (Thursday, Aug. 3, 2023) – Godolphin and trainer Brad Cox will once again take aim at another stakes victory from Ellis Park with their newly-minted turf specialist Wadsworth, who was made the solid 8-5 morning line favorite against 12 rivals entered in Saturday's $200,000 Ky Downs Preview Dueling Grounds Derby.
Wadsworth, an impressive winner of the American Derby four weeks ago at Ellis Park, recently transferred to the turf for his connections but in just two starts on the lawn has proven it's been a success.
"He's always been a horse who has physically impressed us but has taken a little while to get going," Cox said. "As a 2-year-old he went to Saratoga with us but couldn't get the job done. We've since castrated him and have bounced around adding and removing blinkers. I think he's just now starting to figure things out and it's shown in his last two starts."
Prior to the American Derby, Wadsworth lost by a nose to Gigante in the Caesars Stakes at Horseshoe Indianapolis.
Wadsworth has been based at Churchill Downs for most of his 3-year-old here where, most recently, he cruised a half-mile in :48.80 over the turf for his final preparation to the Ky Downs Dueling Grounds Preview. A son of Quality Road, Wadsworth began his career on the dirt at Saratoga but didn't break his maiden until his fourth start in December over the Tapeta surface at Turfway Park.
Wadsworth also sports a 152.6 Brisnet Prime Power Rating, the highest of any horse in the Ky Downs Preview Dueling Grounds Derby. He'll break from post No. 10 with jockey Florent Geroux in the irons.
The Ky Downs Preview Dueling Grounds Derby is one of three stakes events Saturday at Ellis Park. Overall, Saturday-Sunday's programs will feature seven stakes contests with the winners receiving an automatic berth to their corresponding races in September at Kentucky Downs.
Run at 1 1/8 miles on turf, the Ky Downs Dueling Grounds Preview will go as Race 8 with a post time of 3:34 p.m. (all times Central). First post is 11:45 a.m.
Ellis Park Racing Analyst Joe Kristufek will be live on-site for Kentucky Downs Preview Weekend. Kristufek will offer analysis and post-race interviews for the stakes events throughout the weekend on the simulcast signal. Fans can also watch Kentucky Downs Preview Weekend on FanDuel TV.
For more information about racing and wagering from Ellis Park, visit www.ellisparkracing.com.
MORNING LINE ODDS SET FOR SATURDAY STAKES TRIO – Saturday is the first day of Kentucky Downs Preview Weekend from Ellis Park Racing & Gaming and will feature a trio of stakes contests.
Here are the complete fields in order of post positions (with jockey, trainer and morning line odds):
Race 7: The $200,000 Ky Downs Preview Ladies Turf Sprint, run at 5 ½ furlongs on turf
1. Bay Storm (Florent Geroux, Jonathan Thomas, 8-5)
2. Love and Money (Joe Ramos, Cherie DeVaux, 9-2)
3. Goin' Good (Cristian Torres, Brad Cox, 5-1)
4. Linguistic (Gerardo Corrales, Eric Foster, 20-1)
5. Miner's Queen (Rafael Bejarano, Rey Hernandez, 20-1)
6. Showgirl Lynne B (James Graham, Joe Sharp, 30-1)
7. Souper Munnings (Chris Landeros, Ian Wilkes, 12-1)
8. New Boss (Rey Gutierrez, Bret Calhoun, 10-1)
9. Semble Juste (Corey Lanerie, Kenny McPeek, 30-1)
10. Quaria Comet (Joe Talamo, Paulo Lobo, 4-1)
Race 8: The $200,000 Ky Downs Preview Dueling Grounds Derby, run at 1 1/8 miles on turf:
1. Highway Robber (Mitchell Murrill, Brian Lynch, 15-1)
2. Golden Bandit (Adam Beschizza, Coty Rosin, 12-1)
3. Hidden Path (Corey Lanerie, Todd Pletcher, 6-1)
4. Worthington (Gerardo Corrales, Mike Maker, 15-1)
5. Lincoln Highway (Rafael Bejarano, Vicki Oliver, 15-1)
6. Act a Fool (Cristian Torres, Larry Rivelli, 15-1)
7. Anglophile (Declan Cannon, Brian Lynch, 12-1)
8. Tall Boy (Rey Gutierrez, Doug O'Neill, 20-1)
9. Georgie W (Alex Achard, Will Walden, 12-1)
10. Wadsworth (Florent Geroux, Brad Cox, 8-5)
11. Desert Duke (Francisco Arrieta, Chris Hartman, 10-1)
12. Sharar (James Graham, Todd Pletcher, 10-1)
13. Manciata d'Oro (Martin Chuan, Brad Cox, 15-1)
Race 9: The $200,000 Ky Downs Preview Mint Millions Turf Mile, run at 1 mile on turf:
1. Minnesota Ready (Corey Lanerie, Neil Pessin, 20-1)
2. Trafalgar (Edgar Morales, Chris Hartman, 30-1)
3. Big Dreaming (James Graham, Wayne Catalano, 10-1)
4. Gray's Fable (Declan Cannon, Brian Lynch, 3-1)
5. Heaven Street (Cristian Torres, Mike Maker, 10-1)
6. Hozier (Alex Achard, Rodolphe Brisset, 12-1)
7. Fuerteventura (Florent Geroux, Jonathan Thomas, 5-2)
8. Greyes Creek (Adam Beschizza, Paulo Lobo, 20-1)
9. Play Action Pass (Joe Ramos, Robert Medina, 8-1)
10. Santos Dumont (Francisco Arrieta, Chris Hartman, 20-1)
11. Underdressed (Orlando Mojica, Rey Hernandez, 15-1)
12. Max K.O. (Gerardo Corrales, Mike Maker, 6-1)
AROUND THE PEA PATCH: Racing from Ellis Park will resume Friday-Sunday with daily first posts of 11:45 a.m. … Sunday is another KyHPBA Dollar Day that will feature $1 hot dogs, soft drinks and ice cream along with $2 beer. Fans can enjoy their $1 dogs (with complimentary Ellis Relish) while enjoying a quartet of stakes events featuring the Grade III Pucker Up Stakes. … Entries for the Aug. 13 Ellis Park Derby Day will be taken Sunday. The fantastic program will be dubbed as Thoroughbred Aftercare Day and feature on-site activations from multiple Thoroughbred retirement organizations. On the track, there will be a six pack of stakes contests led by the sixth running of the $250,000 Ellis Park Derby and the 42nd running of the $150,000 Groupie Doll Stakes (Listed). Race previews will be posted Sunday on www.ellisparkracing.com.