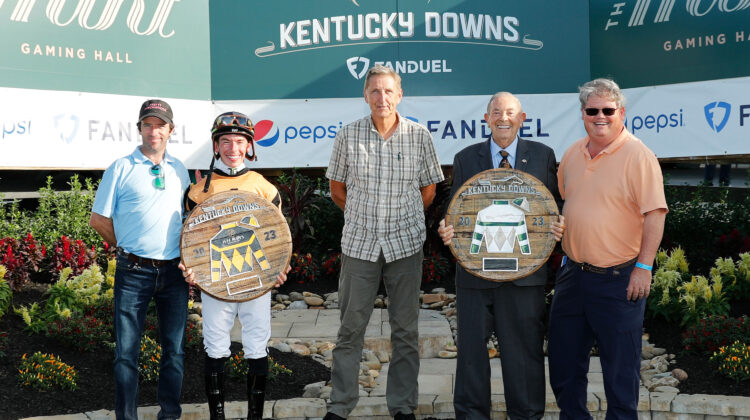 Gaffalione, Walsh, Ramsey win KD meet titles
Kentucky Downs press release. Coady Photo from left: Paul Madden, assistant to leading trainer Brendan Walsh; leading jockey Tyler Gaffalione; Ramsey Farm farm manager Mark Partridge; leading owner Ken Ramsey; and Jeff Ramsey.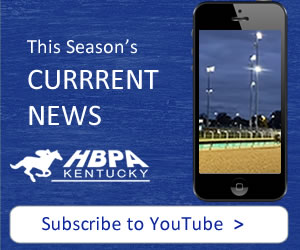 FRANKLIN, Ky. — Tyler Gaffalione capped off his third Kentucky Downs riding title in style, winning three races on Wednesday's closing-day card to finish with 12 victories for the FanDuel Meet, five more than 2021 riding champion and second-finisher Joel Rosario.
Brendan Walsh earned his second training title, and first outright, at the track with eight wins, three more than Kentucky Downs' all-time win leader Mike Maker, who had a meet-high 10 seconds and nine thirds.
Ken Ramsey, the winningest owner in Kentucky Downs history as well as Kentucky, won his ninth title at the track and his first since 2018 with three wins victories to edge the two wins of Three Diamonds Farm and Augustin Stables.
The details:
Gaffalione got off to a fast start, winning the meet's very first race with Buttercream Babe and then taking the last of 76 races aboard Fancy Caber Neigh. He also won last year's riding title with nine wins and in 2020 with 11. Gaffalione started the day ahead 9-7 over Rosario, but but had clinched the crown by mid-card.
Florent Geroux finished third with six wins but won the money title, $2,800,016 to $2,706,419 for Gaffalione. Both riders rode all seven days of the meet, while Rosario missed one day to ride at Saratoga.
Gaffalione was a workhorse, riding 71 of the meet's 76 races, compared with 51 for Rosario and 48 for Geroux.
Last year Gaffalione was shut out from stakes wins, with several extremely close seconds. This year he won two stakes: Sunday's $500,000 Global Tote Juvenile Fillies with Austere and the $1 million, Grade 3 Big Ass Fans Music City with Secret Money. Both horses are trained by Walsh.
"It's amazing," Gaffalione said. "It was very competitive this year. It's world-class racing, and we enjoy being out there. We were very fortunate. We got a little bit of revenge this year (in stakes). Brendan Walsh and his team did a great job. I think we won five or six races for him. He sent his horses over ready to run this meet, and they fired big for us."
Though he wound up not needing it to gain the title, Walsh teamed with Gaffalione to win Wednesday's second race with the maiden First World War.
Walsh tied for the 2021 title with Maker and Steve Asmussen with four wins apiece. He won with eight of 28 starters this meet (29 percent) and also led in purse earnings at $1,701,584. Jonathan Thomas, whose four wins included a pair of $1 million stakes, finished second in earnings at $1,487,443.
"It was a great meet," said assistant trainer Paul Madden, who was at Kentucky Downs while Walsh was working the Keeneland September Yearling Sale. "Kudos to all the team. It was all the team and the effort they put in. It was a big deal for him (Walsh) to win this. To win eight races this meet — the prize money being so big — it's just a great place to win. He definitely points toward this meet."
It was Ramsey's first since his last of six straight titles in 2018. He also won in 2010 and 2009. Ramsey's other titles were in the name of Ken and Sarah Ramsey, who died last year.
"It's like eating Cracker Jack," Ramsey said. "The more you eat, the more you want. The more you win, the more you want to win. I'm inspired by winning. It motivates me to keep buying good horses and claiming good horses.
"I've got to pad my statistics, got to raise the bar a little higher. I can't look over my shoulder or they'll be gaining on me."