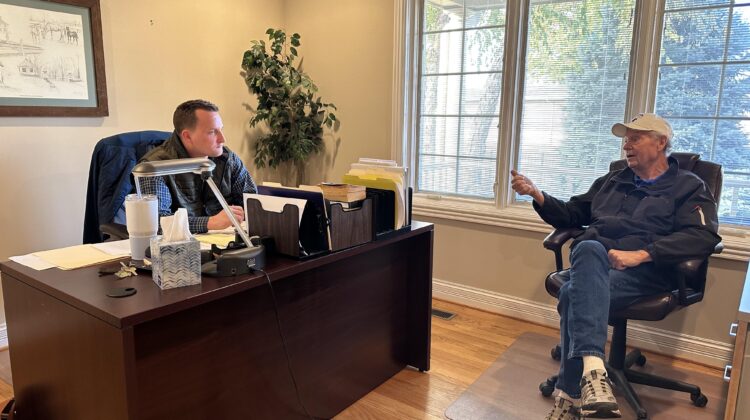 Kentucky HBPA hires Alex Foley as executive director
(Photo above: Alex Foley, left, and Kentucky HBPA President Rick Hiles. Jennie Rees photo)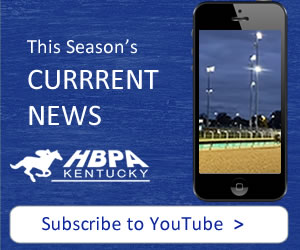 LOUISVILLE, Ky. (Tuesday, Nov. 14, 2023) — The Kentucky Horsemen's Benevolent & Protective Association has hired Alex Foley as its new executive director. The life-long Louisvillian takes over the permanent position filled by Marty Maline for almost 47 years until his retirement at the end of 2022.
The 32-year-old Foley, who started on the job Monday, is the younger son of veteran trainer Greg Foley and the grandson of the late owner-trainer-breeder Dravo Foley. Alex Foley graduated from Bellarmine University with a degree in business management (and four years on the golf team) and from the University of Louisville's Brandeis School of Law with his Juris Doctor.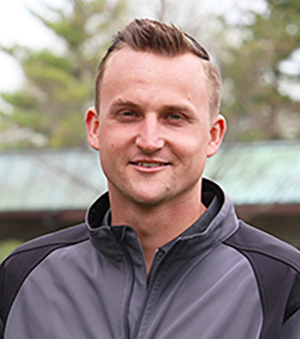 "He was interviewed by our search committee, and they were impressed by him and his credentials," said Kentucky HBPA President Rick Hiles. "He's a young man, he's got a history in racing from his dad and grandpa. He knows everybody on the backside. He has a law degree. We thought he could get in that position and have some longevity."
Foley had been serving as an assistant trainer to his dad, including overseeing the stable's Ellis Park division throughout the spring, summer and into the fall. His brother, Travis, is also an assistant trainer to their father and their aunt Vickie Foley is a trainer.
Foley said the combination of being part of a racing family and his law degree made the Kentucky HBPA executive directorship appealing.
"The horse-racing industry and my legal background, I've always wanted to do both but didn't have the avenue," he said. "This job provides that. The connections I have on the backside — whether it's horse trainers, gallop boys, assistants — I've known so many people that it was a perfect fit and something I'm passionate about."
Asked if he thought he'd make 47 years like Maline, Foley laughed and said, "I know I have some pretty big shoes to fill.
"Marty said he'd mentor me. Rick Hiles has been great in the transition. I think we make a good team. I think being younger brings a different light to everything."
Foley graduated from North Oldham High School, where he played basketball and golf.