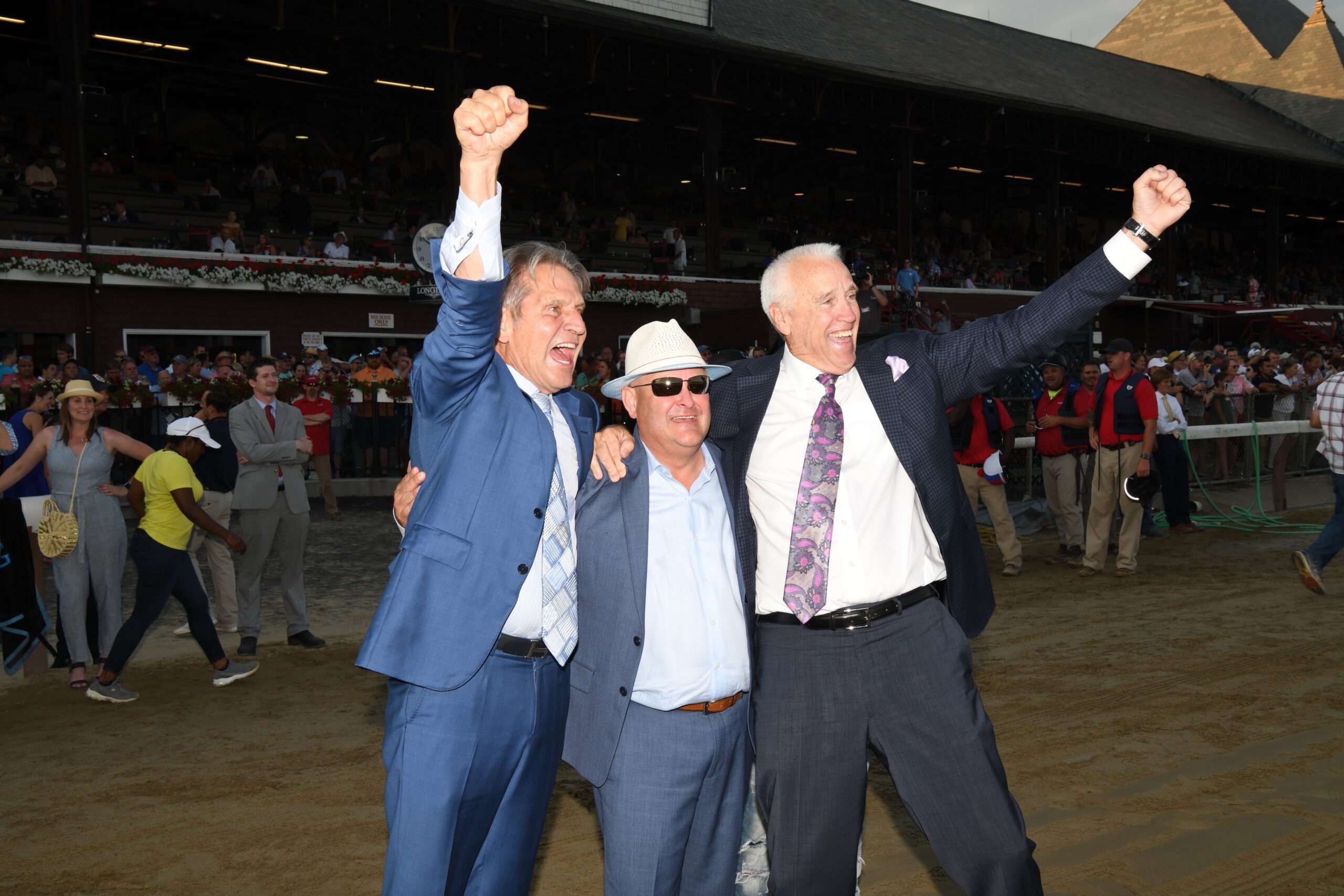 Reeves hoping Tax can provide Pegasus breakthrough
From Gulfstream Park's publicity department (Photo: Left to right – Randy Hill, trainer Danny Gargan and Dean Reaves. Coglianese Photos)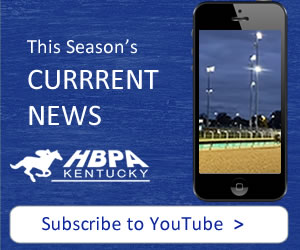 HALLANDALE BEACH, FL – No owners have supported Gulfstream Park's Pegasus World Cup Championship Invitational program more than Reeves Thoroughbred Racing and R.A. Hill Stable.
With Tax in Saturday's $3 million Pegasus World Cup (G1) for the second straight year, Dean and Patti Reeves and Randy Hill will have competed in the headliner four of the five years since the stakes was transformed from the Donn Handicap into one of the world's most lucrative races for older horses. The only year the partners weren't in the Pegasus, they were represented in the 2019 Pegasus World Cup Turf Invitational (G1) with Channel Maker.
Now, they just need to hit the board for the first time in a Pegasus event. Tax finished ninth last year after stumbling badly at the start of the 2020 edition. He's raced only twice since, finishing fifth in the May 2 Oaklawn Handicap (G2) and returning from a 7 1/2-month hiatus for a dominating front-running 4 1 /2-length victory in Gulfstream Park's Harlan's Holiday (G3) Dec. 12. Luis Saez has the return mount for the Pegasus.
"I think he's as good as anybody in the race, and I think we'll be very competitive," said Dean Reeves, who campaigns his large stable with wife, Patti. "I think this is the best shot for Randy and I, hopefully, to get some of our money back that we put into the Pegasus. Because we've had a horse in it every year since they started it, and maybe perseverance will pay off for us."
Trainer Danny Gargan, a Louisville product, claimed Tax out of a $50,000 maiden claiming race in his second career start with owner Hugh Lynch. Gargan offered part of the horse to Reeves and Hill, but they decided they had enough horses and weren't interested. After Tax finished third in Aqueduct's 2018 Remsen Stakes (G2), "We called Danny up and said, 'We just became interested,'" Dean Reeves recalled with a laugh.
The gelded son of the late Claiborne Farm stallion Arch has been a terrific acquisition, including winning Aqueduct's Withers (G3) in his next start for his new owners and taking second in the 2019 Wood Memorial (G2) to land in the Kentucky Derby (G1). While he languished home 15th in a quagmire that day, Tax rebounded to be a close fourth in the Belmont Stakes (G1) and went on to capture Saratoga's Jim Dandy (G2). If he finishes in the top seven in the Pegasus, he'll become a millionaire.
After the Oaklawn fifth place performance that Gargan says was deceptively good, Tax was given time off with the goal of pointing to the Breeders' Cup. A particularly untimely temperature kept him out of a Breeders' Cup prep race, with the Pegasus then becoming the objective.
"It seems like the best thing we did was giving him some time over the summer," Dean Reeves said. "He ran as good as we've ever seen him run in the Harlan's Holiday."
Gargan, who could win his first Grade 1 race in the Pegasus, agrees.
"He's doing tremendous," he said. "The time off helped him grow up. He's a better horse than he used to be. I think this year is going to be the best of his career. He's bigger, he's stronger, he's doing better, eats better. He looks phenomenal. When he was a young horse, he had some issues, little things that plagued him through his 3-year-old year that have gone away with time and the layoff."
The Reeveses were fairly new to horse racing, and definitely new to the sport's top echelon, when they bought into a 2-year-old named Mucho Macho Man, whose eventual nine victories and $5.6 million in earnings included the 2013 Breeders' Cup Classic (G1) at Santa Anita. He also finished third in the 2011 Kentucky Derby.
If the Reeveses quickly were at the top of the sport, they subsequently learned how difficult that is to achieve.
"I want to say it was five years before I won a graded stakes again," Dean Reeves said. "I thought you just go down there and buy you another one, and they're going to be like Mucho Macho Man. It really showed me what a great accomplishment that horse had in his career, what he was able to accomplish with [trainer] Kathy (Ritvo) and the work everybody did. I realized five years later, when Classic Rock won a Grade 3, just how difficult it was. Looking back, it's tough to win a Grade 1. Those are few and far between."
Mucho Macho Man got better with age, and Dean Reeves believes the same is true for Tax.
"I understand how everybody has to look at it financially," he said of deals with stud farms. "But we're retiring some of these horses well in advance of them reaching their full potential. I think I saw that in Mucho Macho Man. He ran well as a 4-year-old, finishing second in the Breeders' Cup,  but then won it as a 5-year-old.
"I see a lot of similarities between Mucho Macho Man and Channel Maker, how as they've gotten older how they've gotten so much better," he added. "And I think they become so mentally tough. I just think Tax is going to have a tremendous year, and I hope we run well in the Pegasus."
Reeves and Hill finished eighth in the 2017 Pegasus with Breaking Lucky and 12th in 2018 with Toast of New York, while Channel Maker was fifth in the 2019 Pegasus Turf, sparking Reeves to quip, "I'd have loved to have had Mucho Macho Man run in it."
Mucho Macho Man was sent to stud at age 7 in 2015, his subsequent progeny including 2020 Pegasus World Cup winner Mucho Gusto. With both Tax and the 7-year-old gelding Channel Maker, a leading contender to be voted 2020's male turf champion, Reeves doesn't have to worry about a stallion career.
"Let me tell you: I used to go, 'Oh, it's a gelding. I don't want him,'" Reeves said. "Now, to have a gelding that can run and win money for you for four or five years is great. For Tax, we may run in the Pegasus three times with him or three more times. We may go to Dubai or Saudi Arabia with him. A lot of his competition is retired, so having a good gelding is not a bad deal.
"Channel Maker's another gelding. Look, it isn't all about being a stallion. I mean, we're in it for the races. Hey, if we can win it, they still pay you," he added.
While Mucho Macho Man retired from the track to a palatial stud home, first at Adena Springs and now at Hill 'n' Dale Farms, most horses don't have such post-racing guarantees. The Reeves' are big supporters of the nonprofit Thoroughbred Aftercare Alliance, which accredits, inspects and awards grants to its approved aftercare organizations to retrain, retire and adopt out horses using industry-wide funding.
"It's important to make sure retired horses get a good home," Dean Reeves said. "When you buy them, you think they're all going to be superstars. Some obviously have more talent than others, but that doesn't mean they're not trying. They become like family. When they do leave the nest, so to speak, you want to make sure who they're going to, keeping the (registration) papers so they don't race anymore, just doing your due diligence.
"We've gotten as much satisfaction seeing some of our horses come back as great dressage horses or eventing horses, where people send us pictures of them when they've won ribbons and awards. We just love that. We take a lot of pride in seeing them where they access in a second career," he added.
The Reeveses also are supporters of accredited TAA facilities such as New Vocations in Lexington, Ky., and South Carolina's Equine Rescue of Aiken and other organizations. They are among the horse owners committing a percentage of any Breeders' Cup earnings, such as Channel Maker's third in the $4 million Longines Turf, to the TAA.
"Patti and Dean Reeves have been very successful in Thoroughbred racing, and they really do care about their horses long term," said TAA operations consultant Stacie Clark Rogers. "Their stable has been very supportive of the TAA and of our TAA accredited organizations."
Florida consultant Jay Stone and trainer Kathy Ritvo are instrumental in helping the Reeveses find new homes for their equine retirees. Patti Reeves says she works to spread their horses around and find the best match, including what its new career might be.
She points to Mac Daddy Mac as a prime example. The Reeveses purchased the colt after he won his debut at Santa Anita at 40-1 odds, finishing second in a Grade 3 stakes in his next start. A throat issue compromised his ability, and Mac Daddy Mac was ultimately retired after three more races spread over his 3- and 4-year-old seasons. Now he's finding success in the show world, with equestrian Ashley Keller retraining Mac Daddy Mac into an eventing horse at Chattahoochee Hills Eventing near Atlanta, where the Reeveses live.
"He was a great horse, just loved his job, had great personality," Patti Reeves said. "We found a new home for him in the Atlanta area at Chattahoochee Hills Eventing. (Keller) taught him dressage, jumping, eventing. What she has done with this horse is amazing. He's just a great example of a horse that just because he couldn't race, he wasn't done. You're involved in racing, but that's just a short part of their life. We care about the entire program for the horse. We don't want to just be good to the horse while they're racing. We want to make sure they end up in good places and are treated well."
Story: Jennie Rees