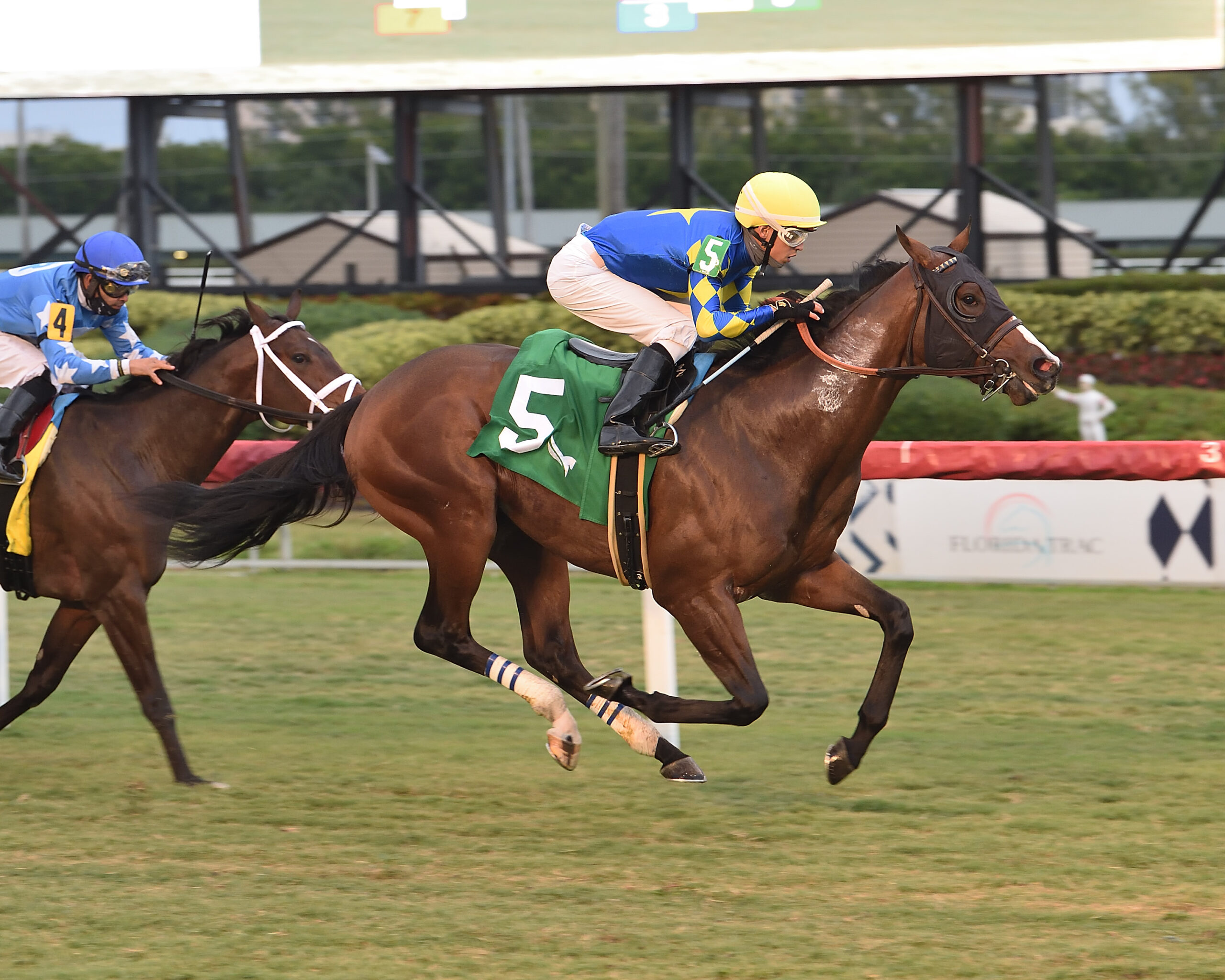 Jeff Ruby Steaks: Tarantino no-sale proved smart business move
A Kentucky HBPA news feature (Photo: Tarantino winning a Gulfstream Park allowance race. Coglianese Photography/Lauren King)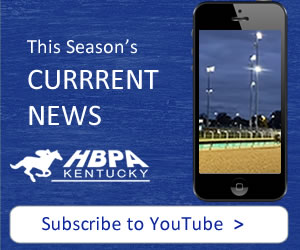 When Tarantino returned East last fall to try a different racetrack and/or go through the auction ring, trainer Bob Baffert cautioned the owners not to sell the colt too cheaply. And when the $610,000 yearling purchase brought a high bid of $240,000 at Keeneland's November sale, Tarantino indeed was not sold.
Baffert's advice has proven sage. Tarantino, now trained by Rodolphe Brisset, is the 3-1 favorite in Saturday's $250,000, Grade 3 Jeff Ruby Steaks at Turfway Park. The race offers the maximum 170 points toward qualifying for the May 1 Kentucky Derby, with the 100 points for a win and 40 for a second virtually assuring making the 20-horse field.
Tarantino is a son of the late Pioneerof the Nile, also the sire of 2015 Triple Crown winner American Pharoah. He's owned by the high profile partnerships and entities of SF Racing LLC, Starlight Racing, Madaket Stables LLC, Stonestreet Stables LLC, Golconda Stable, Siena Farm LLC and Robert Masterson.
The California-based Baffert got his reputation as one of the best trainers who ever lived by winning a ton of Triple Crown races, not for any particular prowess running 2-year-olds on turf. But that's where Tarantino started out after not showing a lot in his workouts on dirt. Tarantino won his debut at a mile on turf at Del Mar, then lost Santa Anita's Zuma Beach, also a mile on grass, by a nose.
"He was very inconsistent on the dirt breezing-wise in California, that's the feedback I got from Mr. Baffert and the ownership team," Brisset said. "They always thought he had some talent. When he came up to Santa Anita to Mr. Baffert, maybe he didn't really like the track there. Some times at Los Alamitos, he'd work OK, sometimes just so-so. Same at Del Mar.
"Mr. Baffert told the group not to let him go, to put a nice reserve on him, when he went through the sale. He said, 'The horse has talent; we just need to figure him out.' Everybody knows I ride (horses in the morning). We work as a team, and Mr. Baffert said, 'Why don't you send him to Rodolphe, and he can get on him and maybe figure him out?' He showed up to us in beautiful condition. It took us a couple of weeks to figure him out. Then he took a couple of weeks to get (comfortable) in our program, too. He actually trained at Turfway for a month. I breezed him myself there, and he worked very well. Then he went through the sale. He wasn't sold, and we sent him to Florida."
'If you look at the big picture, he's bred for dirt'
In his first start for Brisset, the colt won a grass allowance race at Gulfstream Park. Brisset says he actually was hoping the race came off the turf because he thought Tarantino would run well on dirt, given the way he was training.
He got his chance on dirt in Gulfstream Park's Grade 3 Holy Bull Stakes, finishing second behind Greatest Honour, and then fourth to the same horse in the Grade 2 Fountain of Youth. Greatest Honour is the favorite for Saturday's Florida Derby.
"That's what the group wants," Brisset said of 3-year-olds on the Kentucky Derby trail. "They're looking for Grade 1 on the dirt. I'm not saying they stay away from the turf, but they want the action of 3-year-olds on the dirt and even 4-year-olds. But they want to be in the big races, on the big day. If you look at the big picture, he's bred for the dirt. I think he can run on anything to be honest."
Tarantino accumulated nine points toward Kentucky Derby qualifying in the Holy Bull and Fountain of Youth.
"He's a very tricky horse," Brisset said. "In the morning, you've got to stay busy on him sometimes. He's getting better at that, but you can't quit on him because he'll quit on you…. In the Holy Bull, we were sitting right off the pace and he dug in pretty hard and ran a really good second. The Fountain of Youth was really rough. He was the 7, and on the inside it got pretty ugly. We wound up being seven-wide. On the first turn, we got bumped pretty hard and we ended up being like six, seven-wide. We weren't going to win the race, but maybe it cost us third or second. But it's the past. I think we are where we need to be. He's going to have to show up and run 1-2. If he does, I think we're in" the Derby.
"He's changed a lot, physically, matured a lot," Brisset continued. "And that's a good thing, between 2 and 3. He got bigger, wider and looks like he's enjoying training. I'm very, very happy the way he looks, and his last work was very, very good. He's a horse who doesn't gallop out in his breeze. He doesn't show anything. Trust me, you don't want to breeze him around the track by himself. But the last couple of weeks he's been way more forward. The breeze the other day, a couple of people took pictures. You could see that he was off the bridle, his ears are up and he went in 48, a minute, 1:12 and change the gallop out, so it was a good work."
Florent Geroux, coming in off big winter meets at both Arkansas's Oaklawn Park and New Orleans' Fair Grounds, will ride Tarantino for the first time for his close friend and fellow French native.
As far as the Kentucky Derby, most of the partners in Tarantino, including Starlight and SF Racing, also have Rebel Stakes runner-up Hozier (20 points) and Florida Derby contender Spielberg (16) in the thick of the hunt. Those owners also won the Triple Crown in 2018 with Justify and Starlight was a minority owner in 2020 winner Authentic.
Jack Wolf, the Louisville resident who founded Starlight Racing, said any Derby decision would be up to Tom Ryan of SF Racing, in consultation with Brisset, if Tarantino runs like they hope in the Jeff Ruby.
"It's fun to be in these big 100-point races, and at least have the option," Wolf said. "If he runs well and gets a good number, then I'm sure we'll go ahead and run him. But there, again, it would be up to Tom and Rodolphe."