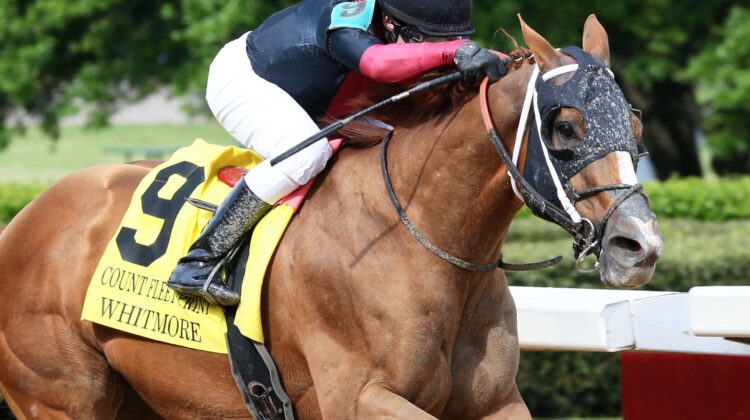 Whitmore preparing for second career as stable pony
Oaklawn Park's barn notes authored by Robert Yates (Coady Photography photo of Whitmore winning Oaklawn's 2020 Count Fleet Stakes), with Kentucky horsemen, horses prominent: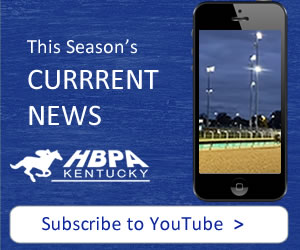 Whitmore won Oaklawn's Hot Springs Stakes for older sprinters a record four times and if the feisty 8-year-old gelding cooperates, he'll be leading the field again in 2022.
Whitmore has returned to Arkansas, but instead of preparing for the Hot Springs, a race he won in 2017, 2018, 2019 and 2020, the now-retired Eclipse Award winner is about to take baby steps toward a possible second career as a stable pony for Ron Moquett, who trained the gelding and campaigned him in partnership with Robert LaPenta and Head of Plains Partners (Sol Kumin).
"Our ultimate goal, right now, the short-term goal, is have him lead the post parade for the Whitmore," Moquett said Tuesday morning. "That's our goal, Doesn't mean we're going to do it. It just means we're trying."
Oaklawn announced in early September that it had renamed the Hot Springs to honor Whitmore, the 2020 Breeders' Cup Sprint winner, the country's champion male sprinter of 2020 and among the most popular and successful horses in Oaklawn history. The inaugural $200,000 Whitmore Stakes is March 19, a centerpiece of "Whitmore Day." Oaklawn also renamed the Count Fleet barn, Whitmore's longtime home in Hot Springs, after the gelding.
Whitmore was retired after suffering a leg injury during a fifth-place finish in the $600,000 Forego Stakes (G1) Aug. 28 at Saratoga. A chestnut son of Pleasantly Perfect, Whitmore bankrolled $4,502,350 – 88th in North American history through Tuesday – after winning 15 of 43 starts. Much of Whitmore's best work came at Oaklawn, where he compiled a gaudy 9-6-1 record from 16 starts and earned $1,752,600. Whitmore also won Oaklawn's signature race for older sprinters, $500,000 Count Fleet Sprint Handicap (G3), a record three times (2017, 2018 and 2020). Swift Ruler, a local star during the 1960s, is the only other horse in Oaklawn history with seven career stakes victories.
Moquett said Whitmore was sent to Rebecca Maker's equine rehabilitation and breaking facility in Kentucky following the Forego. Whitmore has normally decompressed there the last several years before returning to Oaklawn – his winter home at every meeting since 2016 – to begin preparing for a new campaign.
Moquett said his wife/assistant Laura will be trying to re-train Whitmore for pony work, which encompasses escorting horses to and from the track during morning training hours. She was Whitmore's regular exercise rider.
"I have no idea," Ron Moquett said, when asked if he believed Whitmore knows he's not running again. "This is kind of the same schedule he's been on. We're hoping he does. We're going to feed him different. Obviously, he's going to leave every day and come back."
Moquett said Whitmore could eventually occupy his same stall in the renamed barn and be re-trained at Oaklawn or sent to more tranquil surroundings at the track's satellite training center about 25 miles east of Hot Springs, where the trainer keeps horses. Moquett said Whitmore left Kentucky Tuesday and is now at the training center. The gelding will return to Oaklawn after Thanksgiving, Moquett said.
Whitmore was a noted bad actor at 2 and gelded before his first start. Although he mellowed with age, Whitmore would kick his rear legs before loading into the starting gate for some races.
"We couldn't get him around the track as a 2-year-old, so he's changed a whole lot," Laura Moquett said the morning after Whitmore won the 2020 Count Fleet. "We can actually train him now. He's softened his edges a little. He still has the tattoos of the barbed wire around his arm, but he has like a heart and mom on there as well now."
Ron Moquett said Whitmore will now be going back to school, with his wife as tutor.
"Go out there and watch training," he said. "Ride up there and sit there at the end of the day, when nobody's around, and watch a couple of horses train and then come back home. After a while, the hope is, he understands that this is what I do. I don't go train. Not go around kicking stuff. Laura will be on him. Laura's horse."
Another former Ron Moquett trainee, Meanbone, successfully transitioned to pony work following his final career start in July 2020. Meanbone, a 9-year-old Silver Train gelding, worked as Moquett's stable pony during the 2021 Oaklawn meeting.
"We're just going to start like we did Meanbone," Ron Moquett said. "Remember, he's a pony now and these other horses that we've re-homed and made ponies – we're going to try to do it with Whitmore and, hopefully, it sticks."
Moquett said his wife would be aboard Whitmore to lead the post parade for the Whitmore Stakes, which is the final major local prep for the $500,000 Count Fleet Sprint Handicap (G3) April 16. Whitmore ran second in both 6-furlong races in 2021.
A Smarty Party?
Whitmore had been trainer Ron Moquett's stable star until the 2020 Breeders' Cup Sprint winner and 2020 champion male sprinter was retired earlier this year because of a leg injury.
Now, another chestnut gelding will try to pick up the slack. Moquett said Tuesday morning that lightly raced Osbourne will make his 3-year-old and stakes debut in the $250,000 Smarty Jones Jan. 1, Oaklawn's first of four Kentucky Derby points races.
A son of Oaklawn stakes winner Tapiture, Osbourne broke his maiden at 7 furlongs Nov. 17 at Churchill Downs in his last start. Osbourne, in his only start, finished second to Howling Time in a maiden special weights sprint Sept. 25 at Churchill Downs. Howling Time returned to win the $200,000 Street Sense Stakes at 1 1/16 miles Oct. 31 at Churchill Downs to remain unbeaten in two lifetime starts.
"He's a good horse," Moquett said, referring to Osbourne.
Moquett (Southern Springs Stables) co-owns Osbourne, who is now based at Oaklawn in advance of his scheduled two-turn debut in the 1-mile Smarty Jones. The race previously had been run in mid to late January before all of Oaklawn's Kentucky Derby points races were moved up on the 2021-2022 stakes calendar, including the $1 million Arkansas Derby (G1) April 2, in conjunction with Oaklawn opening in December for the first time in history. The Arkansas Derby is now five weeks before the Kentucky Derby. It had been three weeks since 1996.
"At the end of the day, that's what's great when Southern Springs owns them," Moquett said. "We just do whatever the horse says. He came out of the race very good. We'll just point that direction and see what happens."
Moquett owns Osbourne in a partnership that includes the estate of Floyd Sagely. A star football player during the early 1950s at the University of Arkansas, Sagely died three days before Osbourne's career debut. He was 89.
"Really cool dude, too," said Moquett, who had trained approximately a year for Sagely. "He went to Ten Mile (Oaklawn's satellite training center about 25 miles east of Hot Springs) and saw his horses this summer. It was a shocking deal whenever he died because I had just got through seeing him."
Moquett said he has two other horses for Sagely's estate – Trident Hit, who finished fourth in the $100,000 Jeffrey A. Hawk Memorial Stakes for 3-year-olds and up last Friday at Remington Park, and Massard, an unraced 2-year-old filly by champion Nyquist. Moquett said Massard is the name of the street Sagely resided on in Fort Smith, Ark.
The Smarty Jones will offer 17 points (10-4-2-1) to the top four finishers toward starting eligibility for the Kentucky Derby. Nominations close Dec. 17.
Moquett won the 2015 Smarty Jones with Far Right, who finished 15th in the Kentucky Derby.
Chel-C Bailey Riding Success at Hawthorne into Oaklawn's Meet
Hawthorne's leading apprentice jockey has been breezing horses this week at Oaklawn. Translation? Chel-c Bailey aspires to be Oaklawn's leading apprentice.
Bailey has six victories at the Hawthorne fall meeting and will try to build on that total this weekend, as she is named on 10 horses (Friday, Saturday and Sunday).
"I'm killing it," Bailey said during training hours Monday morning at Oaklawn. "I'm killing it. Beating the boys. What more could I ask for?"
Call the post-Thanksgiving Day holiday a final opportunity to post a score. Bailey said she doesn't plan to ride again at the meeting (Hawthorne closes Dec. 27) and instead focus on Oaklawn, which opens its expanded 66-day live season Dec. 3.
"That's going to be my last weekend up there and then I'll be here full time," Bailey said. "If anybody can catch up to me, I mean, it just goes by how many wins."
Bailey, a 20-something former high school and collegiate wrestler, launched her professional career in 2019 and recorded her first career winner Feb. 28, 2020, at Oaklawn aboard Burtnjoe. She added two more winners that year at Oaklawn and another that fall at Keeneland. Citing COVID-19 issues, protecting a 10-pound weight allowance and possibly resurrecting her MMA career, Bailey spent most of the 2021 Oaklawn meeting working as an exercise rider for trainer Brad Cox. She resumed riding last May in the Mid-Atlantic region, but couldn't generate business.
"I tried that and it didn't work," said Bailey, who now rides with a 7-pound weight break. "It took me three months to ride 12 horses. Rode at Pimlico, Delaware. I had my license for Monmouth, Penn, Parx. I was out there breezing horses and riding for Jamie Ness. I mean, he's huge up there. The ball couldn't get rolling. I don't know if it was Laurel that shut down or the no-whip rule at Monmouth that kind of focused jockeys on other tracks and made Delaware really tough and Pimlico really tough. I think, honestly, it really showed me that you have to know people. I had never been up there. Didn't know anybody up there."
Bailey resurfaced in August at Arlington Park and returned to the winner's circle Oct. 9, the second day of Hawthorne's fall meeting. Both tracks are in suburban Chicago. Bailey's six victories at Hawthorne (tied for 12th overall) have come from 55 mounts. Bailey also has 15 seconds, 8 thirds and purse earnings of $94,423.
Bailey's Hawthorne showing includes her first career riding double last Saturday. She won the third race aboard favored Amended ($4.60) for trainer John Haran, an Oaklawn regular, and the eighth race aboard favored One Putt Richie ($4.60) for trainer Dee Poulos.
"Confidence is definitely key and then it's good when horses are placed where they need to be placed," Bailey said. "Some people argue with the weights. Some people don't argue with the weight. It's physics. You can't beat physics."
After escaping a spill last Sunday at Hawthorne, Bailey drove 10 hours to Hot Springs and was on the backside Monday morning drumming up business. Bailey said she plans to be active in the afternoon throughout the Oaklawn meeting in her push to be leading apprentice.
"I'm not galloping," Bailey said. "Last year I was galloping for Brad Cox. No galloping. I'm a jockey."
Bailey's agent is veteran "Big Steve" Krajcir of Hot Springs, who has previously booked mounts for, among others, Hall of Famer Calvin Borel and 2000 Oaklawn riding champion Jon Court.
Bailey has 10 career victories overall.
Ruben's Runners
Ruben Munoz, the longtime agent for jockey Ricardo Santana Sr., said the perennial Oaklawn champion plans to ride opening day, Dec. 3, before heading to Puerto Rico for the Clasico del Caribe stakes festival Dec. 4-5. Munoz said Santana will then return to Oaklawn to ride regularly throughout the 66-day meeting that ends May 8.
Santana, who turned 29 Nov. 19, has captured eight Oaklawn riding titles (2013, 2014, 2015, 2016, 2017, 2018, 2020 and 2021). Santana has 613 career victories to rank No. 9 in Oaklawn history and tops all jockeys in career purse earnings ($32,114,126). Santana has ridden regularly at Oaklawn since 2011 and a set a single-season record for purse earnings at the 2021 meeting ($5,642,523).
Munoz said he will again represent jockey Cristian Torres at Oaklawn. Despite missing the first six days of the 2021 Oaklawn meeting after relocating from Gulfstream Park, Torres won 22 races, including the $200,000 Arkansas Breeders' Championship Stakes, to finish seventh in the standings and amass $1,032,104 in purse earnings.
Torres has been riding at Gulfstream Park.
Finish Lines
Post positions for Oaklawn's opening-day program, Dec. 3, will be drawn Saturday. … In addition to Geovanni Franco, retired Hall of Fame rider turned agent Gary Stevens is scheduled to represent another Southern California-based jockey, newcomer Tiago Pereira, during the 2021-2022 meeting. Pereira won the $10 million Dubai World Cup (G1) in 2010 aboard Gloria de Campeao. Franco is returning to Oaklawn after winning 45 races in 2017 to tie for third in the standings. … Jockey Ken Tohill is on the grounds breezing horses in advance of the 2021-2022 meeting. Tohill rode nine winners last season at Oaklawn and has 3,988 for his career to rank 82nd in North American history, according to Equibase, racing's official data gathering organization. … Tohill will be represented by Becky Esch, longtime agent for Oaklawn regular Walter De La Cruz. Esch said De La Cruz isn't expected to resume riding until at least late December because of a neck problem. He hasn't ridden since Oct. 23 at Remington Park. De La Cruz has 124 career Oaklawn victories. Tohill has 31 career Oaklawn victories. … Luis Contreras is returning to Oaklawn for the 2021-2022 Oaklawn meeting that begins Dec. 3, according to agent Jay Fedor, who said he will represent the jockey. Contreras won 31 races in 2017 at Oaklawn, including the $400,000 Fantasy Stakes (G3) for 3-year-old fillies aboard Ever So Clever for Hall of Fame trainer Steve Asmussen. Contreras rode 15 winners in 2018 at Oaklawn. Fedor also represents Francisco Arrieta, Oaklawn's third-leading jockey at the 2021 meeting. Contreras is now riding at Woodbine in Canada. Arrieta is working horses at Oaklawn. … Alex Canchari, who has 981 career riding victories, said he is reuniting with agent Gene Short of Hot Springs for the 2021-2022 Oaklawn meeting. …Among the horses on the grounds for 2020 Eclipse Award-winning trainer Brad Cox and breeder/owner John Ed Anthony of Hot Springs is unbeaten Como Square, a 2-year-old filly by champion sire Into Mischief. Como Square, who won her Nov. 11 career debut at Indiana Grand, is a half-sister to Caddo River, runaway winner of the $150,000 Smarty Jones Stakes for 3-year-olds last season at Oaklawn for Cox and Anthony. … Abrogate breezed a half-mile in :51.60 Monday morning at Oaklawn for Hall of Fame trainer Steve Asmussen and Arkansas owners Alex and JoAnn Lieblong. Abrogate won the $200,000 Purple Martin Stakes for 3-year-old filly sprinters last season at Oaklawn and was an allowance winner of her Nov. 11 comeback at Churchill Downs. … Horses for training newcomer Lindsay Schultz are on the grounds. A former assistant under Hall of Fame trainer Shug McGaughey, Schultz has had three career starters – one at Delaware Park and one at Fair Grounds in 2017 and Nov. 12 at Churchill Downs – according to Equibase, racing's official data gathering organization. … The $150,000 Advent Stakes for 2-year-olds closed Nov. 18 with 36 nominations. The 6-furlong race is opening day, Dec. 3. Oaklawn hasn't run a stakes race for 2-year-olds since 1973.