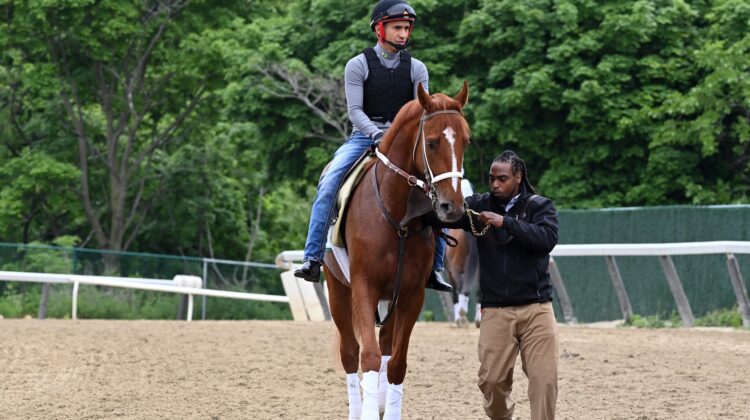 Belmont Stakes: Groom Jerry Dixon Jr. living the dream with Rich Strike
From the New York Racing Association media notes (Coglianese photo of Rich Strike with groom Jerry Dixon Jr. at Belmont Park)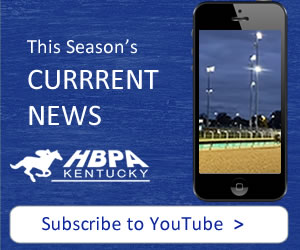 ELMONT, N.Y. – When Rich Strike scored his memorable upset victory in the Grade 1 Kentucky Derby, he provided his connections with a thrill they will carry for the rest of their lives. But particularly for groom Jerry Dixon, Jr., who perhaps knows "Richie" better than anyone.
As Rich Strike's groom, Dixon, Jr. cares for the horse on a daily basis, with his days starting at 4:30 a.m. and stretching into the evening on Saturday after walking home the Derby winner from his start in the Grade 1 Belmont Stakes presented by NYRA Bets.
Dixon, Jr. has worked on the racetrack for 13 years, the past two of which were spent under trainer Eric Reed. He began grooming for Tommy Short, who is based primarily in Ohio and Indiana before working for Reed.
"I learned a lot of things there of what to do and not to do," Dixon Jr. said. "I've been trying to take all the information of every horseman I've ran across in my life and try to use it. It's best to be a sponge. You got to soak up knowledge."
A fourth generation horseman, Dixon, Jr. learned from his father, Jerry Dixon, who established a business out of the Churchill Downs receiving barn through "Dixon, Inc." – a subcontracting service which saddles and cares for horses when their connections ship in for a race. The elder Dixon, who has known Reed for over three decades, also has been hands on with Rich Strike.
"I was always around horses as a kid. I didn't like it as a kid, couldn't stand the smell," Dixon, Jr. said. "But it grew on me. When your whole family is in the business, you're learning from them, and you're watching them."
Both Dixon and Dixon, Jr. recall the ups and downs of Kentucky Derby week, and not knowing whether Rich Strike would draw into the race. Rich Strike drew into the race from the also-eligible list when Ethereal Road scratched.
The elder Dixon specifically remembered observing his son reacting to the good news.
"We were at the barn celebrating," Dixon said. "I watch my son walk off by himself. He got down on his knees and he thanked God."
Just to be a part of the Kentucky Derby was emotional for both Dixons. Dixon, Jr. recalls the walkover to the paddock with Rich Strike.
"Once we got to the gap, I felt the horse bow his neck and I thought, 'Ooh he's going to run good today'," Dixon, Jr. said. "All we needed was a chance. But to win it? That was icing on the cake right there. To be in the race was the best experience ever, and then to go out and win it was indescribable."
So indescribable, that it took Dixon, Jr. some time to believe that he actually witnessed Rich Strike shock the Kentucky Derby field. Dixon, Jr. said it was Rich Strike's jockey Sonny Leon who made him realize it wasn't a dream.
"I didn't think it was real at first. It felt like a dream, like I was out on my feet," Dixon, Jr. recalled. "I had to ask Sonny, 'Is this real? Did we really just win the Kentucky Derby?' Sonny said, 'Papa, I show you,' He threw a rose, it hit my arm, and that's when I knew."
In preparing for the Belmont Stakes, Rich Strike is fulfilling a lifelong dream for Dixon, Jr., who said he has always wanted to travel with horses.
"Richie here gave me that chance," Dixon, Jr. said. "I'm just thankful that the team trusts me enough to be in this position. They say hard work pays off.
"We're working hard to keep the horse at his best," Dixon, Jr. added. "I love the way he's training here."
The strong rapport between Rich Strike and Dixon, Jr. has been captured in content across social media, including a video of the groom laying down in the stall next to the Derby winner and gently waking him from his slumber.
"If your animal doesn't trust you, you have nothing," Dixon, Jr. said. "He lets me do whatever I need to do to make sure he's taken care of. Trust is a big thing."
Dixon, Jr. spoke high volumes of working for Reed.
"This whole experience has taught me to never give up on yourself," Dixon, Jr. "But the key thing from Eric has been always pay attention to detail. Never short cut even when you don't feel like doing a certain thing a certain way. Give it your best, always."
Reed expressed strong gratitude for having Dixon, Jr. in the barn to care for Rich Strike.
"Richie loves Jerry Jr. and Jerry Jr. loves Richie," Reed said. "When you have good karma in the barn and you got a comfort zone with everyone, everything goes smooth and good things happen. We're all family here and everyone gets along well. But there's a bond between Jerry and Richie that is serious. The horse is calmer when Jerry is around, and he's changed all their lives forever."
*
Rich Strike had his final gallop Friday in preparation for the Belmont Stakes. The chestnut Keen Ice colt, owned by RED TR-Racing, galloped 1 1/2 miles clockwise around a fast Big Sandy.
"He galloped nice and easy and relaxed," said Reed.
Rich Strike has routinely visited the main track via the Belmont paddock almost every morning since arriving last Wednesday. He had his first afternoon trip to the paddock yesterday during the first race and had an uneventful outing, which Reed was thankful for.
"I was so happy," said Reed. "I was worried that I hadn't trained him as much and that he was going to get to the paddock and be keyed up. Now I know he's level-headed and he's got his game face on. We're where we need to be and the way I wanted it to be. No more adjustments – I think it's up to the race now."
Rich Strike is expected to walk the shed row on Saturday before the Belmont Stakes and have a quiet day since he handled his paddock schooling well.
"I'm happy as I can be," said Reed. "He always tells if you if you haven't done enough. I would have had to train him harder today and gone back and schooled him today, but all we have to do now is keep him happy."
***
Lobo 'In Love' with his longshot Grade 1 chances
Trainer Paulo Lobo has made a decent living out of running well in big races with high-odds hopes and this weekend his chances at the Belmont Stakes Racing Festival should not be taken lightly when he starts a pair of double-digits runners in Grade 1 company.
In 2002, the third-generation Brazilian horseman took the Grade 1 Kentucky Oaks with 20-1 Farda Amiga, an eventual champion. In 2004, his Pico Central won the Grade 2 San Carlos Handicap at Santa Anita at 43-1 right before winning three NYRA Grade 1s, including the Metropolitan Handicap. And this past November, he finished a gaining third in the Grade 1 Breeders' Cup Mile with 24-1 barn star Ivar.
Also in the Mile was Bonne Chance Farm and Stud R D I's In Love, a 12-1 winner of the Grade 1 Keeneland Turf Mile and—like Ivar—a Brazilian-bred son of Agnes Gold. The bay 6-year-old suffered from a traffic-riddled trip, only to get going too late down Del Mar's short stretch and finish seventh under regular rider Alex Achard.
Assigned a morning line of 15-1 in the Grade 1, $750,000 Resorts World Casino Manhattan, In Love will step up in trip beyond nine furlongs for the first time since finishing fourth in the Group 1 Gran Premio Nacional over 12 ½ furlongs on dirt in November 2019.
Since coming stateside, nine of his 10 runs have been on turf, including two stakes wins, with September's $300,000 TVG at Kentucky Downs beginning to expose his ability. In Love prepped with an eighth-place finish in the Grade 1 Maker's Mark Mile on April 15, beaten 2 ¾ lengths in a blanket finish, and will be piloted again by Achard from post 5 in Saturday's 10-furlong test for older horses.
"I think this horse deserves to be here," Lobo said. "He had a very good last six months of last year and ran a terrific race in the Breeders' Cup and had no luck in that race. As you know, I winter my horses in Kentucky, not Florida, so of course it's hard to get them 100 percent fit to run in April at Keeneland, but he ran very good in his prep. If you look at that race, multiple horses came out and won graded stakes like Set Piece and Chad Brown's horse [Masen].
"Besides that, all of his pedigree tells us he can go longer and South Americans really do well going a mile and a half and a mile and a quarter," he added. "He will handle any ground and the grass should be good for him. He could be closer stepping up in distance, but I hope not. I prefer him to close from behind, especially on the grass."
Lobo sends out an even loftier longshot, OXO Equine's Greyes Creek, who is 30-1 in the Grade 1, $400,000 Jaipur over six furlongs on turf which offer a "Win and You're In" berth to the Grade 1 Breeders' Cup Turf Sprint in November at Keeneland.
The gray son of Pioneerof the Nile will add blinkers as he cuts back in trip from a seventh in a 1 1/16-mile allowance effort at Keeneland, beaten three lengths.
Previously trained by Chad Brown, he will be making his third start for Lobo, having kicked off his tenure in last year's Jaipur, finishing a troubled eighth. His lone run since then was at Keeneland.
"It's a similar situation with In Love, he wintered in Kentucky with me and ran a huge race on his comeback," Lobo explained. "He ran a huge number that day and got tired. We thought that he could be a little more off the pace and was already, for my taste, a little bit close. Turning for home he made the lead and just got tired.
"Probably everyone is calling me crazy for running him in this race, but if you see the Jaipur last year, he had so much trouble turning for home at about three-sixteenths from the wire," Lobo continued. "He should have finished second or third in that race and he has been training very well coming into this year. I think anywhere from six furlongs to a mile is good for him, even though he won at a mile and a sixteenth and has a very fast turn of foot."
Tyler Gaffalione and Greyes Creek break from post 6 of 13.
Lobo also provided an update on Grade 1 Shadwell Turf Mile winner Ivar, who had to scratch from the Old Forester Turf Classic on May 7 at Churchill Downs, and finished and fourth and third in the past two Breeders' Cup Miles. Owned by the same partnership as In Love, the nearly black fan favorite is unraced since November.
"Ivar is very well. He had an abscess in his left front foot one day before the [Old Forester Turf Classic] and had to scratch. He is back in training and will be running at Churchill Downs on July 2 in the Wise Dan."
***
Two of a Kind registers 76 BSF in Tremont score
K and R Racing Stable and Town Branch Racing's Two of a Kind garnered a 76 Beyer Speed Figure for his gate-to-wire score in Thursday's $150,000 Tremont, a 5 1/2-furlong sprint for juveniles, at Belmont Park.
Trained by Brian Lynch and perfectly handled by Luis Saez, the Overanalyze bay powered his way to the lead and fought off all challengers to post a two-length score.
"He's certainly game. I thought he would be tough and it's a good stepping stone at this point in his career," Lynch said. "He's come out of the race in good order."
Two of a Kind, who entered from a sharp gate-to-wire maiden score on May 4 at Churchill Downs with Saez up, will now point to the six-furlong Grade 3, $175,000 Sanford on July 16 at Saratoga Race Course.
"I don't think he'll have any trouble getting six furlongs, that's for sure," Lynch said. "He's a well-made and very mature 2-year-old. He's very athletic and muscular – just a well-built horse."
Lynch said Amerman Racing's Admission Office, a 7-year-old Point of Entry gelding, will target the Grade 2 Wise Dan on July 2 at Churchill Downs after capturing the Grade 3 Arlington on June 4 in his seasonal debut.
"He'll probably run in the Wise Dan down here at the beginning of July," Lynch said. "He might be pointed towards the Arlington Million that's going to be run here at Churchill. He could surface at Saratoga."
Lynch also reported that Silverton Hill's multiple-stakes winner Red Danger will be turned out following a fourth-place finish in the Grade 2 Penn Mile contested over soft turf on June 3 at Penn National.
"He was starting to tail off at the end of a long campaign, so we'll give him a little freshening," Lynch said.
The Orb sophomore boasts a record of 11-3-2-0 with purse earnings of $509,462. Last year, he captured the Juvenile Sprint at Kentucky Downs and the Pulpit at Gulfstream Park.