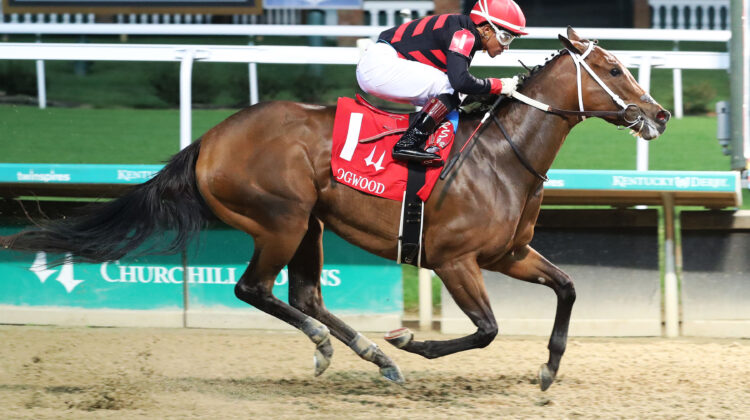 Echo Zulu is back! Gun Runner progeny win 3 Churchill stakes (and 2 G1s at Parx)
Saturday night's stakes recaps by the Churchill Downs publicity department (Coady Photography photo of Ricardo Santana Jr. riding Echo Zulu to victory in the G3 Dogwood)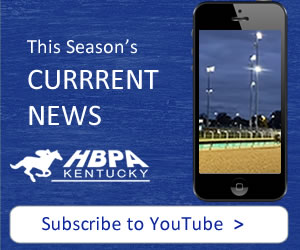 CHAMPION ECHO ZULU WIRES RIVALS IN GRADE III, $274,000 DOGWOOD
LOUISVILLE, Ky. (Saturday, Sept. 24, 2022) – Champion filly Echo Zulu broke alertly from the rail and used her tactical speed to wire the field of five 3-year-old fillies in Saturday night's 47thrunning of the $274,000 Dogwood Stakes (Grade III) at Churchill Downs by a widening 5 ¼ lengths over Grade I-placed Tarabi.
Campaigned by Hall of Fame trainer Steve Asmussen for owners L and N Racing LLC(Lee Levinson) and Winchell Thoroughbreds LLC (Ron Winchell), Echo Zulu covered seven furlongs in 1:22.43 under jockey Ricardo Santana Jr.
"(Echo Zulu) is such a special filly," Asmussen said. "She's a champion and it's very thrilling seeing her get back to her winning ways. It's unbelievably exciting for the entire team."
Echo Zulu, last year's Two-Year-Old Filly Eclipse Award-winner after a dominant 5 ¼-length victory in the Breeders' Cup Juvenile Fillies (GI) and winner of the Fair Grounds Oaks (GII) in late March, was set to run in the $500,000 Acorn (GI) on the June 11 Belmont Stakes undercard but was a late scratch on the way to the starting gate after the track veterinarian perceived lameness in her left foreleg. A subsequent nuclear scan evaluation revealed a minorstrain in her left front suspensory ligament, and she went more than nine weeks without a published workout.
With five breezes under her, Echo Zulu made her first start 141 days after finishing fourth in the $1.25 million Longines Kentucky Oaks (GI), a race in which she chased Yuugiri's fast pace before she weakened to finish three lengths back of winner Secret Oath and one back of divisional leader Nest.
The cutback to seven furlongs wasn't an issue for Echo Zulu, who rolled to comfortable one-turn victories in the Spinaway (GI) and Frizette (GI) during her 2021 championship campaign.
Breaking from the rail, Santana sent Echo Zulu right to the front where she clipped off fractions of :22.92 and :45.82 as Gunning, Colorful Mischief and Tarabi chased about a length behind. Leaving the turn, Echo Zulu spurted clear as Tarabi raced along the inside and quickly opened a 3 ½-length advantage with a furlong to run. She continued to widen her advantage in the final sixteenth of a mile under a hand ride for the comeback win.
"She seems to do her best running when you leave her alone," Santana said. "She was going fast but she was doing it comfortably. She's a very special filly. I'm so grateful she was able to get back to the winner's circle tonight."
The $169,500 first prize jumped Echo Zulu's earnings to near multi-millionaire status at $1,946,375 from a record of 6-0-0 in seven starts.
Sent off as the odds-on 1-2 favorite, Echo Zulu paid $3.02, $2.24 and $2.10. Tarabi, the 5-2 second betting choice ridden by Javier Castellano, returned $2.44 and $2.14. Colorful Mischief, at 11-1 with Gerardo Corrales up, was 1 ½ lengths back of the runner-up and paid $2.78 to show.Last Leaf and Gunning completed the order of finish. Chasing Fireflies and Echo Zulu's stablemate Wicked Halo were scratched.
Echo Zulu is a daughter of Gun Runner out of the Menifee mare Letgomyecho and was bred in Kentucky by Betz/J. Betz/Burns/CHNNHK/Magers/CoCo Equine/Ramsby.
Gun Runner also sired the winners of Saturday's Seneca Overnight Stakes (Sixtythreecaliber) and Harrods Creek (Gunite) as well as the Grade I Cotillion (Society) and Grade I Pennsylvania Derby (Taiba).
"Gun Runner has had five stakes winners today and two Grade I wins. It's unbelievable," Asmussen said.
The Dogwood is named for the hardy, blooming tree that adds so much beauty to the spring landscape in Kentucky.
*************************************************************
HOME BREW PREVAILS IN THREE-HORSE PHOTO TO WIN $275,000 BOURBON TRAIL
LOUISVILLE, Ky. (Saturday, Sept. 24, 2022) – Three horses made a thrilling dash for the finish line in Saturday night's second running of the $275,000 Bourbon Trail ® for 3-year-olds at Churchill Downs but it was Gary and Mary West's homebred Home Brew who emerged as a nose winner over Creative Minister with War Campaign another nose back in third.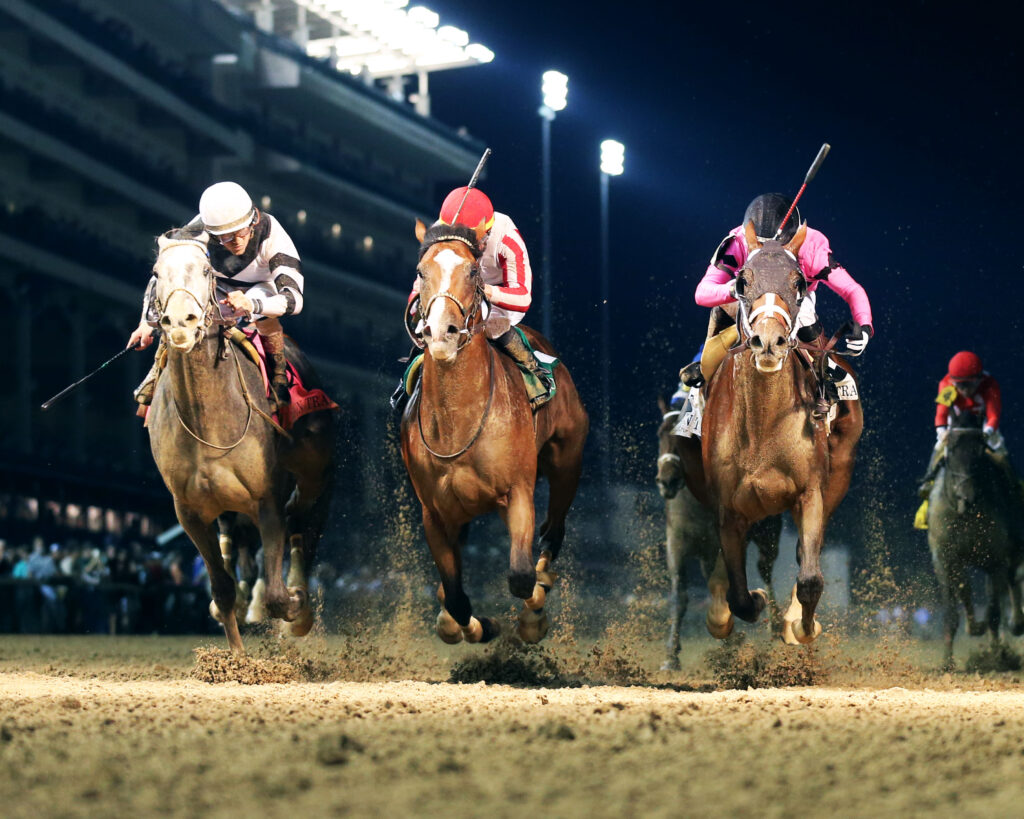 Trained by Brad Cox and ridden by Ricardo Santana Jr., Home Brew covered the 1 3/16 miles on a fast track in 1:56.01.
Big Blue Line, at odds of 24-1, set the pace in the marathon for nine sophomore runners through fractions of :23.62, :47.70 and 1:12.03 as Home Brew, winner of this year's $150,000 Oaklawn Stakes and $152,500 Pegasus at Monmouth, tracked along the inside with unbeaten 2-1 favorite Saint Tapit just to the eventual winner's outside.
As the field left the final turn for home, it became clear that the longshot leader and the bettors' top choice were tiring. Home Brew slipped through an opening along the rail at the head of the stretch as St. Louis Derby runner-up War Campaign ranged into contention three-wide and Preakness Stakes (GI) third Creative Minister rallied down the center of the track after rating in seventh early on. The trio fought gamely in the final eighth of a mile but it was a head-bob that determined Home Brew as the winner of a three-horse photo.
New York-based Saint Tapit, who entered the race with a perfect record in two starts, finished last.
The victory was worth $163,920 and increased Home Brew's earnings to $482,545 with a record of 5-1-0 in eight starts.
"I kept asking him for more in deep stretch and he stuck out his head and didn't want to lose," Santana said. "He broke sharp out of the gate and he took me to the early lead. I really didn't ask him at all to get into the positon he did. We were able to keep our position at the rail around the turn and the opening came for him."
Previously, Home Brew finished fourth over a sloppy track in the $500,000 West Virginia Derby (GIII) at Mountaineer. Blinkers were added for Saturday's Bourbon Trail.
"I think adding the blinkers really helped him keep his focus early in the race and be close to the pace," said Cox's assistant trainer Jorje Abrego. "Paco Lopez, who rode him in his last two starts, suggested them and it worked. He's bred to like long distances and handled stretching out perfectly."
Home Brew is a Kentucky-bred son of 2007 Kentucky Derby winner Street Sense out of the Tapit mare Omnitap.
Home Brew returned $13.40, $6.88 and $3.60 as the 5-1 fifth betting choice. Creative Minister, under Brian Hernandez Jr. at odds of 6-1, returned $7.12 and $3.94. War Campaign, with Corey Lanerie up, paid $3.88 to show at 9-1.
It was another 3 ¼ lengths back to Gilded Age, who was followed in order by Ethereal Road, Warrior Johny, Big Blue Line, Maximum Impact and Saint Tapit.
The Bourbon Trail ® honors the profound history and proud tradition of "America's Official Native Spirit" when the Kentucky Distillers' Association (KDA) established the Kentucky Bourbon Trail® in 1999, a road trip-style experience for bourbon lovers to visit the Bluegrass State's signature distilleries.
The Kentucky Bourbon Trail ® and Bourbon Trail ® are trademarks/service marks of the Kentucky Distillers' Association used by Churchill Downs Inc. pursuant to license. The Kentucky Distillers' Association and its member distilleries ask that you please enjoy Kentucky Bourbon responsibly.
*************************************************************
GUNITE PROVES BEST OVER CONAGHER IN $274,500 HARRODS CREEK
LOUISVILLE, Ky. (Saturday, Sept. 24, 2022) – Grade I winner Gunite, the odds-on 3-5 favorite, ran down front-running stakes-winner Conagher with a furlong to run and scored a three-length victory in Saturday night's second running of the $274,500 Harrods Creek for 3-year-olds at Churchill Downs.
Winner of the Grade I Hopeful at 2, the Harrods Creek was Gunite's third sprint stakes win of the year, adding to July triumphs in the $160,000 Maxfield at Churchill Downs and $200,000 Amsterdam (GII) at Saratoga. Prior to the Harrods Creek, Gunite finished second to top 3-year-old sprinter Jack Christopher in the $500,000 H. Allen Jerkens Memorial (GI) at Saratoga.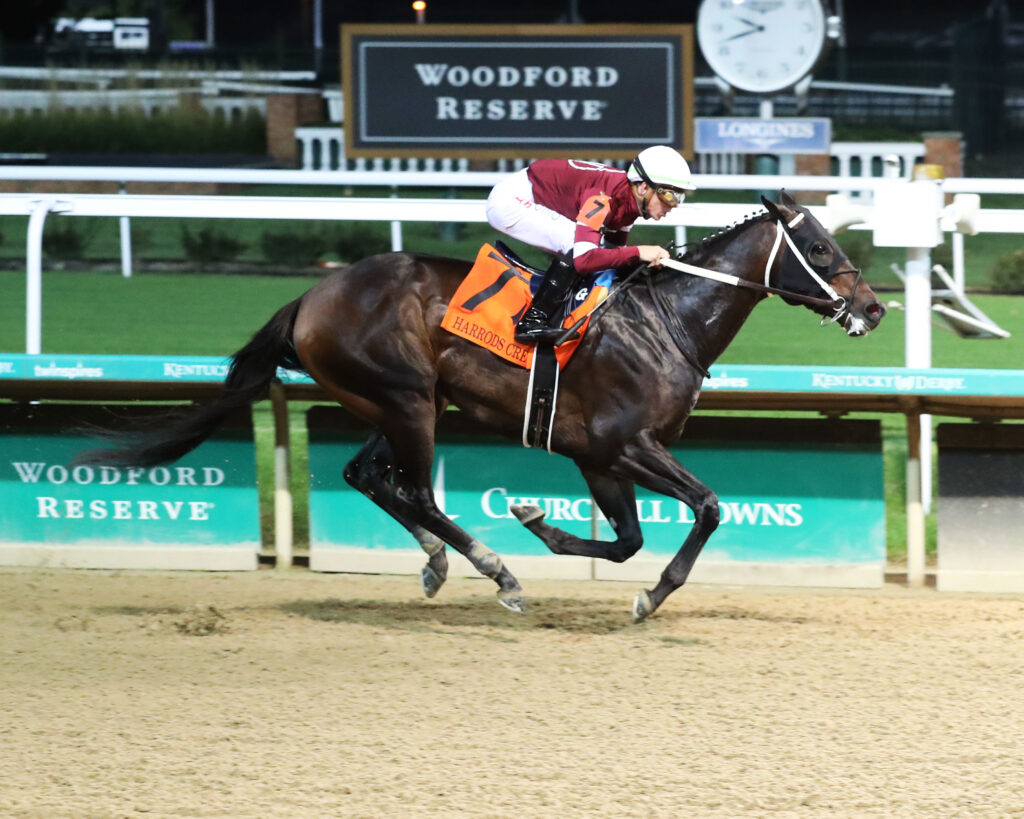 Gunite clocked seven furlongs over a fast track in 1:21.95 under Tyler Gaffalione, who rode the winner for Hall of Fame trainer Steve Asmussen and owner/breeder Winchell Thoroughbreds LLC (Ron Winchell).
The winner's share of $166,710 increased Gunite's earnings to $814,809 with a record of 5-4-1 in 11 starts.
"He's run extremely well his last three races," Asmussen said. "He's had a very good season so far for us. He's a nice horse to have for the Winchells. Being a son of Gun Runner makes it even more special."
Conagher, who broke from post No. 4, dictated the terms in the field of seven through comfortable fractions of :22.86 and :45.46 but Gunite, who had the outside post, never let the leader get away as he sat a no more than 1 ½ lengths off his right hip down the backstretch. Into the turn, Gunite engaged Conagher and the two raced shoulder to shoulder leaving the turn and into the stretch before Gunite comfortably passed the leader at the final furlong marker and drew clear late despite racing on the wrong the lead leg.
"He's one of my favorite horses to ride," Gaffalione said. "His last few races he's really proved his talent. He has a lot of grit late in his races and shows that each time he runs."
Gunite returned $3.26, $2.38 and $2.10. Conagher, under Joe Rocco Jr., paid $2.64 and $2.22 as the 9-5 second betting choice. It was another 2 ¾ lengths back to Strava in third, who returned $2.70 to show at odds of 9-1.
Friar Laurence, Hippodrome, Double Thunder and Editorial Comment (ARG)completed the running order.
Gunite was bred in Kentucky is out of the Cowboy Cal mare Simple Surprise.
The race honors the neighborhood of Louisville centered near Harrods Creek at the intersection of River Road and Wolf Pen Branch Road. It is roughly bordered by the Ohio River to the west and US 42 to the east. Formerly an unincorporated community, it was designated a neighborhood of Louisville when the city merged with Jefferson County in 2003.
*************************************************************
SIXTYTHREECALIBER RUNS DOWN FALCONET IN $160,000 SENECA
LOUISVILLE, Ky. (Saturday, Sept. 24, 2022) – Sixtythreecaliber needed every inch of the stretch to wear down pacesetter Falconet and win Saturday night's second running of the $160,000 Seneca Overnight Stakes for 3-year-old fillies at Churchill Downs by a neck.
Ridden by Edgar Morales and trained by Tom Amoss, Sixtythreecaliber ran 1 1/16 miles over a fast track in 1:44.22 to collect her fourth win in six starts. The winner's share of $96,722 increased Sixtythreecaliber's earnings to $173,282 for owners MyRacehorse (Michael Behrens) and Spendthrift Farm LLC (Eric P. Gustavson).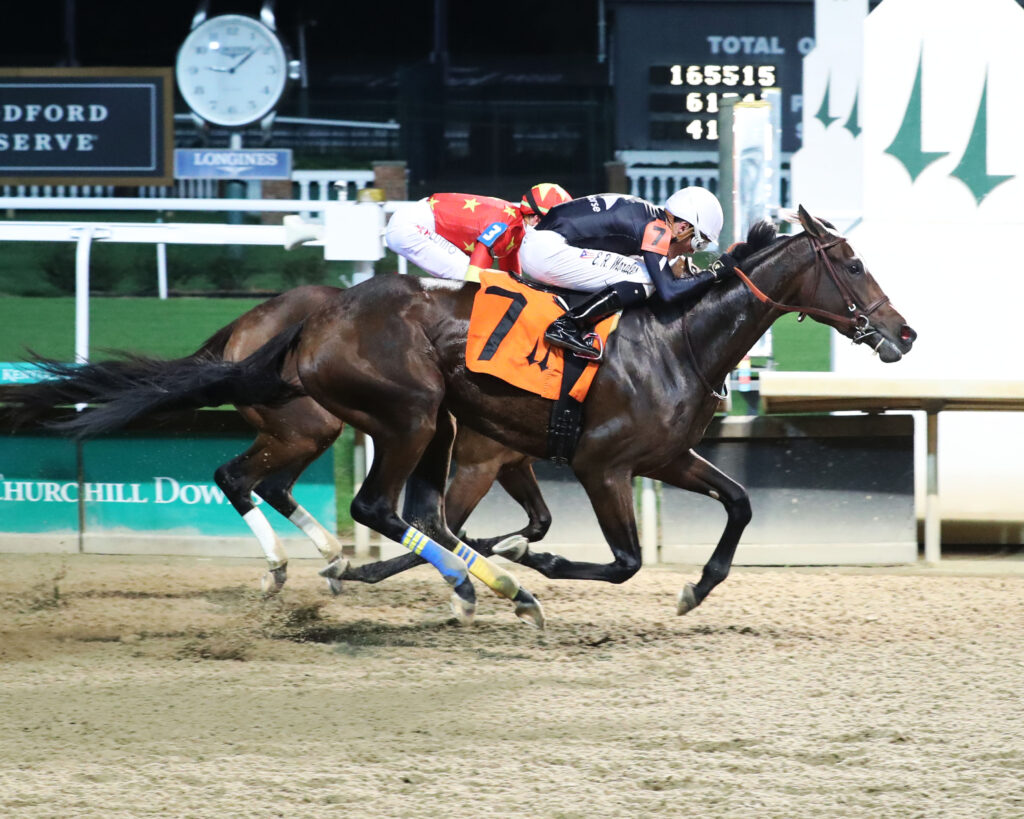 Sixtythreecaliber paid $24.92, $8.94 and $4.04 as the 11-1 fifth betting choice in the field of seven. Falconet, ridden by Tyler Gaffalione, returned $4.38 and $3.28. It was another 1 ¼ lengths back to Skratch Kat in third under Joe Talamo, who paid $3.12 to show.
Turnerloose, 2-1 favorite Cocktail Moments, Take a Stand and Valentina Day completed the order of finish.
Breaking from the outside post position, Sixtythreecaliber tracked in third early on as Falconet raced clear on the lead through comfortable fractions of :24.38, :48.36 and 1:12.67. Turnerloose and Sixtythreecaliber engaged Falconet leaving the final turn, but the leader briefly kicked away again. A tiring but determined Falconet still had the advantage with a sixteenth of a mile to run but Sixtythreecaliber sustained her run and grinded past her rival in the final yards for the resolute win.
"So much credit has to go to Tom and his team," Morales said. "He got this filly ready to fire a big race tonight. We sat in a good position and even though we were a little wide into the turn she was traveling comfortably. She kept grinding away in the stretch and had her best run late to be able to catch (Falconet). It was so much fun to hear so many people from MyRacehorse cheering for me. I'm so happy for them. That's what makes racing so much fun."
Fourth in the $200,000 Indiana Oaks (Grade III) in July, this was the first stakes win for the Horseshoe Indianapolis-based Sixtythreecaliber.
"Horses sometimes get in a groove during races and sometimes it works out," Amoss said. "All credit goes to Edgar Morales who is so good at positioning these type of horses. He did a great job and our filly never showed any quit."
Last weekend, Amoss and Morales teamed to win the $299,250 Iroquois Stakes (GIII) at Churchill Downs with 2-year-old Curly Jack.
Sixtythreecaliber was bred in Kentucky by Lee Pokoik. She is a daughter of Gun Runner out of the Include mare Classofsixtythree.
          The race honors Seneca Park, which was the last park designed by Frederick Law Olmsted's firm in Louisville. The park resides in the Louisville neighborhood of Seneca Gardens. It is part of the Cherokee-Seneca neighborhood, which is bounded by I-64 and other hilly neighborhoods.