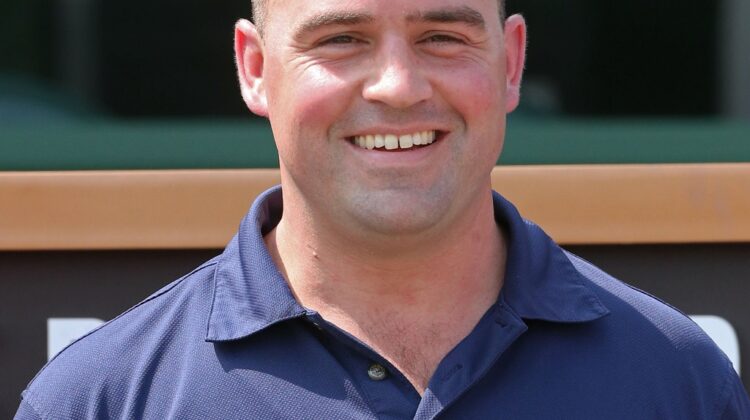 Warrior Johny can add to Rigney-Bauer big year in Bourbon Trail
Thursday's Churchill Downs barn notes keying on Saturday's stakes by Kevin Kerstein in the CD publicity department. (Photo of Phil Bauer/Coady Photography)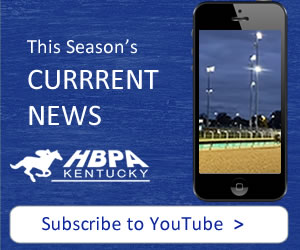 Related video: Hear from Phil Bauer and Richard Rignery after they win last Saturday's G3 Locust Grove with Played Hard
LOUISVILLE, Ky. (Thursday, Sept. 22, 2022) – Two months ago after trainer Phil Bauer helped Rigney Racing win the Churchill Downs Spring Meet owners' title, he packed up his belongings from his Louisville home and drove to Saratoga with a small string of horses to compete at the marquee summer meeting. In those short two months, Bauer, who privately trains for Richard and Tammy Rigney, reeled off six victories including a dominating 8 ½-length allowance score from Saturday's $275,000 Bourbon Trail Stakes contender Warrior Johny.
"It's been an awesome couple of months," Bauer said. "The credit first goes to our team and the Rigneys for putting these talented horses in our barn. They deserve it the most."
Warrior Johny was one of only 13 starters for Bauer and Rigney at Saratoga but the duo made the most of their time over the summer. Rigney Racing netted $341,003 with his starters at Saratoga on top of $614,845 in the Churchill Downs Spring Meet, where he had seven victories from 35 starts.
Prior to Warrior Johny's impressive allowance victory at Saratoga, the gelding stormed home to a 12 ¾-length maiden special weight victory at Churchill Downs.
Warrior Johny is tabbed as the 3-1 second choice on the morning line odds in Saturday's Bourbon Trail Stakes.
"He ran great," Bauer said of Warrior Johny's allowance victory. "I thought we were sitting a trip and down the backside we were getting pressure so I got worried for a few strides. This is a horse that will get better with age. It shows in his past performances that when he was a 2-year-old we couldn't get him to work (a half-mile) :50. He just started getting better and better over the winter and is as honest as they come as far as numbers are concerned. We're excited about him moving forward from that effort. You really don't expect efforts like those but we'd take them every time if we could.
"The race two starts ago (when he finished sixth in a first-level allowance contest at Churchill Downs) was my fault. We wheeled him back too quickly from his maiden win. It was a huge credit to the horse to get beat two lengths for it all. He showed a lot of heart coming back on short rest but we gave him the time he needed after that and rewarded us."
Bauer returned to Churchill Downs in early September to begin his barn's preparation for the September and Fall Meet.
"You've got to hand it to Phil. He's been doing so well – from us going 6-for-13 at Saratoga and the owner's title at Churchill Downs – our team is so great," Richard Rigney said. "I can't tell you how many times I've been knocked down but I keep getting up. That's what's great to have a partner like Phil. We do this together and we're going to keep doing it together for a long time."
Jockey Joe Talamo will be aboard Warrior Johny for the first time in the Bourbon Trail. The duo will break from post No. 4.
The Bourbon Trail, won last year by King Fury, is carded as Race 10 of 11 with a post time of 10:42 p.m. (all times Eastern). The 1 3/16-mile event is one of four stakes races on the Downs After Dark card. The race will share the Saturday night spotlight with the $275,000 Dogwood (GIII), $275,000 Harrods Creek and $160,000 Seneca Overnight Stakes. First post is 6 p.m.
Here's the field for the Bourbon Trail from the rail out (with jockey, trainer and morning line odds): Maximum Impact (Rafael Bejarano, Lynn Cash, 30-1); Home Brew (Ricardo Santana Jr., Brad Cox, 5-2); Saint Tapit (Tyler Gaffalione, Todd Pletcher, 9-2); Warrior Johny (Talamo, Bauer, 3-1); War Campaign (Corey Lanerie, Phil Sims, 15-1); Ethereal Road (Mitchell Murrill, D. Wayne Lukas, 12-1); Gilded Age (Junior Alvarado, Bill Mott, 7-2); Creative Minister (Brian Hernandez Jr., Kenny McPeek, 9-2); and Big Blue Line (Martin Garcia, Paul McGee, 20-1).
The Bourbon Trail is one of only four open-company 3-year-old route stakes left in the nation this year. The others are Saturday's $1 million Pennsylvania Derby (GI), Sunday's $400,000 Oklahoma Derby (GIII), the $250,000 Zia Park Derby on Nov. 22 and the $150,000 Discovery Stakes on Nov. 27.
Wagering is available on www.TwinSpires.com, the official wagering provider of Churchill Downs Inc. and the Kentucky Derby.
CONAGHER 'BACK ON HOME TRACK' IN REMATCH WITH GUNITE IN SATURDAY'S $275,000 HARRODS CREEK – Patricia's Hope and Mark Farrar, along with trainer Mike Tomlinson, are hoping their speedy 3-year-old colt Conagher will benefit in his return to Churchill Downs in Saturday's $275,000 Harrods Creek following his disappointing fourth-place finish in last month's $500,000 H. Allen Jerkens (GI) at Saratoga.
Conagher quickly garnered the respect of many racing fans following his 73-1 upset allowance victory in April at Keeneland. Following that win, the son of Jimmy Creed easily defeated fellow Harrods Creek rival Gunite by 5 ¼ lengths at Churchill Downs.
In the Allen Jerkens, Gunite got the better of Conagher but they were both defeated by crack sprinter Jack Christopher.
"Conagher handily beat Gunite and I realized it was Gunite's first race back off the layoff," Tomlinson said. "He's obviously got a lot of speed and he can go quickly. He has a lot of ability and can carry at least a mile."
Jockey Joe Rocco Jr. will have the call on Conagher and break from post No. 4 at odds of 6-5. Gunite was slated as the even-money favorite and drew the outside post 7.
The seven-furlong Harrods Creek will go as Race 8 of 11 with a post time of 9:39 p.m. (all times Eastern).
Here's the field for the Harrods Creek from the rail out (with jockey, trainer and morning line odds): Friar Laurence (Mickaelle Michel, Ben Colebrook, 20-1); Double Thunder (Javier Castellano, Todd Pletcher, 12-1): Hippodrome (Jon Court, Lynn Cash, 30-1); Conagher (Rocco, Tomlinson, 6-5); Editorial Comment (ARG) (Julien Leparoux, Kenny McPeek, 20-1); Strava(Brian Hernandez Jr., Dallas Stewart, 6-1); and Gunite (Tyler Gaffalione, Steve Asmussen, 1-1).
Wagering is available on www.TwinSpires.com, the official wagering provider of Churchill Downs Inc. and the Kentucky Derby.
CHAMPION ECHO ZULU TABBED AS EVEN-MONEY CHOICE IN GRADE III, $275,000 DOGWOOD – L and N Racing and Winchell Thoroughbreds' three-time Grade I-winning filly Echo Zulu will make her first start since finishing fourth in this year's $1.25 million Longines Kentucky Oaks (Grade I) as the even-money morning line favorite in Saturday night's 42nd running of the $275,000 Dogwood (GIII) at Churchill Downs.
The seven-furlong Dogwood Stakes is part of a stakes quartet Saturday night for the Downs After Dark program. The first of 11 races will get underway at 6 p.m. (all times Eastern) and the Dogwood will go as Race 9 at 10:11 p.m.
Echo Zulu dominated as a 2-year-old when she was victorious by open lengths in the $300,000 Spinaway (GI) and the $400,000 Frizette (GI). She capped off her stellar year in 2021 with a 5 ¼-length romp in the $2 million Breeders' Cup Juvenile Fillies (GI).
The daughter of Gun Runner returned as a 3-year-old where she held off Hidden Connection by a scant nose in the $400,000 Fair Grounds Oaks (GII). In the Kentucky Oaks, Echo Zulu pressed the early pace but was defeated three lengths by Secret Oath, Nest and Desert Dawn.
Echo Zulu was set to run in the $500,000 Acorn (GI) on the Belmont Stakes undercard but was a late scratch on the advice of the track veterinarian on the way to the starting gate.
The Dogwood will be the first time Echo Zulu will cut back to one turn since she won the Frizette on Oct. 3. Ricardo Santana Jr. will be aboard and will break from the rail.
Here's the complete field for the Dogwood from the rail out (with jockey, trainer and morning line odds): Echo Zulu (Santana, Asmussen, 1-1); Chasing Fireflies (Gabe Saez, John Ortiz, 20-1); Colorful Mischief (Gerardo Corrales, Todd Pletcher, 8-1); Tarabi (Javier Castellano, Cherie DeVaux, 4-1); Gunning (Brian Hernandez Jr., Kenny McPeek, 8-1); Last Leaf (Rafael Bejarano, Eddie Kenneally, 10-1); and Wicked Halo (Tyler Gaffalione, Asmussen, 7-2).
Wagering is available on www.TwinSpires.com, the official wagering provider of Churchill Downs Inc. and the Kentucky Derby.
The Dogwood, named for the hardy blooming tree, comes six weeks in advance of the Breeders' Cup Filly & Mare Sprint (GI), which is scheduled for Nov. 5 at Keeneland. Champion Covfefe won both races in 2019.
DOWNS AFTER DARK: FIESTA UNDER THE SPIRES ON SATURDAY – The finalDowns After Dark of the year will take place Saturday as Churchill Downs presents a night full of thrilling horse racing and a Latin-inspired celebration of live music, dance and art for "Fiesta Under the Spires."
Event highlights include music from DJ Roberton (5:30-8 p.m.) and Kentucky Salsa Allstars (8:30-11:20 p.m.); salsa lessons in the Plaza from Louisville Salsa Underground (6:45-7:40 p.m.); strolling mariachi performances by Mariachi Alegre; and a showcase of Latin artists including Claudia Hernandez, Mercedes Harn and Andy Perez.
Admission gates will open at 5 p.m. and the 11-race program will be conducted between 6-11:10 p.m.
General admission to Downs After Dark is $14 and includes an official program. Guests under the age of 18 will only be admitted to the track if accompanied by a parent or adult guardian. Limited premium dining packages are available starting at $82 per person. Outdoor-third floor box seats are on sale for $17 per person. Reserved seating can be purchased online atwww.ChurchillDowns.com/Tickets.
DOWN THE STRETCH – Racing continued Thursday at Churchill Downs with a first post of 5 p.m. There was a $94,250 carryover in the 20-cent Derby City 6 jackpot that began in Race 3 and a $1 Super Hi 5 carryover in Race 8 of $3,752. … Apprentice jockey Johnathon Curtsinger will make his fourth lifetime start at Churchill Downs on Saturday when he'll ride for his father,Marvin Curtsinger, aboard his trainee Monba Quake. Johnathon Curtsinger works for trainerWayne Catalano but has regularly traveled to High Pointe Training Center in La Grange, Ky. to gallop and work Monba Quake. … West Coast-based trainer Todd Fincher has a duo of horses stabled at Churchill Downs – multiple New Mexico-bred stakes winner Slammed and 2020 Springboard Mile winner Senor Buscador. The pair breezed together Wednesday morning withSenor Buscador swiftly completing five furlongs in :58.20 while his stablemate finished two lengths behind and completed five furlongs in :58.60. Senor Buscador is likely to run in next Saturday's $400,000 Lukas Classic (GII) or $300,000 Ack Ack (GIII). … Friday is Senior Day at Churchill Downs with a discounted $26 Millionaires Row or Skye Terrace premium dining package available for guests age 60 and up. … "Inside Churchill Downs" will return to the airwaves Friday. The one-hour program will air on ESPN 680/105.7 and stream live on the station's website at www.espnlouisville.com. … For more information about the Churchill Downs September Meet, visit www.churchilldowns.com.