Ag department update on EHV outbreak at Churchill
Source:   Kentucky Department of Agriculture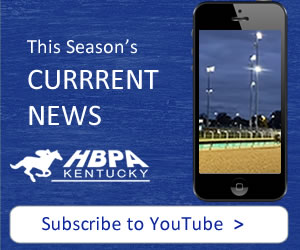 Number Confirmed: 6;
Comments: Outbreak Update: 12.2.22: As previously reported, testing of 13 horses that resided on the backside of Churchill Downs in Barn 37 with the EHV index case did identify five additional positive horses. This brings the number of affected horses to six. The index case remains hospitalized. The five additional positive horses were immediately placed in secured isolation at Barn 42. The eight remaining horses testing negative continue to be housed in Barn 37, while being monitored multiple times daily for any evidence of illness. Thus far, all have remained alert, responsive, and have shown no symptoms of EHV infection.
Horses potentially exposed to indirect transmission segregated
In addition, an epidemiologic investigation did identify two barns as having an elevated risk due to potential indirect transmission having occurred as a result of individuals working and caring for horses in the affected barn (Barn 37), as well as two additional barns (Barns 36 and 38). As a result of this elevated risk, Barns 36 and 38 have also been placed under quarantine to restrict horses stabled in those barns from having contact with the general population.
Kentucky Department of Agriculture continues to closely monitor the exposed horses in Barn 37. If no evidence of illness is found, this group of horses will be resampled as they approach 14 days since last known exposure. If this group tests negative, the imposed restrictions will be rescinded on those horses.
Horses in Barns 36 and 38 are considered to have had indirect exposure. To date, there have been no clinical cases suspected in either barns 36 or 38, and all horses appear alert, responsive, and with no fevers reported. Kentucky Department of Agriculture will continue monitoring these horses and will immediately test if symptoms appear or illness is suspected and has provided two approved protocols to qualify horses in these two barns for release. As described above, these horses can qualify for release by testing negative 14 days since last opportunity of indirect exposure. Alternatively, assuming no clinical cases develop or are suspected in Barns 36 and 38, these horses could qualify for release 28 days after last opportunity of indirect exposure. Kentucky Department of Agriculture currently identify Nov. 30, 2022, as last known indirect exposure with Dec. 1, 2022 being day one post indirect exposure.
Training expanded to accommodate quarantined horses that have tested negative
Additionally, beginning Friday morning Dec. 2, 2022, Churchill Downs has amended training hours to allow horses in Barns 36, 37 and 38 access to the track. Training hours for the general population will be 5:30 – 8 a.m. Horses from Barns 36, 37 and 38 will have restricted access to the track between 8:30 – 10:30 a.m. with a dedicated outrider pony. Horses testing positive for infection in Barn 42 will remain in isolation with no scheduled access to the track.
Churchill Downs has implemented heightened biosecurity measures and will lift exit restrictions on horses from the unaffected barns provided they have a valid Health Certificate issued within 24 hours of departure beginning Dec. 3, 2022. The Stable Gate will retain copies of Health Certificates for departing horses. We appreciate the continued efforts, understanding and cooperation of our Kentucky horsemen as we work together to maintain a healthy racing environment. As we've demonstrated in the past, mitigating risk of disease transmission in environments such as this requires a 'team effort' and success is dependent on all parties working in unison.;
Previous Alerts: 2821, 2820