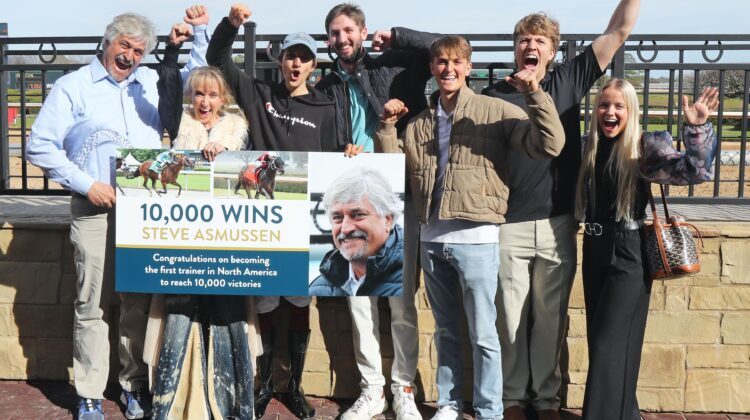 For Asmussen, it's not about thinking big. It's thinking biggest
(Photo: Steve Asmussen and his family celebrating his 10,000th North American victory Feb. 20 at Oaklawn Park with Bet He's Ready. Coady Photography)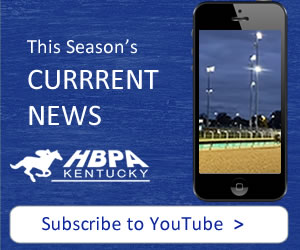 Asmussen's wins by state and track
Where most people would see a summit, Hall of Fame trainer Steve Asmussen sees another steppingstone.
After his 10,000th North American win, there seemingly was only one person standing in his way of being No. 1 in the world. That's Peruvian trainer Juan Suarez Villarroel, now at 10,345 victories, according to paginadeturf.wordpress.com, and who had 10,336 when Asmussen hit the seven-digit landmark on Feb. 20 with Bet He's Ready in Oaklawn Park's fifth race. But Asmussen had a different answer.
"There's two," he responded.
You don't achieve Asmussen's mind-boggling numbers (including 49,255 starts through Feb. 26) by simply thinking big. With Asmussen, it's always been about the biggest. So he doesn't see Suarez as the only one ahead of him.
"Russell Baze," he added, referencing the Northern California-based jockey Russell Baze who retired with 12,842 victories in 2016.
"You gotta keep going," Asmussen said cheerfully in a phone interview.
Well, we might as well throw in another challenge if he's shooting for the all-world all-time mark: Brazilian jockey Jorge Antonio Ricardo's world-record 13,224 victories through Feb. 26, according to paginadeturf.wordpress.com.
"I better get to winning," the Hall of Fame trainer, told of Ricardo's tally, responded via text.
But first up is the Chilean-born Suarez, who is based at the Hipodromo de Monterrico in the Peruvian capital Lima. He passed the late Dale Baird's then-record on September 8, 2019, when he saddled the 9,446th winner of his career. At the time, Asmussen ranked third in the world at 8,577, according to Thoroughbred Racing Commentary. Since then, Asmussen has a 1,432 to 899 edge in wins over Suarez through Feb. 26.
"He's not exactly sitting still," said Asmussen, up to 10,009 North American wins through Feb. 26. "But I am inching closer."
A couple more stats: Asmussen's more than $406.5 million in purse earnings trails only Todd Pletcher's $453.5 million. No one comes close to his 49,255 career starters, with Jerry Hollendorfer almost 15,000 behind in No. 2. Asmussen also had 63 victories in two-plus years as a jockey. Incredibly, he has owned more than 13 percent of his winners: 1,339 outright and another 131 with various partners, according to Equibase.
For the record, Bet He's Ready was Asmussen's 49,205th starter in North America. You could argue that his 10,000th victory actually came earlier on Feb. 18, given that his two-time Horse of the Year Curlin won two stakes in 2008 in Dubai, capped by the Dubai World Cup. Curlin, by the way, was racing's first $10 million-earner, at $10,501,800.
With droughts inevitably seeming to happen when approaching a milestone, Asmussen went 0 for 18 after Win No. 9,999. If 18 starters might be a month's worth or more of runners for most stables, the Asmussen barn actually was shut out for only two days.
"I got a little anxious there," Asmussen said with a laugh. "I rolled them out like marbles there for a little bit."
Bet He's Ready is owned by Texan Mike McCarty, who also owns the horse Shanghai's Dream, whose victory last summer gave Asmussen his 9,445th victory to tie Baird for the most victories in North America.
"Obviously I've been able to reflect on it for a little while now. I'm overwhelmingly proud of the unit of people that we have stuck together. They have done so much work. I'm in awe of their accomplishment, I really am," Asmussen said, adding in reference to long-time chief assistants Scott Blasi and Darren Fleming. "It starts with Scott and Darren, the effort and care they have put into it for so long. I love the fact that we are as intense now as we've ever been — and I think racing requires that.
"… Everything matters. It's such a good feeling to be correct, or to do something right, or to see the results. Just chasing that feeling. Horses are so amazingly rewarding to you with their effort: Get them in the right spot, get a good race from them, just seeing them happy."
'Perfect storm' leads to 10K but Asmussen says his record will fall
Asmussen calls it a "perfect storm" that led to 10,000 wins and counting. He credits his success with starting with parents Keith and Marilyn Asmussen, who for more than 60 years have operated the El Primero Training Center in Laredo, Texas. Not only are his horses ready to run coming in from Laredo, but Steve Asmussen knows where they need to compete to succeed.
Asmussen began training in 1986, earning his first victory at New Mexico's Ruidoso Downs. He was ready with horses the next year when Birmingham Turf Club opened in Alabama and when Remington Park launched in Oklahoma in 1988. Also in 1987, Texas legalized parimutuel betting on horse racing after a 50-year ban. Asmussen was at Sam Houston Race Park when that track opened in 1994 and when Lone Star Park launched in 1997.
"The youngest in a family of unbelievable horsemen, coming from a long line of animal lovers," Asmussen reflected of his path to the top. "Just very fortunate to grow up in that circumstance to witness and to be present for that sort of knowledge. The dynamic of my mom training and my dad being a jock and working in the barn. Being the youngest, you get to do a lot more listening than you do talking. Every little experience has helped and added up to where we are now.
"I really feel my barn or the racing stable itself, we all are an extension of what Mom and Dad have created, just a philosophy of doing what's right by a horse is always what's right by the owner," he continued. "Being in horse racing, you have to work from the position you're in. Not the position you wish you were in, or the one you were in the day before, but from exactly where you're at right now. And we all know how quickly that changes with a racehorse."
Because he races at so many tracks at the same time, it was good fortune that Asmussen and his family were at the site where he broke Baird's record (Saratoga) and then at Oaklawn for his 10,000th victory.
"It is so amazing how I've been so blessed to be able to share these moments with the family," he said, adding of his wife, "For Julie and the sacrifices she has made to allow me to chase these dreams, and the job she has done raising our boys, thank God, I have the opportunity to share that with them. Because of all the sacrifices they've made with me being gone."
Asmussen thinks his records will be broken: By one of his three sons.
After earning a masters degree in accounting from the University of Texas, eldest son Keith is living his dream as a jockey at Oaklawn. Youngest son Eric — who started working with the stable his last two years in high school after the pandemic forced classes to be online — is an exercise rider for his dad at Oaklawn. Darren is in his last semester at Baylor.
"Eric just became so much more involved with the barn immediately," Steve Asmussen said. "I think with his mind and talent, he will be the one to break any record I set. Keith or Darren or Eric could, because they would have all of this family support. I have done nothing by myself, even remotely, at any stage. It has been very collective with everybody involved."