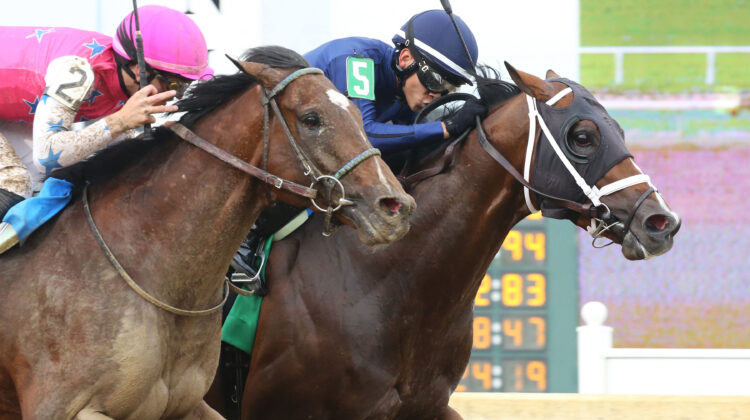 Indiana Derby: Verifying holds Raise Cain by a nose
Horseshoe Indianapolis stakes recap by Tammy Knox (Coady photo of Verifying edging Raise Cain to win the Indiana Derby under Marcelino Pedroza)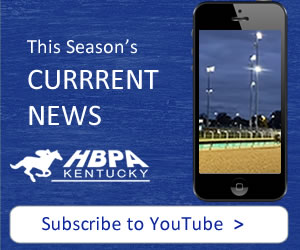 SHELBYVILLE, Ind. (Saturday, July 8, 2023) — The hype proved to be right on target for Verifying. The Kentucky Derby starter earned a Derby win one state over, taking the 29th running of the Grade 3 $300,000 Indiana Derby with three-time leading jockey at Horseshoe Indianapolis Marcelino Pedroza Jr. aboard.
Verifying was ready to go when the gate opened. From post five, he made his presence known early in the one and one-sixteenth mile race, moving into a stalking spot just off race leader Transect and Gerardo Corrales. Verifying was patient with Cagliostro to his inside in third as the field turned down the backstretch. Not much changed in positioning until the field got to the final turn. Verifying began to make his move on Transect and powered forward. Georgie W and Alex Achard moved three wide with Luan Machado using the same tactic at the back of the five-horse pack around the turn.
In the stretch, Verifying took over and went to battle first with Transect on the inside. Cagliostro and Edgar Morales were looking for a hole inside but had to wait a few strides before getting through. Raise Cain was in full gear on the outside and joined Verifying to the wire, making a valiant effort to get by him in the final strides but just couldn't get there. Verifying was a winner by a nose over Raise Cain. Cagliostro moved up the inside and finished one and three-quarter lengths back for third.
"He was just like we wanted," said Pedroza of Verifying. "I waited as long as I could. When we turned for home, I asked him. He was playing with me a little bit. But when I went left-handed, I kind of moved out a little bit and he felt (No. 2) and he gave me another gear just to hang on."
Verifying was the people's choice, paying $3.20 for the win. The Justify colt, bred by Hunter Valley and Mountmellick Farm of Kentucky, is owned by Michael Kuessner's Westerberg LTD, Mrs. John Magnier, Michael Tabor, Derrick Smith, and Jonathan Poulin. Brad Cox trains the talented sophomore, who earned his second win of the season and his third overall in nine starts.
"It was a little stressful, but he got the job done," said Cox, who maintains a string of horses annually at Horseshoe Indianapolis under the management of assistant trainer Ricky Giannini. "He ran well. Marcelino (Pedroza Jr.) put him in a great trip. He responded. He felt some pressure late from the 2 (Raise Cain) and finished up well and was able to stay in front at the wire."
Verifying is from the first crop of Triple Crown winner Justify. He was purchased for $775,000 from the Keeneland September Yearling Sale and now has nearly $750,000 on his card. He also becomes a Graded Stakes winner with his effort in the Indiana Derby.
"His race today has justified Brad's belief in this horse, said Charlie O'Connor, director of sales for Coolmore America. "He's always believed he is a Group 1 winner, a Group 1 caliber horse. Today has proven the distance is right for him. Being by (Coolmore America stallion) Justify, Justify had a Group 1 winner today at Belmont. He's a great sire. We believe in the sire a lot, and this is just another indication that this horse and this sire are very good."
Brad noted the potential of Verifying and thinks he is just getting started.
"Big pedigree," said Cox. "We need to get a Grade 1 out of him. I think he's a Grade 1 horse. The (Kentucky) Derby is a throw-out. His run in the Blue Grass was a really good run. Once again, I think there's a Grade 1 in him. I'm not certain when and where or what distance. But it was just good to get him back in the win column. He showed a lot of class and determination late, and hopefully we'll build off of this."
Pedroza Jr., a native of Panama, adds another Graded Stakes win to his credentials. With more than 1,400 career wins, he has earned three leading rider titles in Indiana. He concentrates his business each summer in Indiana while still fulfilling business at other tracks in the Midwest.
"It means a lot," added Pedroza Jr. "I've been here five, six years, been riding here long enough. To win this race, the most important at the track, it means a lot."
The Indiana Derby capped off a full day of racing, featuring eight total premier races with purses extending beyond the $1.1 million mark. The day also brought in another record Indiana Derby Day handle for the fourth straight year with $7,980,494.45. Non-comingled handle was still coming in at press time, but the final total is expected to be over the $8.5 million mark.
"It's been a great day of racing with a lot of competitive action on the track," said Eric Halstrom, Vice President and General Manager of Racing. "We always look forward to providing a good show for fans on this day and it did not disappoint this year. Several of the races were determined in photo finishes, people were having fun with all the ancillary promotions going on, and it was a fantastic way to showcase our racing product to the world. We are elated with the results."