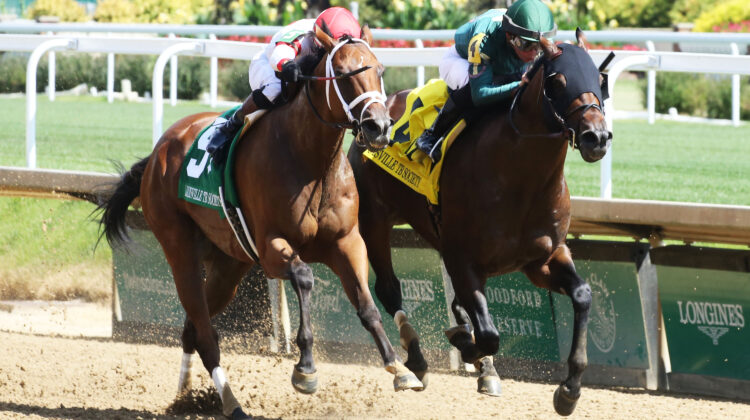 Gaffalione, Cox lock up Sept. meet titles
(Churchill Downs press release. Coady Photo of Tyler Gaffalione winning the Louisville Thoroughbred Society Stakes aboard Bango)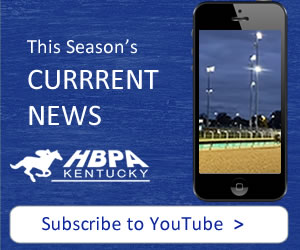 OWNER'S TITLE TIED BETWEEN RIGNEY RACING, GARY AND MARY WEST
LOUISVILLE, Ky. (Sunday, Oct. 1, 2023) – Jockey Tyler Gaffalione and trainer Brad Cox entered the final day of racing at Churchill Downs by already locking up their respective titles for the September Meet through dominating performances across the 14-day stand.
Gaffalione and Cox both defended their titles from a year ago and set new September Meet records for wins: Gaffalione with 25 victories through 13 days and Cox with 15.
Gaffalione more than doubled second-place Cristian Torres' 12 wins prior to Sunday's 10-race card. This will be Gaffalione's 10th riding title at Churchill Downs since 2018 and fourth-straight September Meet title. Some of Gaffalione's memorable wins were aboard Search Results in the $400,000 Locust Grove (GIII) and Bango in the $300,000 Louisville Thoroughbred Society.
Cox's dominant September Meet led him to his seventh Churchill Downs training title. He entered the final day of racing with an insurmountable 15-6 win lead over Kenny McPeek. Among Cox's notable victories at the meet were from his trainees Zozos in the $400,000 Ack Ack (GIII), Everso Mischievous in the $300,000 Harrods Creek and Slip Mahoney in the $300,000 Bourbon Trail.
Richard Rigney's Rigney Racing had four wins from 11 starts at the meet and tied with Gary and Mary West. Both outfits did not have any starters Sunday. This will be Rigney's third leading owner title at Churchill Downs after winning both the 2022-23 Spring Meets. Gary and Mary West, whose horses are primarily in the care of Cox, recorded their fifth leading owner title and defended their title from last year's September Meet.
Only one owner could tie Rigney and the Wests on Sunday: Ken Ramsey, who had entries in Races 1 and 9.
DOWN THE STRETCH – Sunday's 10-race card offered mandatory payouts in all wagers including the 20-cent Derby City 6 Jackpot that had a carryover of $150,260. First post was 12:45 p.m. … Steve and Jolene de'Lemos' Group I winner Live In The Dream (IRE) shipped into the Kentucky Import Center at Churchill Downs earlier this week and trained Sunday beneath the historic Twin Spires. The 4-year-old Adam West trainee is scheduled to run in Saturday's Woodford Stakes (GII) at Keeneland. … Long time Kentucky Thoroughbred Owners presidentBill Shewciw died Thursday following a brief illness. Shewciw, along with his wife Jean, was an avid supporter of the horse industry as an owner and breeder. Shewciw was 82-years-old. A visitation for Shewciw will be Wednesday from 4-7 p.m. at Pearsons Funeral Home with a funeral service to follow on Thursday at 12 p.m. at St. Leonard's Church. … Live racing will return to Churchill Downs on Sunday, Oct. 29 for the start of the Fall Meet. Thank you to all the media outlets for your coverage of the September Meet. … For more information about racing from Churchill Downs, visit www.ChurchillDowns.com.