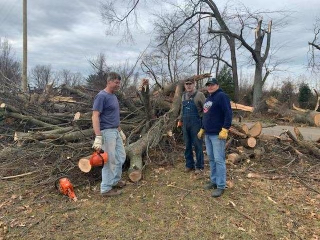 Kentucky HBPA donates $25K to tornado relief fund
(Photo: Kentucky HBPA board member Buff Bradley (right), Franklin County extension agent Keenan Bishop (middle) and another volunteer helping to clear off trees so a Bremen, Ky., cattle farmer can replace fencing.)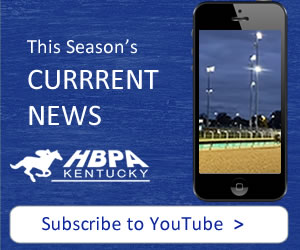 LOUISVILLE, Ky. (Friday, December 17, 2021) — The Kentucky HBPA, on behalf of its member owners and trainers at the state's five thoroughbred tracks, is donating $25,000 to the Team Western Kentucky Tornado Relief Fund set up by Governor Andy Beshear's office.
The fund is assisting those impacted by the devastating tornadoes that ripped through eight southwestern Kentucky counties Dec. 11-12, killing at least 77 people and demolishing entire towns.
"Our mission since inception has been helping those in need," said Rick Hiles, President of the Kentucky Horsemen's Benevolent & Protective Association. "Our motto is 'horsemen helping horsemen,' but we're also Kentuckians helping Kentuckians. It's just hard to fathom the extent of the needs facing the tens of thousands of people whose world has been upended."
KHBPA Vice President Frank L. Jones Jr. said that while there are numerous worthy fund-raising campaigns and programs doing great work, the HBPA board felt the organization's contribution would reach the farthest through the state's fund.
"The Governor and First Lady's initiatives give everybody an avenue to go forward with contributions that will be put to the best use throughout the region, with 100 percent of donations going to assist our fellow Kentuckians," Jones said. "That includes the many affected children and teenagers, who have a real champion in First Lady Britainy Beshear, including her overwhelmingly successful toy drive.
"Our Kentucky HBPA members are proud to be even a small part of the relief and recovery efforts."
HBPA members are encouraged to donate or volunteer for the overall relief effort. Donations to the Team Western Kentucky Tornado Relief Fund can be made at https://secure.kentucky.gov/formservices/Finance/WKYRelief.
Kentucky HBPA board member Buff Bradley spent Wednesday in Bremen in Muhlenberg County helping a cattle farmer cut trees off the damaged fencing so it could be replaced and clearing the considerable debris from hay fields. Bremen (2020 census population 172) suffered 11 deaths, including a 5-month-old baby.
"You get there and everything is so devastating and so sad," said Bradley, who joined the work team assembled by his longtime friend, Franklin County extension agent Keenan Bishop. "Every time you drive a few feet farther, you think, 'How did anybody live there?' It was so touching and sad. But it kind of restored my faith in humanity. My buddy counted 11 vehicles that came by to offer us food and drinks; they were just driving up and down these rural roads. The sheriff stopped by. It was Democrats and Republicans; everybody came together. Two different guys stopped and said, 'Can we help?' They started sawing and helping us drag that stuff off the fence. They didn't even know who they were helping.
"The farmer probably was in his mid 30s or 40. He just had his head down — his whole livelihood was out there. When we left, he had his head a little higher. Pictures don't do it justice, and you're thankful you could help. You'd see a family out in front of their house, and they have a wagon with all their belongings in it. When you see how much everybody is doing, it's pretty cool: some good out of all the bad that happened. My buddy and I were in tears reflecting about it on the drive home."