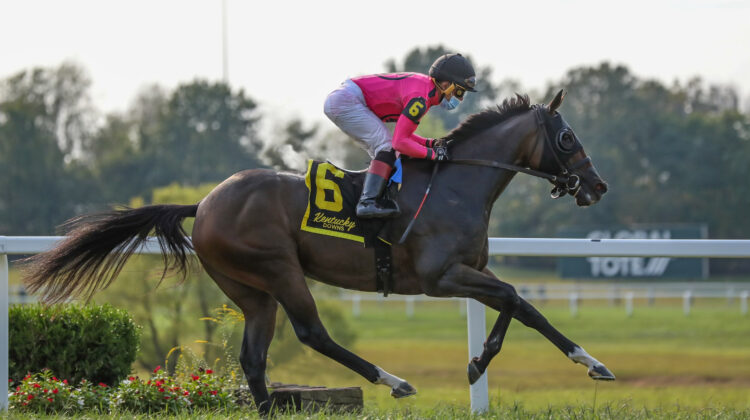 Close to post for Sunday's four grass-stakes extravaganza!
(Grace Clark photo of Tobys Heart winning at Kentucky Downs last year)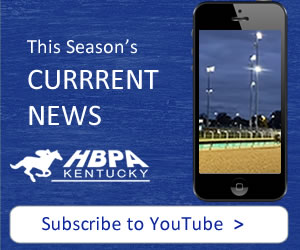 Beschizza: Tobys Heart 'showing no signs of stopping'
Elle Z the one to catch in Laguna Distaff Turf Sprint
Vanden Berg seeks first stakes win with Bad Beat Brian
Mr Dumas can add onto Ortiz's big meet
Undisturbed won't have to deal with stablemate this time
Demodog (second start off layoff) "in with good chance"
HENDERSON, Ky. (Saturday, Aug. 6, 2022) — Notes and quotes about Sunday's four-stakes turf-fest at the RUNHAPPY Meet at Ellis Park:
Beschizza on Tobys Heart: 'showing no signs of stopping'
Jockey Adam Beschizza is being reunited with Tobys Heart for the first time in 14 races, when the now 4-year-old filly won her debut by 6 1/4 lengths. Trained by Brian Lynch, Tobys Heart is the 2-1 favorite in a field of 10 for the $100,000 Laguna Distaff Turf Sprint. She is seeking her fifth stakes, having earlier won Churchill Downs' Derby Week Unbridled Sidney and last fall's $500,000 Nelson's Green Brier Tennessee Whiskey Music City Stakes at Kentucky Downs, where Lynch is hoping to return next month.
"There's been plenty of water under the bridge since I last sat on her a couple of years ago," Beschizza said. "She was a real fast, sharp 2-year-old. She had her first win at Churchill and won very impressively. She's continued to do so. She's a very solid, hearty mare. They did experiment with her back and forth with distances. She's bred to go a bit farther. But she's always been a head-strong filly and she just needs races to sort of play into her favor and get her to drop her head and she usually puts her best foot forward. What makes her shine is her toughness and her grit to win. She's 4 now and showing no signs of stopping."
Owned by Terry Hamilton, Gary Barber and Lynch, Tobys Heart is 5-1-2 in 14 starts, her $649,995 topping the field. She finished eighth in her last start, the Grade 3 Caress at Saratoga, but Lynch is pretty much tossing that non-performance.
Beschizza picked up the mount on Call Me Midnight, a 3-year-old taking on older horses in the $100,000 Twin Spires Turf Sprint. Call Me Midnight won the 1 1/16-mile Grade 3 Lecomte, a Kentucky Derby prep in New Orleans, but has been refashioned into a sprinter. Trainer Keith Desormeaux hoped to run him for the first time on the grass in the Dade Park Dash, but the race was taken off the turf. He lost by a head to All in Sync, who also runs back in the Twin Spires Turf Sprint.
"Very narrow defeat here, beaten by one of Mr. (Steve) Asmussen's nice horses," Beschizza said. "Look, I'm sure in his mind the horse probably thought he won, it was so close. Very privileged and excited to be riding him."
Beschizza also rides Cupid's Claws, making his first start for trainer Mark Casse in the $100,000 Henderson Turf Mile, with the stakes receiving a name change to honor Ellis Park's host community.
Lynch has a horse entered in all four stakes, including favored Thanks Mr. Eidson in the Twin Spires Turf Sprint, the consistent Take Charge Ro in the Centennial Distaff Turf Mile and Churchill Downs' Opening Verse winner Gray's Fable in the Henderson Turf Mile.
"Thanks Mr. Eidson, I thought he looked very good winning the stakes at Indiana the other day," Lynch said of the William Garrett. "That was a good stepping stone toward this stakes. Take Charge Ro ran a good fourth over there with a wide trip. Gray's Fable has been a little disappointing after taking him over from Roger Attfield, but we're hoping we've got him back on track. And Tobys Heart just didn't seem to fire at Saratoga and didn't really get involved in the race. But she's come out of it, so well I think I'm going to give her shot."
Elle Z one to catch in Laguna Distaff Turf Sprint
One things for sure: Beschizza and Tobys Heart will have to run down the very fleet Elle Z and jockey Mitchell Murrill to win the Laguna Distaff Turf Sprint at 5 1/2 furlongs.
Murrill has ridden Elle Z in her past 15 races, going 7-4-0. That includes a second behind Yes It's Ginger in the Ellis Park stakes last year.
"She's a straightforward filly. She's very speedy," Murrill said. "She does everything 110 percent. She never gives up. But when she does get a nice easy fraction for the half-mile, I know that she's got a pretty good shot to win it. And she's been pressed very hard on the front end and still had grit. She's ready to go."
Soft turf "is not her favorite," he said. "But she still competes hard, as much as we could ask for."
Said trainer Chris Hartman: "She's a good hard-trying filly. She puts her race in every time she runs. I think she's ready for her A game: Get the lead and see if we can hold on."
Hartman also entered Ellis Park's Jeff Hall Memorial winner Necker Island in the Twin Spires Turf Sprint, Sister Annie in the Centennial Distaff Turf Mile and Tejano Twist in the Henderson Turf Mile.
Vanden Berg hoping to win first stakes with Bad Beat Brian
Trainer Brittany Vanden Berg, who is having a huge meet in her first season at Ellis Park, claimed Bad Beat Brian for $40,000 on behalf of owners Marsico Brothers Racing in the 5-year-old gelding's last start. She was hoping for a horse who could win a nice allowance race at Churchill Downs. Now she's hoping she claimed a stakes-winner.
Bad Beat Brian is 10-1 in the odds for Sunday's $100,000 Twin Spires Turf Sprint.
"We kind of needed to replace another 5 1/2-furlong turf horse," Vanden Berg said. "It just worked out. When I saw him in the paddock, I called my owner and said, 'Hey look, this horse looks gorgeous. He's kind of our type: He's big and chunky. He's got a nice shoulder, a nice hip. He'd suit our program really nice. We better take a shot on him.' They said, 'Go right ahead.'"
The day he was claimed, July 23, Bad Beat Brian uncharacteristically was on the early lead after breaking sharply from post 2. He gave way late to get beaten by three-quarters of a length. Thanks Mr. Eidson, coming in off of a victory in Horseshoe Indianapolis' William Garrett Stakes, is the 7-2 favorite in a wide-open race that includes Totally Boss, winner of this stakes in 2019.
"There are a lot of horses that are from 6-1 to 10-1," Vanden Berg said. "I feel when you're in a race like that, pace can really make a difference. The way they like a track can really make a difference. He already showed the last race that he does like the racetrack. I've got that going for me. He did press the pace a lot last time, which he usually comes from off the pace, and they set fractions like 21 and 43. We're going to hopefully be able to take him a little bit off of that speedy pace, and hope he comes running like he used to."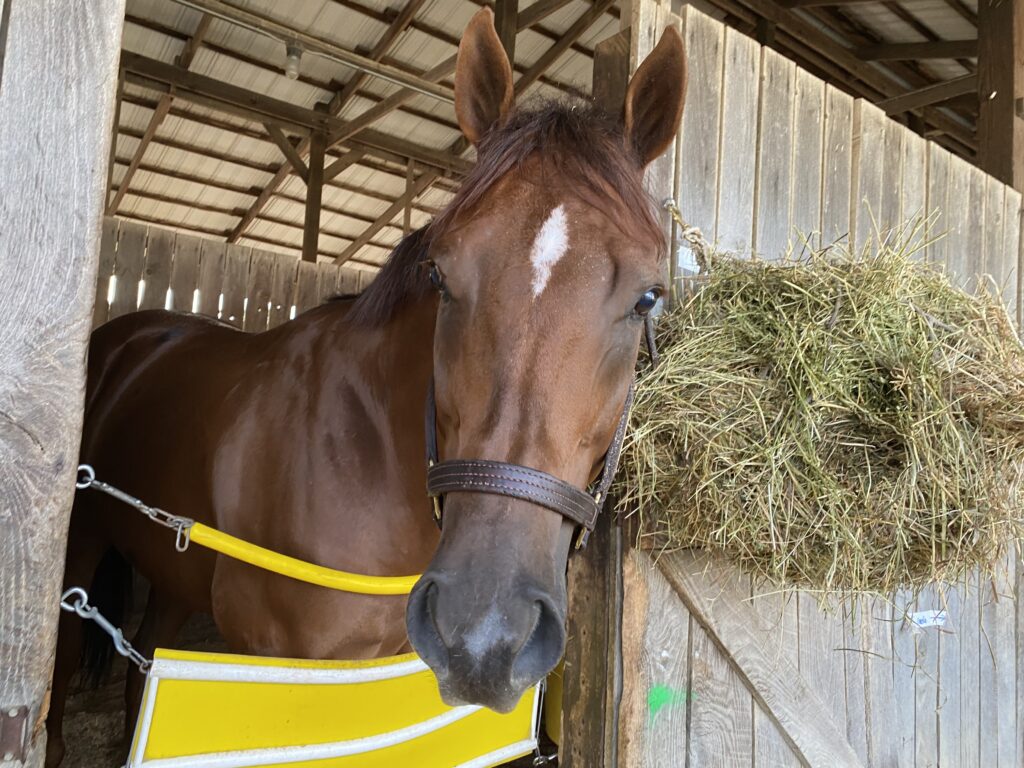 Vanden Berg, who began training in 2019 after riding races for seven years, has won six of 14 starts this meet, with three seconds and thirds apiece. She is seeking her first stakes victory as a trainer, though she has placed in graded stakes.
"Are you kidding? This would be huge," she said of a potential victory. "That's the goal, to win stakes. If he got that done for us, it would be amazing. I haven't had a lot of time with him yet. Just little things that I tweaked. Maybe they'll help, maybe they won't. But if we did end up winning, it would be really big for our stable."
Mr Dumas can add to Ortiz' big meet in Henderson Turf Mile
Meet-leading trainer John Ortiz is hoping his big Ellis Park meet — through Friday, his eight wins are one more than North America's all-time leader Steve Asmussen — gets bigger by adding on a stakes victory.

He's got multiple stakes-winner Mr Dumas, winner of Canterbury Park's Mystic Lake Mile in his last start, in the $100,000 Henderson Turf Mile. Reylu Gutierrez has the mount on the 3-1 morning-line favorite."

He's doing fantastic," Ortiz said. "He ran a tremendous race at Canterbury. It was my first start there, and it was very successful. I loved it up there. Now we're back home. He's been at The Thoroughbred Center (in Lexington), where he likes it. It's a little quieter for him.

"He's a horse that likes to train pretty aggressively in the mornings. He's just a horse who likes to run, so we're here to hopefully get the job done here."When the horse is right, he looks like a brand-new copper penny. He's beautiful, his coat. He's as healthy as he can be. That's that I like the day of the race, to just know my horse is at his best."
Undisturbed won't have to deal with stablemate this time
Chris Landeros has been a regular rider of the 5-year-old mare Undisturbed, including being aboard for her first two career victories (at Ellis Park) after she came to Kentucky following an 0-for-8 skein in California. But Landeros didn't ride Undisturbed in her last start in the Ellis Park Turf. That's because he was busy beating Undisturbed with her Ian Wilkes-trained stablemate, Market Rumor. With Florent Geroux aboard, Undisturbed led most of the way before settling for second by a half-length.

With Market Rumor sitting this one out, Landeros is back on Undisturbed as he seeks to sweep the track's two middle-distance turf stakes for fillies and mares.

"She's cool. She has a high-cruising speed," he said. "She's a hard trier, you can never count her out. You can't give her too much room because she will fire at the end. She always tries hard. She likes Ellis; I look for a good run. You can't throw her out, that's for sure."

Landeros also rides Violenza for Wilkes, his father-in-law, in the Laguna Distaff Turf Sprint.

"That's going to be a tough race," he said. "We need a little pace set up, because she's going to come from a little bit out of it. But her last race at Colonial Downs was big. She ran second to Michelle Lovell's really good mare (Change of Control) and got beat a length to her. I think she's in good form coming into this race."

Landeros is reunited with Into the Sunrise in the Twin Spires Turf Sprint for trainer Mark Casse. He has ridden that gelding once before: When he won last year's Dade Park Dash at Ellis Park for trainer Wesley Ward. That was Into the Sunrise's last victory.

"Fast horse," Landeros said. "Quick horse. Hopefully he can get his form back."
Demodog, with second start off layoff, "in with good chance"
Demodog was making her first start in a year and first for trainer Brendan Walsh when she finished third in the Ellis Park Turf. Now she'll try to improve on that in Sunday's $100,000 Centennial Distaff Turf Mile.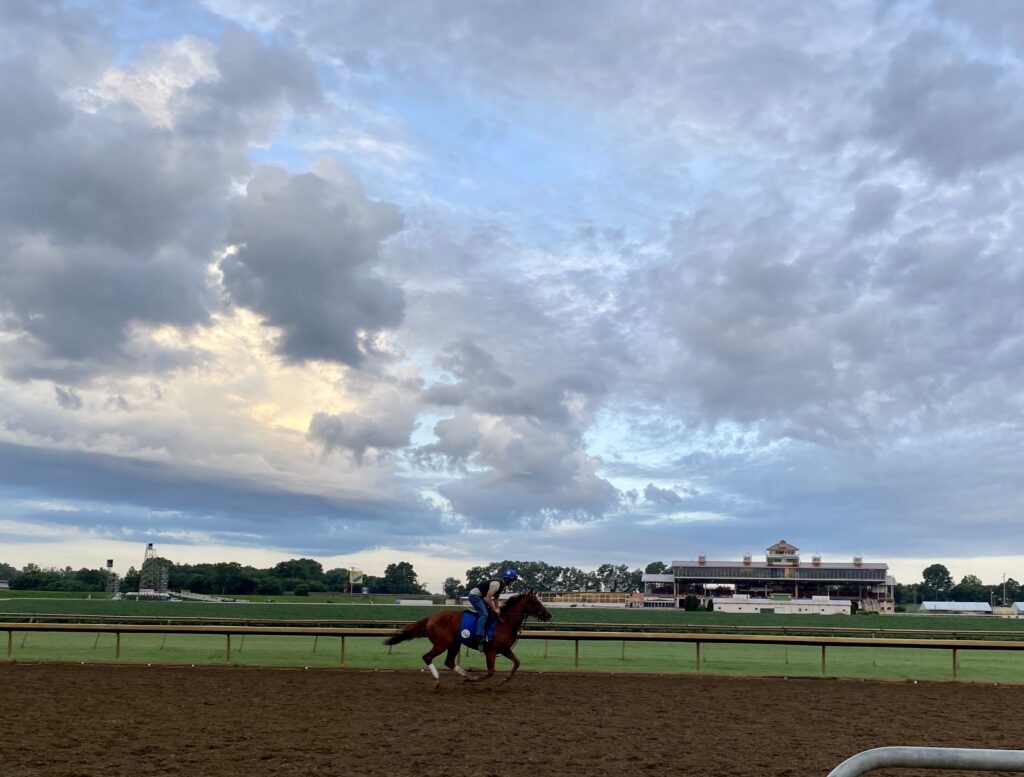 The daughter of 2015 Triple Crown winner American Pharoah won her first two starts last year at age 3 for trainer Rodolphe Brisset, then was off the board in Saratoga's Grade 3 Lake George. She was off 51 weeks before the Ellis Park Turf.
"She's a nice filly," Walsh said. "She obviously was coming off a layoff, so we were very happy with her run. She looks like she needs to improve to have a shot. But just through natural improvement in itself, that should put her in there with a good chance."