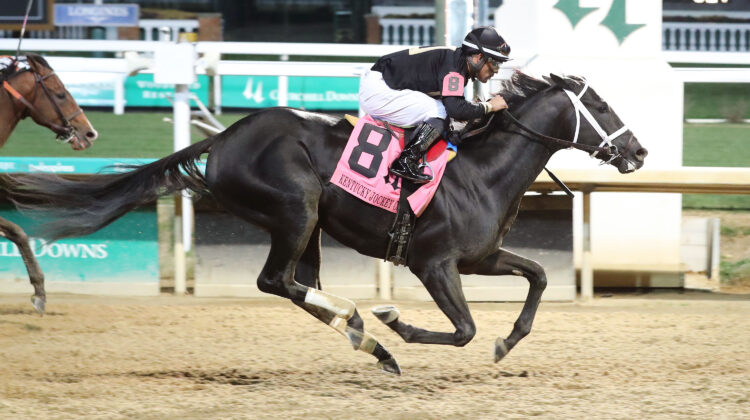 Cox locked and loaded for Lecomte, Silverbulletday 
Tuesday's Fair Grounds media notes penned by Kevin Kilroy and Joe Kristufek (Coady Photography photo of Instant Coffee's Kentucky Jockey Club victory)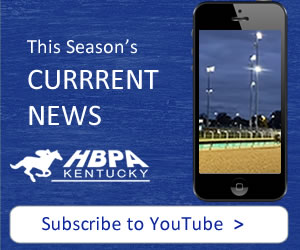 ● 20-8-6-4-2 Derby and Oaks Points are on the line as the next stage of Derby and Oaks preps begins at Fair Grounds with the Lecomte and the Silverbulletday presented by Fasig-Tipton
● Instant Coffee looks to carry Kentucky Jockey Club success into Lecomte
● Chop Chop set to get back to her winning ways after last in Breeders' Cup Juvenile Fillies
New Orleans (January 17, 2022) – Gold Square LLC's Instant Coffee, currently in fifth on the Road to the Kentucky Derby with 12 points, headlines a field of eight 3-year-olds for the 79th running of the $200,000 Lecomte Stakes (G3), the finale of 14 races carded on Saturday's "Road to the Derby Day" at Fair Grounds Race Course & Slots. Run over 1 1/16 miles, the Lecomte is the first in the next stage of prep races which offer 20 Kentucky Derby points to the winner, with the rest of the top five earning 8-6-4-2. Three other Lecomte runners have already banked points – Denington (4), Echo Again (3), and Confidence Game (1).
Six stakes have been carded by racing secretary Scott Jones and his crew for Saturday, including the Lecomte's sister race, the $150,000 Silverbulletday. The top five in that 3-year-old filly event will earn Kentucky Oaks qualifying points (20-8-6-4-2). First post is scheduled for noon CT.
Instant Coffee is one of eleven colts from Brad Cox's barn nominated for the $1,000,000 Twinspires.com Louisiana Derby. Cox won three of the four juvenile stakes on Fair Grounds' Dec. 26 "Road to the Derby Kickoff Day" card, including the Gun Runner with Jace's Road, the Sugar Bowl with Corona Bolt, and the Letellier with the filly Dazzling Blue.
"Right now we are very fortunate to be in a great position with a lot of these colts," Cox said. "We are in a good position, but I'm not excited yet. I don't think you can be, you've got to stay grounded and focus on them so you can come up with individual plans for each of them. Then hopefully they can take you where you want to go."
In 2022, three colts from the Cox barn earned their way into the "Run for the Roses" starting gate: Zozos, Cyberknife, and Tawny Port. Cox trained the 2021 adjudicated Kentucky Derby winner Mandaloun. In 2018, it was his filly Monomoy Girl who won the Kentucky Oaks.
"Everything we've done with this Kentucky Derby and Kentucky Oaks trail (program) started with Monomoy Girl," Cox said. "She introduced us to that. Getting her to the first Friday in May gave us the confidence to try and have a plan. We try to know each as an individual, bring them along, and hopefully they can keep doing what you ask them, keep taking that next step."
A sprint winner on debut on September 3 at Saratoga, the Sagamore Farm Kentucky-bred Instant Coffee most recently won the Kentucky Jockey Club Stakes (G2) on Churchill Downs' "Stars of Tomorrow II" card.
"Going wide in the (Kentucky Jockey Club) I thought he ran a lot more impressively than it looks on paper," Cox said.
After losing ground through much of the race, Instant Coffee grinded home to get the best of an accomplished field, including Curly Jack, Hayes Strike, fellow Lecomte foe Denington, and next-out winner Cyclone Mischief. Morning line oddsmaker Mike Diliberto marks the graded-stakes winner as the 5-2 morning line favorite.
"He had a good breeze here yesterday," Cox said of Instant Coffee "He's already proven he'll get the distance. He's definitely one that keeps coming. We'll let him break and find his stride, Luis (Saez) knows him well, so we'll see where he takes us."
In October's Breeders' Futurity (G1), the Bolt d'Oro colt out of the Uncle Mo dam Follow No One settled near the back and finished fourth, seven lengths behind eventual Breeders' Cup Juvenile winner Forte, the 10-1 morning line favorite for Kentucky Derby Future Wager Pool #3. Instant Coffee will receive the services of jockey Luis Saez, who has ten mounts on the "Road to the Derby Day" card, and will break from post No. 7.
One of two entered in the Lecomte by trainer Brad Cox, Instant Coffee's stablemate Tapit's Conquest is cross-entered in a salty allowance race on the undercard that includes two impressive last-out maiden-winners Banishing, trained by Brendan Walsh, and Tapit Shoes, another star 3-year-old trained by Brad Cox.
"We'll make a decision later on in the week about whether (Tapit's Conquest) will go in the stake or the allowance," Cox said. "I was really happy with his breeze the other day (Jan. 15). We'll get with the ownership group and come up with a gameplan."
With two runs under his belt, Tapit's Conquest broke his maiden at second asking when stretching out for the first time in October at Churchill Downs. Florent Geroux retains the mount, and should Tapit's Conquest run in the Lecomte, he will break from post No. 5. Neither Cox nor Geroux, who enters this racing week with 1,997 career wins, has ever won the Lecomte.
Chicago-based trainer Larry Rivelli has had a very successful career (a 25% lifetime winning percentage and $35,057,723 in career earnings), but he has never had a Kentucky Derby runner. Patricia Hope and Phillip Sagan's Two Phil's could change that. With three wins in five starts, the son of Hard Spun most recently overcame tough early positioning and a sloppy track to win the Street Sense (G3) at Churchill Downs by 5 1/4 lengths.
"It's not going to ruin my day if it rains," Rivelli said. "We won by an eighth of a mile in the slop at Churchill (Street Sense). At this point of the year, this is the best 3-year-old I've had. His numbers keep improving with each race, and every work since has been better and better. He's going to have to move up, but I think he can."
Jareth Loveberry, Rivelli's go-to rider during many dominant years in Chicago, gets the call aboard the 4-1 morning line second choice, who drew post No. 8.
"We'd like to break and drop in somewhere," Rivelli said. "Even if they're two-tiered and he's on the outside, I just want him to relax behind horses."
Two Phil's finished seventh in the Breeders' Futurity (G1), nearly four lengths behind Instant Coffee.
"He would have run better in the Breeders' Futurity if he didn't have such a bad trip," Rivelli explained. "Despite the finish, Jareth (jockey Loveberry) told me he liked the horse even more coming out of it. We learned a lot about the horse that day. In the Street Sense, he almost got the same trip. He got banged and bounced around at the break and almost got shut off again. Jareth finally got him to relax, and when he did, he just had a really cool cruising speed. He moved him out, and from the 3/8ths pole to the quarter pole he was just galloping by the other ones when they were already in a drive."
Sure to impact the pace of the Lecomte is Winchell Thoroughbreds' Echo Again. The connections behind Epicenter, who won three of Fair Grounds' four Derby prep races but got nailed at the wire by Call Me Midnight in the Lecomte, have a colt who ran a jaw-dropping field-best 99 Brisnet Speed figure when sprinting on debut. He has not been able to run back to that number going long in September's Iroquois (G3) at Churchill Downs or in December's Springboard Mile at Remington Park. By Gun Runner and out of the Tapit mare Teardrop, this keen front-runner is full sibling to 2022 Triple Crown nominee Costa Terra who failed to win going long for the same connections.
Trainer Steve Asmussen calls on Tyler Gaffalione, who enters this racing week with 1,996 wins, to ride Echo Again for the first time. Asmussen has won the Lecomte three times, most recently with Midnight Bourbon in 2021. Gaffalione won the 2019 Lecomte with War of Will. Tabbed at 6-1, Echo Again draws the rail.
Trained by Keith Desormeaux, who upset last year's Lecomte with 28-1 shot Call Me Midnight, Don't Tell My Wife Stable's Confidence Game stepped forward in a big way winning an allowance race on the "Stars of Tomorrow II" undercard at Churchill Downs. OXO Equine's Itzos, a half brother to the legendary Rachel Alexandra, will be stretching out for the first time after breaking his maiden sprinting across the synthetic at Turfway Park. His undefeated stablemate Bromley will also test two turns for the first time in the Lecomte.
Here's the complete field for the Lecomte Stakes from the rail out (with jockey, trainer, and morning line): 1. Echo Again (Tyler Gaffalione, Steve Asmussen, 6-1); 2. Deninigton (Corey Lanerie, Ken McPeek, 8-1); 3. Bromley (Javier Castellano, Paulo Lobo, 5-1); 4. Confidence Game (James Graham, Keith Desormeaux, 8-1); 5. Tapit's Conquest (Florent Geroux, Brad Cox, 9-2); 6. Itzos (Brian Hernandez Jr., Paulo Lobo, 10-1); 7. Instant Coffee (Luis Saez, Brad Cox, 5-2); 8. Two Phil's (Jareth Loveberry, Larry Rivelli, 4-1).
***
Selective LLC's Chop Chop and Ike and Dawn Thrash's The Alys Look, both trained by Brad Cox, earned the honors of the ones to beat in Saturday's 31st running of the $150,000 Silverbulletday Stakes presented by Fasig-Tipton at Fair Grounds Race Course & Slots. Installed respectively as the 8-5 favorite and 3-1 second-favorite in the morning line, the formidable Cox duo both have earned 4 Kentucky Oaks qualifying points. Contested over 1 mile and 70 yards, a field of seven have entered the 31st running of the Silverbulletday, which will go as race 12 of 14 with a post time of 5:30 p.m. CT. The top five finishers will earn Kentucky Oaks qualifying points (20-8-6-4-2).
Fasig-Tipton has been named the title sponsor of Fair Grounds' 2023 series for 3-year-old fillies. The Fasig-Tipton Tremé Triple consists of the Silverbulletday S. on January 21, the Rachel Alexandra S. (G2) on February 18, and the Fair Grounds Oaks (G2) on March 25. The name of the race series is a tribute to the historic Tremé neighborhood of New Orleans that borders Fair Grounds Race Course.
Chop Chop made a dazzling run to finish second behind current Kentucky Oaks points leader Wonder Wheel (40 points) in the Alcibiades (G1) at Keeneland. After breaking near the back and relaxing along the rail, she kicked into gear and began to maneuver through a field of 14 like a Porsche weaving through rush hour traffic. Bet to favoritism in the Breeders' Cup Juvenile Fillies, the daughter of CIty of Light struggled through a wide trip and finished last. She has not run since.
"After her run in the Alcibiades and how well she was training leading up to the Breeders' Cup, I wasn't surprised she was the favorite," Cox said. "In that race, she went wide throughout and didn't get a favorable trip. It's tough to win when you're not in position turning for home going one mile and a sixteenth at Keeneland."
Out of the Giant's Causeway dam Grand Sofia, Chop Chop was purchased for $230,000 at the Fasig-Tipton Kentucky Select Yearling Sale in 2021. She began her career winning her first two races on the turf, tracking the leader in each race no further back than three lengths with Rey Gutierrez as her pilot. Rosario took the reins in the Alcibiades and Juvenile Fillies and switched up tactics, letting her settle to the back.
"Chop Chop has been able to run well on both surfaces (dirt and turf), so I think she is a pretty genuine and honest filly who is fit and ready to roll," Cox said. "She got ready fairly quickly. We backed off a little bit after the Breeders' Cup but she never left the barn. I knew I wanted to have her running by the Rachel Alexandra, but since she's a long, lean, scopy filly, it didn't take much to get her ready. Her works have been phenomenal, so I think she's ready to run a big race."
With Florent Geroux aboard, Chop Chop will break from post No. 5. Brad Cox won the 2018 Silverbulletday with eventual Kentucky Oaks winner Monomoy Girl – Geroux was aboard, and he's won the race three times.
Breaking her maiden in December at Fair Grounds, The Alys Look came back to run second to Pretty Mischievous in the locally run Untapable Stakes on Dec 26. After a tough trip through the slop at Churchill Downs in October, Cox decided to take the blinkers off hoping to relax the Connect filly, but after breaking sharply against a field void of early speed, Geroux kept her at the front for the wire-to-wire maiden win.
"It's not a big field, so I think we'll let her find her stride and maybe she'll be a little bit more forward than she was in the Untapable," Cox said. "The way she's been finishing up at the end of her races, she'll have a shot."
In the Untapable, The Alys Look settled nicely and made a wide run through the second turn to range up on Pretty Mischievous in the homestretch, but she was unable to run her down.
Geroux will pass the reins to Luis Saez. The Alys Look drew post No. 4.
One of the best stories of the Fair Grounds' meet to date has been the success of Patricia West. Training across the Louisiana circuit since 2010, West won the first stakes race of her career with A G's Charlotte in the Big World on opening day. Since then she has won six more races from 17 starters, including another stake with A G's Charlotte, and the Louisiana Futurity with Tom Galvin's Norah G, who enters the Silverbulletday and draws post No. 1.
Norah G has had difficulty getting away from the gates with alacrity in her three starts, but in the Futurity, a six-furlong sprint, she showed improvement.
"I thought her break from the gate was much improved from the first two tries, so we're moving in the right direction," West said. "I feel she wants to go two turns. She's super smart. She'll overcome things. Nothing bothers her. That is a lot especially with fillies because they get themselves beat with their brains. She's the coolest cucumber in the barn, so I feel really good about her."
Tabbed at 8-1 in the morning line, Deshawn Parker will climb aboard the Fast Anna filly who is a neck shy of being a perfect three-for-three.
Wing and A Prayer Racing's Hayunevano broke her maiden on the lead when stretching out for the first time. In the Untapable, she pressed Pretty Mischievous and held on for fourth, earning 2 Kentucky Oaks qualifying points. The Goldencents filly out of the Munnings dam Classic Vision was a gift to owners Stewart Dimak and James Pittman.
"Before the sale at Ocala, the farrier nicked her hooves too close," Dimak said. "They breezed her anyways, and of course she ran slow, making her unsaleable. So the breeder called me up and said 'I've got a filly who needs a job.' He sent me videos of her breezing with a colt, and I saw she was a monster. I said, 'well if she needs a job, I'm hiring.'"
Trained by Sam David Jr., who won the 1997 Silverbulletday (known then as the Davona Dale) with eventual Kentucky Oaks winner Blushing K. D., Hayunevano has been set at 8-1 in the morning line, draws post No. 3, and will be guided by Marcelino Pedroza Jr.
Trainer Jason Barkley doesn't look to have his first-time starters cranked and ready to win right out of the back, so when NBS Stable's Forest Chimes stunned a strong field on debut in December, he knew he had a runner. The son of veteran-trainer Jeff Barkley, Jason's go-to rider has been James Graham, but when Graham was committed to another mount, Jason turned to his dad's go-to jock, Corey Lanerie. Sent off at 13-1 on debut, the Tonalist filly by the Forestry dam Sequoia Queen passed four fillies in the second turn and pulled away to win by 7 1/2 lengths.
Here's the complete field for the Silverbulletday Stakes from the rail out (with jockey, trainer, and morning line): 1. Norah G (Deshawn Parker, Patricia West, 8-1); 2. Cotton Candy Annie (Mitchell Murrill, Armando Hernandez, 20-1); 3. Hayunevano (Marcelino Pedroza Jr., Sam David Jr., 8-1); 4. The Alys Look (Luis Saez, Brad Cox, 3-1); 5. Chop Chop (Florent Geroux, Brad Cox, 8-5); 6. Amber Cascade (David Cohen, Cherie DeVaux, 6-1); 7. Forest Chimes (Corey Lanerie, Jason Barkley, 4-1).