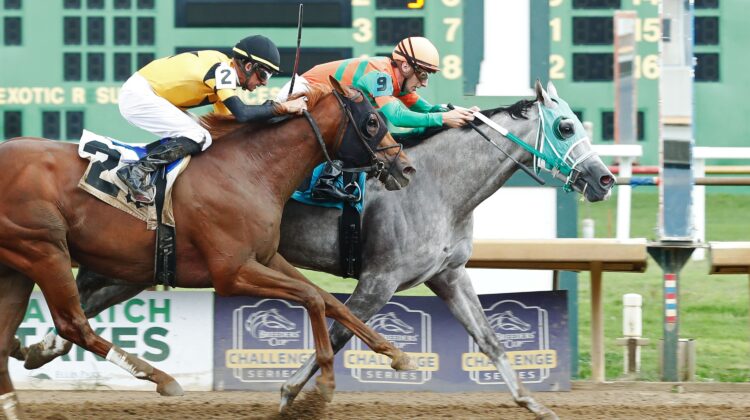 Ellis-based Here Mi Song takes Jeff Hall Memorial
Stakes recap by Kevin Kerstein (Coady photo of Here Mi Song winning the Jeff Hall Memorial)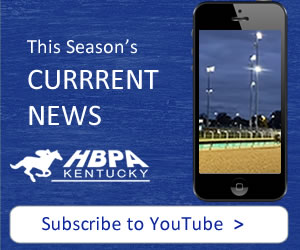 HENDERSON, Ky. (Saturday, July 22, 2023) – Nathan Hayden's homebred Here Mi Song made a bold mid-race rally and gamely held off O Besos to win Saturday's $125,000 Jeff Hall Memorial at Ellis Park Racing & Gaming.
Trained by locally-based Billy Stinson Jr., Here Mi Song was ridden to victory by Alex Achard and completed 6 ½ furlongs in a sharp 1:16.06
Go West and Tut's Revenge shared the early lead out of the starting gate while Here Mi Song tracked to the outside in third, just one-length off the lead. As the dueling leaders completed a quarter-mile in :23.27, Here Mi Song made an early move to their outside and took command of the field into the far turn. At the quarter-mile pole, Here Mi Song had a clear margin on his rivals but had to hold off a three-wide bid from O Besos. At the wire, Here Mi Song continued to find more and held off the late-charging O Besos by a neck.
Here Mi Song is now a six-time winner from 21 starts. His victory in the Jeff Hall Memorial added $75,880 to his overall purse earnings and brought his career mark to $675,073.
Here Mi Song is a 5-year-old gelded son of Cross Traffic out of the Dehere mare Mi Vera.
Here is the complete order of finish for the Jeff Hall Memorial (with $2 mutuel payouts):
1. Here Mi Song ($5.90, $3.28, $2.64)
2. O Besos (X, $3.74, $3.54)
3. Tut's Revenge (X, X, $5.40)
4. Chasing Time
5. Solidify
6. Go West
Racing will resume Sunday from Ellis Park with a first post of 11:45 a.m. (CDT). The featured event on the nine-race card is the $125,000 Twin Bridges Stakes in Race 6. Sunday also is Kentucky HBPA Dollar Day, featuring $1 hotdogs, ice cream, chips, soft drinks and popcorn and $2 draft beer. For more information about racing and gaming from Ellis Park, visitwww.ellisparkracing.com.
COLLEGE DAY RETURNS JULY 30 – Kentucky HBPA College Day Presented by Ellis Park returns to the Tri-State racetrack on Sunday July 30 – and virtually every full-time post-high school student who registers will be a winner.
In partnership with Ellis Park, the Kentucky HBPA will give out nine $1,000 scholarships and, in a separate set of drawings, nine iPad Minis with AirPods included. There also will be drawings before every race for a $150 gift card.
Every qualified student who registers will get an Ellis Park belt bag or a $10 voucher for food and beverage (excluding alcohol) while supplies last.
A valid college I.D. or letter of admission is required to register, with incoming freshmen welcome. Those attending or enrolled in two- and four-year colleges, graduate school, professional school, vocational, technical, barber and other post-high school programs that qualify for federal aid are eligible. Students must register in person, be present to win and can only enter once.
"Every year we look forward to Kentucky HBPA College Day," said Mike Bruder, a horse owner from Evansville and a Kentucky HBPA board member. "We know from speaking with the students that a fair number have never been to a racetrack before. These could be our future horse owners, horsemen and racetrack executives, as well as the next generation of racing fans. But you have to get them in the door first. And Ellis Park is so family-friendly that it's a great environment for an introduction to horse racing."
Registration for the drawings will be held at a table in the grandstand tunnel. The last-race drawings are restricted to full-time students who also work in, or whose parent works in, the equine industry, either on the backstretch, at a racetrack or a horse farm, including part-time and seasonal employees. Those participating in the industry drawing cannot enter the main drawings.
Representatives from the University of Louisville's Equine Industry Program, the Kentucky Equine Management Internship program and potentially other colleges with equine-connected programs will be on hand.
Sunday also is Kentucky HBPA Dollar Day, featuring $1 hotdogs, ice cream, chips, soft drinks and popcorn and $2 draft beer. The Kentucky Horsemen's Benevolent & Protective Association, which represents racehorse owners and trainers at the state's five thoroughbred tracks, underwrites the weekly promotion.
"We are proud to support Kentucky HBPA College Day at Ellis Park again this year," said Matt Pressley, Ellis Park Racing & Gaming General Manager. "We look forward to supporting future leaders in our community with this scholarship program."
AROUND THE PEA PATCH – Veteran rider Corey Lanerie is quickly closing in on a major career milestone and needs only eight more wins to reach 5,000 victories. Lanerie, originally from Louisiana, began riding in 1991 and has established himself as one of the top riders on the Kentucky circuit. His impressive resume includes 66 graded stakes victories including seven Grade I wins. Lanerie was named on runners in three races Sunday, five Friday and four Saturday. … Workout videos from Churchill Downs are now available free of charge atwww.kentuckybred.org/workout-videos. The database of workout videos are provided courtesy of the Kentucky Thoroughbred Development Fund.