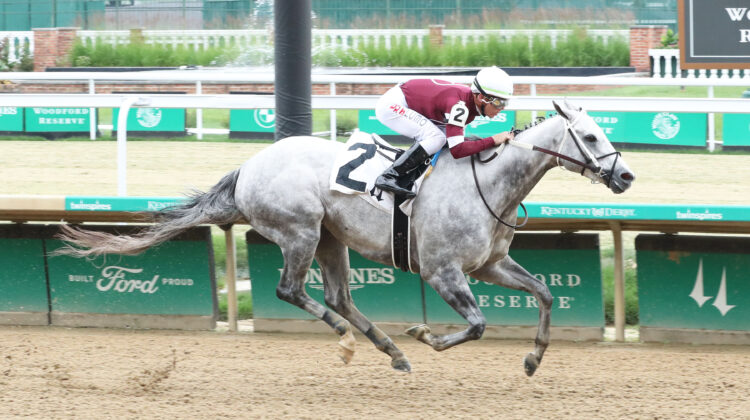 Wicked Halo latest Asmussen standout to race at Ellis Park
And find out history of the Twin Bridges!
Ellis Park media notes by Kevin Kerstein (Coady photo of Wicked Halo winning Churchill Downs' Leslie's Lady Overnight Stakes)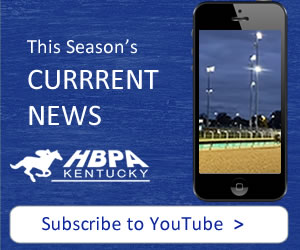 HENDERSON, Ky. (Sunday, July 16, 2023) – Winchell Thoroughbreds' multiple Grade II winner Wicked Halo headlines a field of seven filly and mare sprinters that entered Sunday's first running of the $125,000 Twin Bridges Stakes at Ellis Park Racing & Gaming.
The six-furlong Twin Bridges was carded as the sixth race on the nine-race card. First post is 11:45 a.m. (all times Central) and the Twin Bridges will go to post at 2:18 p.m.
          The ultra-consistent Wicked Halo has won seven of her 14 lifetime starts including victories in the Prioress Stakes (GII) and Raven Run (GII). Trained by Hall of Famer Steve Asmussen, Wicked Halo won her seasonal debut at Oaklawn in the Matron Stakes then was a game runner-up to Matareya in the Derby City Distaff (GI) at Churchill Downs. Wicked Halo will be ridden by Cristian Torres out of post No. 7.
Another accomplished filly that entered the Twin Bridges was Monarch Stables' five-time stakes winner Last Leaf. Trained by Eddie Kenneally, Last Leaf has yet to find the winner's circle in 2023 but sports a narrow runner-up effort to Frank's Rockette in the Roxelana Stakes and a third-place finish to Echo Zulu in the Winning Colors (GIII). As a 3-year-old, Last Leaf was victorious at the "Pea Patch" in the Audubon Stakes over fellow Twin Bridges rival Gunning. Jockey Corey Lanerie has the call on Last Leaf from post 3.
Here is the complete field for the Twin Bridges from the rail out (with jockey and trainer):
1. Tap Dance Fever (Francisco Arrieta, Bret Calhoun)
2. Gunning (Brian Hernandez Jr., Kenny McPeek)
3. Last Leaf (Lanerie, Kenneally)
4. Speedometer (Keith Asmussen, Steve Asmussen)
5. Dealing Justice (Martin Garcia, Riley Mott)
6. Non Violence (Rey Gutierrez, Bret Calhoun)
7. Wicked Halo (Torres, Asmussen)
The Twin Bridges Stakes is named in honor of the iconic two bridges adjacent to Ellis Park that connect Henderson and Evansville, Ind. over the Ohio River. The construction of the bridges was completed during the Great Depression in 1932 and has undergone several name changes over the last nine decades. So, locals simply call them the "Twin Bridges."
When the project was nearing completion there were many suggestions on what the name should be including, "The Dade Park Bridges."
In a 1931 article published by Owensboro, Ky.'s Messenger and Inquirer they stated, "It has been officially decreed that when you approach the Dade Park Bridge over the Ohio River from the south that it will be the 'Henderson-Evansville Bridge' and when approaching from the north it will be labeled the 'Evansville-Henderson Bridge.' Can it be possible that Henderson and Evansville are jealous of Dade Park?"
If fans are heading over the Bi-State Vietnam Gold Star Bridges (aka the Twin Bridges) to Ellis Park Racing & Gaming Sunday they will be able to enjoy Dollar Days sponsored by the Kentucky HBPA. The day will feature several discounted food and beverage items including $1 hot dogs, chips, ice cream, soft drinks and $2 beer. For more information, visit www.ellisparkracing.com. 
POPULAR COLLEGE DAY RETURNS JULY 30 – Kentucky HBPA College Day Presented by Ellis Park returns to the Tri-State racetrack on Sunday July 30 – and virtually every full-time post-high school student who registers will be a winner.
In partnership with Ellis Park, the Kentucky HBPA will give out nine $1,000 scholarships and, in a separate set of drawings, nine iPad Minis with AirPods included. There also will be drawings before every race for a $150 gift card.
Every qualified student who registers will get an Ellis Park belt bag or a $10 voucher for food and beverage (excluding alcohol) while supplies last.
A valid college I.D. or letter of admission is required to register, with incoming freshmen welcome. Those attending or enrolled in two- and four-year colleges, graduate school, professional school, vocational, technical, barber and other post-high school programs that qualify for federal aid are eligible. Students must register in person, be present to win and can only enter once.
"Every year we look forward to Kentucky HBPA College Day," said Mike Bruder, a horse owner from Evansville and a Kentucky HBPA board member. "We know from speaking with the students that a fair number have never been to a racetrack before. These could be our future horse owners, horsemen and racetrack executives, as well as the next generation of racing fans. But you have to get them in the door first. And Ellis Park is so family-friendly that it's a great environment for an introduction to horse racing."
Registration for the drawings will be held at a table in the grandstand tunnel. The last-race drawings are restricted to full-time students who also work in, or whose parent works in, the equine industry, either on the backstretch, at a racetrack or a horse farm, including part-time and seasonal employees. Those participating in the industry drawing cannot enter the main drawings.
Representatives from the University of Louisville's Equine Industry Program, the Kentucky Equine Management Internship program and potentially other colleges with equine-connected programs will be on hand.
Sunday also is Kentucky HBPA Dollar Day, featuring $1 hotdogs, ice cream, chips, soft drinks and popcorn and $2 draft beer. The Kentucky Horsemen's Benevolent & Protective Association, which represents racehorse owners and trainers at the state's five thoroughbred tracks, underwrites the weekly promotion.
"We are proud to support Kentucky HBPA College Day at Ellis Park again this year," said Matt Pressley, Ellis Park Racing & Gaming General Manager. "We look forward to supporting future leaders in our community with this scholarship program."