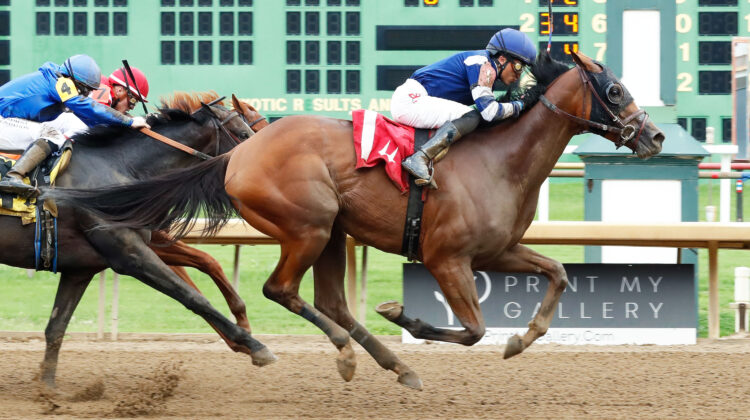 Lynch-trained Tumbarumba takes Ellis Park Derby
Ellis Park stakes recaps by Kevin Kerstein. (Coady photo of Rafael Bejarano riding Tumbarumba to victory in the Ellis Park Derby)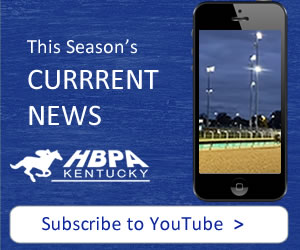 HENDERSON, Ky. (Sunday, Aug. 13, 2023) – Amerman Racing's Tumbarumba thundered down the center of Ellis Park and scored his first stakes victory in Sunday's featured sixth running of the $250,000 Ellis Park Derby (Listed).
Tumbarumba was ridden to victory by Rafael Bejarano for trainer Brian Lynch. Tumbarumba covered the one-mile distance in 1:36.02.
The field of eight 3-year-olds broke well in the Ellis Park Derby as longshot Olazabal was hustled to the early lead under jockey Alex Achard. Tumbarumba broke from the rail but Bejarano moved the Louisiana-bred in the two-path and settled in fourth. Following a strong half-mile in :46.33, Olazabal began to tire as Transectand Blue Light dueled on the lead. At the quarter-pole, Bejarano tipped Tumbarumba to the four-path outside Transect and the closing Loyal Company as he began to show his best stride. Inside the eighth pole, Tumbarumba was able to gain the lead over the battling rivals and pulled clear late for a three-quarters of a length victory. Transect held the place photo over Loyal Company.
"I had a great opportunity to ride a really nice horse today," Bejarano said. "This horse was training really good, I knew he'd come with his run. I watched his last few races with jockey Luis Saez aboard and he had to be aggressive with this horse about a half-mile out. I tried to do the same thing and it really worked out."
"He threw a clunker here in the Maxfield stakes over a sloppy track," Lynch said. "I drove home gutted after that. But we got a fast, dry track today. He worked together with Oscar Eclipse the other day and he won earlier on the card. Tumbarumba worked better than he did. When (Oscar Eclipse) won I was very confident he'd run well. There isn't any quit to him."
Tumbarumba's record now stands at a solid 9-4-1-1 with purse earnings of $254,870. The son of the former Lynch-trained Oscar Performance was bred in Louisiana by Coteau Grove Farms.
Here is the full order of finish for the Ellis Park Derby (with $2 mutuel prices):
1. Tumbarumba ($9.40, $5.18, $4.02)
2. Transect (X, $5.96, $3.56)
3. Loyal Company (X, X, $2.68)
4. Denington
5. Blue Light
6. How Did He Do That
7. Release McCracken
8. Olazabal
Racing is set to resume Friday-Sunday from Ellis Park with daily first posts of 11:45 a.m. (all times Central). There will be a massive $122,714 carryover in Friday's Late Pick 5 that will cover races 5-9. The 20-cent Jackpot Pick 6 has a carryover of $77,739. For more information Ellis Park, visit www.ellisparkracing.com.
FALCONET HOLDS OFF RALLYING HIDDEN CONNECTION, INTERSTATEDAYDREAM FOR GROUPIE DOLL STAKES VICTORY – CHC Inc and WinStar Farm's ultra-consistent Falconet rallied along the inside of a game Hidden Connection and Interstatedaydream to score a 1 ¼-length victory in Sunday's 42nd running of the $150,000 Groupie Doll Stakes (Listed) at Ellis Park Racing & Gaming.
Jockey Gerardo Corrales rode Falconet for Hall of Fame trainer Todd Pletcher. Falconet completed the one-mile in 1:36.59.
Non Violence used her rail draw to take over the early lead of the Groupie Doll Stakes through a moderate quarter-mile time of :23.96. Falconet settled in third but the well-grouped field was only separated by about 3 ½ lengths as they traveled up the backside. Around the turn, Corrales kept Falconet in a forward positioned as Hidden Connection was tipped to her outside for a sweeping three-wide move while favored Interstatedaydream began to find her best run from last. In the stretch, Coastal Charm emerged from the pack with the lead but was quickly overtaken by Hidden Connection's mid-race move. Interstatedaydream continued to close on her outside while Corrales kept Falconet to their inside. Inside the 1/16th pole, Falconet gained the upper hand over Hidden Connection and Interstatedaydream for a 1 ¼-length victory.
Falconet tabbed her fifth-lifetime victory in the Groupie Doll Stakes from 11 starts. She also sports four runner-up efforts. Falconet's victory was worth $89,760 which boosted her career mark to $488,100.
Falconet is a 4-year-old filly by Uncle Mo out of the Summer Bird mare Birdatthewire. She was bred in Kentucky by her co-owner WinStar Farm.
Here is the full order of finish for the Groupie Doll Stakes (with $2 mutuel prices):
1. Falconet ($17.12, $8.16, $3.50)
2. Hidden Connection (X, $7.60, $3.44)
3. Interstatedaydream (X, X, $2.12)
4. Ice Orchid
5. Coastal Charm
6. Be Like Water
7. Non Violence
POSITANO SUNSET SITS PERFECT TRIP UNDER LANDEROS TO WIN $150,000 AUDUBON OAKS– Six Column Stables, Randy Bloch, John Seiler and David Hall's Positano Sunset had a perfect trip under jockey Chris Landeros and skimmed the rail to victory in Sunday's fourth running of the $150,000 Audubon Oaks at Ellis Park Racing & Gaming.
It was a fast early pace in the Audubon Oaks as Black Forest was sent to the lead and was quickly pressured by Santa Fe Gold to her outside. Positano Sunset broke well and settled in seventh though an opening quarter-mile in :22.09. The positions remained relatively unchanged up the backside following a fast half-mile in :45.41. Around the far turn, several horses began making wide charges at the leaders including favored Merlazzaand second choice Topsy. Landeros kept Positano Sunset in the two path as she began to show her best stride at the eighth pole. Inside the final 1/16th of a mile, Landeros found an opening inside the tiring Santa Fe Gold and pulled clear to a one-length victory. Longshot Flamand battled in the center of the track with Santa Fe Gold and finished a half-length better than her fellow gray rival for the runner-up position.
This was Positano Sunset's third-lifetime victory through seven starts for trainer Ian Wilkes. She completed the seven furlong Audubon Oaks distance in a solid 1:23.46.
"They were clipping along pretty good up front," Landeros said. "Ian did a great job getting her ready off the layoff. I just had to bide my time but she was game. I have all the confidence in the world in Ian and he makes it easy."
Positano Sunset is a 3-year-old daughter of Goldencents out of the Consolidator mare Gigglin' Gal. She was bred in Kentucky by her owners.
Here is the full running order for the Audubon Oaks (with $2 mutuel prices):
1. Positano Sunset ($15.38, $7.04, $5.92)
2. Flamand (X, $29.08, $13.84)
3. Santa Fe Gold (X, X, $11.80)
4. Merlazza
5. Magical Lute
6. Topsy
7. Padma
8. Black Forest
9. Ruthless Rua
MASSIVE LONGSHOT BAYTOWN CHATTERBOX PULLS AWAY LATE IN $150,000 ELLIS PARK JUVENILE – Baytown Partnership and Resolute Racing Alliance's Baytown Chatterbox pulled a massive 60-1 upset to win Sunday's eighth running of the $150,000 Ellis Park Juvenile.
Baytown Chatterbox, who recently broke his maiden at Horseshoe Indianapolis, stormed down the stretch at Ellis Park under jockey Tyler Heard for trainer Paul McEntee and completed seven furlongs in 1:25.21.
It was a good start for the field of nine 2-year-olds in the Ellis Park Juvenile. Dunphy was sent to the early lead and joined to his inside by Call Me Andy. Baytown Chatterbox was positioned in fifth during the early stages of the race, about three lengths off the swift opening quarter-mile in :22.40. At the half-mile pole, Dunphy began to tire as favored Balta briefly took the lead over Call Me Andy. As the field turned for home, Baytown Chatterbox improved his position to third but was making big strides down the center of Ellis Park's main track. Inside the eighth-pole Balta continued to battle on the front end with Coulditbemajic but the duo was joined to their outside by Baytown Chatterbox as he quickly took command and drew off to a 2 ½-length victory. Coulditbemajic held the runner-up position over Call Me Andy.
Following the race, jockey Rafael Bejarano, aboard Coulditbemajic, lodged an objection on Baytown Chatterbox alleging interference up the backside. Following a stewards review, no change was made to the running order.
"He's a better horse against better horses," Heard said. "He needs something to chase. We stepped him up to a mile at Indiana and gets lonely in front. He just needs some better horses to keep his attention."
"All winter he was one of the 2-year-olds I was looking forward to the most," McEntee said. "All he could consentrate on in his debut was breeding the filly in the race. After that race we took him home and gelded him. He still didn't run very well in his next start but we thought if we gave him an easier race he'd gain some confidence. We stretched him out to a mile at Indiana and he had so much horse that he couldn't relax and all and drug Tyler to a huge lead. We knew he'd get the trip we were looking for today against this type of competition. He was able to settle off the pace early and still come home strongly. The silks he rode in today were my mom's silks. The partnership, Baytown Partnership, we started to get new owners into the game. We bought 15 2-year-olds and it's very satisfying to have a 2-year-old stakes winner in the first year."
Baytown Chatterbox improved his overall record to 4-2-0-0 and boosted his purse earnings to $110,200.
Baytown Chatterbox is a son of Street Sense out of the First Samurai mare Endless Chatter. He was bred in Kentucky by Alpha Delta Stables.
Here is the complete running order for the Ellis Park Juvenile (with $2 mutuel prices):
1. Baytown Chatterbox ($123.06, $44.82, $18.64)
2. Coulditbemajic (X, $10.18, $6.66)
3. Call Me Andy (X, X, $3.44)
4. Omex
5. Balta
6. Ham Sandwich
7. Let's Go Mark
8. Beaudacious Colton
9. Dunphy
HOT BEACH BREAKS MAIDEN IN $150,000 ELLIS PARK DEBUTANTE – Boardshorts Stables' Hot Beach broke her maiden in dazzling fashion by winning Sunday's sixth running of the $150,000 Ellis Park Debutante.
Declan Cannon rode Hot Beach for trainer Brian Lynch and completed seven furlongs in 1:24.32.
It was a contested opening quarter-mile in the Ellis Park Debutante where Twirling Queen was hustled hard for the lead and she was quickly joined to her inside by Intermittent Fast. Cannon positioned Hot Beach in fourth up the backside, just to the outside of Tx Women for the Arts. Twirling Queen continued to be fleet-footed on the lead through a half-mile in a swift :45.67. Around the far turn, Hot Beach started gaining momentum and overtook Twirling Queen's lead just inside a quarter-mile left to run. Hot Beach started to get a little tired as she approached the wire but was able to hold of a massive late run by Riperton for a two-length victory. Heavy 4-5 favorite Youalmosthadme stumbled bad leaving the starting gate and had to settle for third.
"I'm very grateful to ride Brian Lynch's better horses," Cannon said. "It makes my job easy whenever I ride for his barn. Her work at home at Churchill was always very good. Her form from her debut stood up pretty well and we had confidence in her today that she'd run well."
"Declan has some magic going on right now," Lynch said. "It's great for the owners who are involved in this horse. Whenever they break their maiden in a stakes you know they could have a bright future. I think the sky is the limit with her. She's a lightly-raced filly going into this race. She got a little tired late and I think down the road we'll hear a little more about her."
Hot Beach debuted on July 7 at Ellis and finished a game second at odds of 3-5 to Here U Come Again. With her victory in the Ellis Park Debutante, the daughter of Omaha Beach improved her purse earnings to $103,920.
Here is the complete order of finish for the Ellis Park Debutante with $2 mutuel payouts:
1. Hot Beach ($6.40, $4.42, $2.46)
2. Riperton (X, $6.72, $3.20)
3. Youalmosthadme (X, X, $2.10)
4.Tx Women for the Arts
5. Twirling Queen
6. Edistrudis
7. Grace Given
8. Easy Red
9. Intermittent Fast
STAGE RAIDER PULLS 19-1 UPSET VICTORY IN R.A. 'COWBOY' JONES STAKES – John Gunther's Stage Raider made a bold late rally to score a 19-1 victory in the $100,000 R.A. "Cowboy" Jones Stakes at Ellis Park Racing & Gaming.
Stage Raider is now a four-time winner for trainer Cherie DeVaux. He was ridden to victory by Brian Hernandez Jr.
Wind of Change (BRZ) inherited the early lead in the Cowboy Jones but was soon pressured by Best Actor and jockey Florent Geroux. After a quarter-mile in a moderate :23.68, Best Actor took command over the field as Kupuna moved past Wind of Change for second. Stage Raider settled in fourth and stayed glued to the rail. Around the far turn, local hero Here Mi Song made a bold three-wide rally around Best Actor and Kupuna while Hernandez kept Stage Raider on the inside. At the top of the lane, Hernandez sent Stage Raider through an opening between Best Actor and Here Mi Song and never looked back. Stage Raider, a half-brother to Triple Crown winner Justify, recorded a two-length winning margin. Big Blue Line closed from last to complete the exacta over Seize the Night who rallied for third.
Stage Raider completed the one-mile R.A. "Cowboy' Jones Stakes distance in 1:35.95
"The only thing I knew about him is he's a half-brother to Justify," Hernandez said. "I talked to Cherie a bit this morning and traveled well throughout the whole race. Cherie told me he's a bit of a difficult horse to get along with. WE just let him get his legs underneath him early and down the late we found a spot between two pretty good horses and he busted through to win impressively."
Stage Raider is a 5-year-old son of Poineerof the Nile out of the Ghotstzapper mare Stage Magic. He was bred in Kentucky by his owner.
Here is the complete running order for the R.A. Cowboy Jones Stakes (with $2 mutuel returns):
1. Stage Magic ($40.34, $11.54, $7.28)
2. Big Blue Line (X, $10.68, $6.32)
3. Seize the Night (X, X, $4.56)
4. Best Actor
5. Here Mi Song
6. Wind of Change
7. Kupuna